While the first session on the back half of this season only saw the two teams in the middle of the standings swap places, school was in session and it resulted in the gap widening considerably between the only three teams with winning records.
One bowler set a new personal best series, and one rolled new personal high game. Freda Schroeder picked up this week's high game (160) and series (455) for the women, while Ken M. Wilson earned this week's high game (226) and series (604) for the men. Read on for all the rest of the details!
First up, on lanes 3 & 4: School was in session at The James Tott Center for Kids Who Can't Bowl Good and Wanna Learn To Do Other Stuff Too (aka The James Tott School for B's), and after the midterms were graded, even with the bell curve applied Pin Is King 2 failed to earn a single passing grade in any subject areas except for: Losing Scratch 101, Introduction to Getting Your Spirit Broken, and Advanced Placement Getting Swept. Led by #1 Power-Ranked and Most Valuable Bowler James Tott and his mesmerizing 560 series, with props to #1 Head-to-Head bowler AJ Hofmann, the School for B's not only swept the Kings but also stole their lunch money, confiscated their fidget spinners, and made them sit with their heads on their desks through recess. Among the schooled pupils, Dennis Walling with his better-than-normal 558 series mastered his Pin Is though it did no good. The James Tott Center for Kids Who Can't Bowl Good and Wanna Learn To Do Other Stuff Too climbs 1 spot in the standings to 4th place, while Kings remain in 3rd.
On lanes 5 & 6: Rear Admirals actually accomplished a second winning week in a row, this time against Bowl Movements. Uniting behind the leadership of Scott Murdock with his 497 series, Admirals collected 3 wins against Movements. Across the ball return, Conor Clarke with his better-than-normal 537 series ruled Movements despite his team notching only a single win, a win earned partly by sub Spencer Bergstrand (last seen two years ago subbing on another team) having a pretty good idead of the right amount of pins to miss in game 3 to ensure his team a game 2 victory. Despite the outcome, Rear Admirals remains in 7th place while Movements remain in 6th.
On lanes 7 & 8: The only half of See you next Tuesday! that cared to show up brutally savaged the three men and a ghost of Scared Splitless. Demonstrating the prowess of an uncharacteristically cruel and heartless Nick Kinney with his 507 series, Next Tuesday earned a clean sweep over Splitless. Over on the other side, Curtis Whiles with his 463 series commanded Splitless despite his team getting swept. See you next Tuesday! remains in 1st place, while Splitless remain in 8th.
Finally, down on lanes 9 & 10: In a rather lopsided matchup, the wrathful C.I.C.K. Ass 2 found their destiny gripped in the icy hands of the endearing BDE. Reinforced by Ken M. Wilson with his 604 series, CICK collected 3 wins against BDE. Meanwhile, Jeremy Cline with his slightly-off 523 series inspired BDE to a single win. C.I.C.K. Ass 2 remains in 2nd place, while BDE sinks 1 spot to 5th.
Bowlers who crashed the party at The 200 Club include: Carl Goetz (204,225), Cory Chorpenning (209), Dennis Walling (214), Ian Goetz (213), James Tott (223), and Ken M. Wilson (208,226)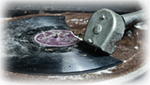 A new personal high game was set tonight by James Tott (223, previous best 219). In addition, a new personal best series was rolled by James Tott (560, previous best 521).


In this week's Tournament of Champions brackets: Cory Chorpenning creamed Division 1, while Dennis Walling eradicated Division 2. Freda Schroeder rolled her ass to the top of Division 3, and Jared Nuhn routed Division 4. In terms of overall points: Michael Gordon reigns over Division 1; Rob Kaszuba leads Division 2; Conor Clarke tops Division 3; and Jared Nuhn calls the shots Division 4.
Bowling Through Time
This Week's Results vs Spring 2008:
The James Tott Center for Kids Who Can't Bowl Good... went 3-1 against 3 Dudes and a Doll
Pin Is King 2 went 2-2 against It's Britney, Bitch
Rear Admirals went 4-0 against Bad Newz Kennels
Bowl Movements went 4-0 against Split Happens
See you next Tuesday! went 3-1 against Dios Mios
Scared Splitless went 1-3 against You Don't Know Sh!t
C.I.C.K. Ass 2 went 4-0 against Sofa King Good
BDE went 4-0 against Ebowla
Current Standings:
C.I.C.K. Ass 2: 28-8
See you next Tuesday!: 27-9
Pin Is King 2: 23-13
The James Tott Center for Kids Who Can't Bowl Good...: 22.5-13.5
Bowl Movements: 18.5-17.5
Rear Admirals: 16-20
Scared Splitless: 16-20
BDE: 15.5-20.5
The top 4 teams in terms of points at the end of the season will win extra cash.
Individual Standings
DIVISION 1

1.
Carl Goetz
20.5

(+1)

2.
Michael Gordon
19.5

(+1)

3.
Ian Goetz
19

(+3)

4.
Jeremy Cline
19

(+1)

5.
Ken M. Wilson
17

(+2)

6.
Matthew Taylor
16

(+1)

7.
Aaron Barber
16

(+3)

8.
Cory Chorpenning
13

(+4)

DIVISION 2

1.
Nick Kinney
22

(+1)

2.
Scott Murdock
21

(+3)

3.
Dennis Walling
20.5

(+4)

4.
Jonathan Vigliaturo
20

(+3)

5.
Seth Gunderson
20

(+3)

6.
AJ Hofmann
17

(+4)

7.
Rob Kaszuba
15

(+3.5)

8.
Ben Spencer
13.5
DIVISION 3

1.
Curtis Whiles
23

(+1)

2.
James Tott
22

(+3)

3.
JoAnne Gordon
20.5

(+1)

4.
Conor Clarke
19.5

(+3)

5.
Jeremy Varnell
18.5

(+2)

6.
Luke Melton
17.5

(+0.5)

7.
Freda Schroeder
13.5

(+1)

8.
Joe Meyer
12.5

(+3)

DIVISION 4

1.
Jared Nuhn
18.5

(+4)

2.
Alison Radke
18

(+3)

3.
Brian Bockelman
18

(+3)

4.
Michael Whiles
14.5

(+1)

5.
Tony Marin
14
6.
Dennis Cummings
14

(+3)

7.
Ben Conaghan
13.5
The top 4 individuals in terms of points in each division at the end of the season will win extra cash.
NEXT WEEK:
*(Remember, the predicted results above are based on mathematical extrapolations and can be changed by all sorts of factors. If you don't like how your team's results are predicted, you and your teammates have the power to prove the math wrong!)
FROM THE GUTTER (GUTTER QUOTE)

"Yesss!!!!!!"

"Aww, come on, The People wanted her to get that one."

"Well I didn't."

Conor Clarke, then Ben, then Conor, when the ball return caught a wobbling pin just in time to prevent Freda from getting a strike.


EXPANDED STANDINGS
Top Individual Achievements for Week 9