RECAP
The 2011 Spring season saw the return of a full 8-team setup and kicked off in January. With the smallest rookie class in recent history – including new recruits Kelly Anderson, Sam Nau, Jeremy Stockbridge and Russell Madsen – the league saw the return of various semi-annual veterans as well as the re-emergence of 4-time champion Seth Gunderson (who hadn't bowled since the Spring 2008 season) and Bill Krejci (who hadn't been seen in the league since the Fall of 2008). Gunderson would end the season adding yet another beneath his Belt with Krejci right on his tail in 2nd place. The
championship title
was Ken M. Wilson's 11th, Carl Goetz's 9th, Seth Gunderson's 5th and Ian Goetz's third.
At times, the league seems custom built to pit specific people that have been in the league for years and years against one another. Such was the case this season as long-time rollers Carl Goetz and Ken M. Wilson of S*I*C*K began to instantly knock heads with Angela Bradford and Bob Brunker of Istanbowl Turkey. Both teams remained neck and neck until Week #4 when Eat Split and DI went on a tear culminating with hand delivering a sweep to the reigning champs and moving within one game of the first place spot in the standings. Eat Split and DI would continue to make noise up through the position round, changing places on occasion with Istanbowl between 2nd and 3rd place.
During all of this, two other storied powerhouse teams endured their worst starts in a long, long time. No Pinheads – made up of Aubrey Moren, Phil Schroeder, Dennis "Pops" Laube and Freda Schroeder – and Dolls and Balls – comprised of only rookie Kelly Anderson, Rob Kaszuba and Ryan Doll at this point – quickly found themselves in unfamiliar territory, floundering near the bottom of the league standings. To make matters worse for both teams, both Ryan Doll and Freda Schroeder found their bowling arms in slings during the season. The second half of the season would see rebirths for both teams as Bill Krejci came back to instantly fire up the Balls and Dennis "Pops" Laube began to have the games of his career to reinvigorate the Pinheads. Both teams would mount impressive second-half comebacks. Dolls and Balls would finish in 2nd, Istanbowl Turkey in 3rd and No Pinheads a half-game back in 4th.
In the end, no team could derail Carl Goetz's S*I*C*K as they compiled the 3rd best record in league history mainly due to both Carl and son Ian having their best seasons to date. Carl's impressive rolling saw him shoot the season's highest scratch game – a 267 – as well as the highest scratch series – a 683 – and culminated in him earning his first season's Actual: Most Valuable Bowler award, which he shared with Ken M. Wilson. Simply put, Carl dominated the Spring 2011 season from start to finish, keeping his team in first place for all 16-weeks. They finished with a record of 48-16, a full ten and a half games ahead of 2nd place.
While not finishing in the top half of the standings this time around, those bowlers on teams SucmaBOWLS, Tonganoxie Doglift, Eat Split and DI and Touch My Vlad put on some impressive performances this spring. Tonganoxie's Bill Riley rolled his first 200+ game – a 208 – and earned top billing in the Men's High Game Handicap category. SucmaBOWLS' Orion Kinkaid punished opponents with several 200+ games, including a well-timed 223 against Istanbowl Turkey early in the season. Dave Winger, Sam Nau, AJ Hoffmann and Lawrence Prak all earned Most Valuable Bowler nods during the season as well. Both Nau and Winger earned them more than once, finishing with 3 and 2 respectively.
After having talked about it throughout the years, the official formation of the league's Hall of Fame came into being this season. The inaugural class consisted of four bowlers – each subsequent season will only see one new inductee – and included Angela Bradford, Scott Murdock, Freda Schroeder and Ken M. Wilson. The four were presented with a bowling pin painted in their likeness on the final night of the season.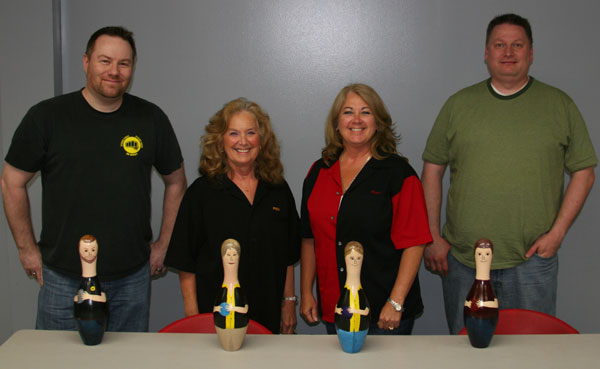 Pictured from left to right: Ken M. Wilson, Freda Schroeder, Angela Bradford and Scott Murdock.
FINAL STANDINGS:
1.
S*I*C*K
48-16
Seth Gunderson, Ian Goetz, Carl Goetz, Ken M. Wilson
2.
Dolls and Balls
37.5-26.5
Kelly Anderson, Rob Kaszuba, Bill Krejci, Ryan Doll
3.
Istanbowl Turkey
36-28
Sabrina Gray, Scott Murdock, Angela Bradford, Bob Brunker
4.
No Pinheads
35.5-28.5
Aubrey Moren, Phil Schroeder, Dennis "Pops" Laube, Freda Schroeder
5.
SucmaBOWLS
29-35
Sam Nau, Joe Longstreet, Dave Winger, Orion Kinkaid
6.
Tonganoxie Doglift
28-36
Lawrence Prak, Bill Riley, Russell Madsen, Shane Pfaffly
7.
Eat Split and DI
26-38
Teresa Deterding, Aaron Chandler, AJ Hofmann, Jake Parrott
8.
Touch My Vlad
16-48
Emily Podhajsky, Sarah Manning, Jeremy Stockbridge, Chris Able
Individual Season Awards:
Women's High Series Scratch - Angela Bradford's 547
Women's High Game Scratch - Kelly Anderson's 180
Women's High Series Handicap - Teresa Deterding's 612
Women's High Game Handicap - Sabrina Gray's 218

Men's High Series Scratch - Carl Goetz's 683
Men's High Game Scratch - Ian Goetz's 254
Men's High Series Handicap - Ken M. Wilson's 705
Men's High Game Handicap - Bill Riley's 281

Season Favorites:
Rookie of the Season:
Kelly Anderson (Russell Madsen, runner-up)
Captain of the Season
Ryan Doll (Ken M. Wilson, runner-up)
Defensive Bowler of the Season:
Carl Goetz (Ryan Doll, runner-up)
Underdog of the Season:
Kelly Anderson (Sabrina Gray, runner-up)
Bob Brunker Good Sportsmanship Award:
Emily Podhajsky (Jake Parrott, runner-up)
MVB (People's Choice):
Carl Goetz (Ken M. Wilson, runner-up)
MVB (Actual):
Carl Goetz / Ken M. Wilson (Bill Krejci / Chris Able / Ryan Doll / Rob Kaszuba / Kelly Anderson, runners-up)
Individual Team MVBs:
Team 1: S*I*C*K = Carl Goetz / Ken M. Wilson
Team 2: Touch My Vlad = Chris Able
Team 3: No Pinheads = Aubrey Moren
Team 4: Dolls and Balls = Bill Krejci
Team 5: Istanbowl Turkey = Scott Murdock
Team 6: Tonganoxie Doglift = Russell Madsen
Team 7: Eat Split and DI = AJ Hofmann / Jake Parrott
Team 8: SucmaBOWLS = Orion Kinkaid
Top Individual Achievements for Spring 2011