As our league offocially celebrated its 20th birthday, some sort of malaise of old age set in. Apart from a few bright spots, rolling this week was so lackluster than not only did no one earn Most Valuable Bowler, nobody even qualified to be a runner-up! Through the mediocirty two teams did manage to climb in the standings, to the detriment of the two teams that slipped. Freda Schroeder picked up this week's high game (159) and series (433) for the women. As for the men, Dennis Walling snagged this week's high game with a 256, and high series was earned by Seth Gunderson with a 583. Read on for all the rest of the details!
---
A few of you asked for the timeline that was displayed last night to me posted online. You can now find it here as well as in the dropdown menu.
---
On lanes 3 & 4: BDE had some fun scaring the split out of Scared Splitless. Reinforced by Jeremy Cline with his 561 series, BDE collected 3 wins against Splitless. However #1 Power Ranked and #1 Head-to-Head Curtis Whiles and his better-than-normal 544 series propped up Splitless despite his team notching only a single win. With the strength Curtis has been showing, this likely would not be a last-place team if they weren't saddled with a Vacancy. BDE climbs 1 spot in the standings to 4th place, while Splitless remain in 8th.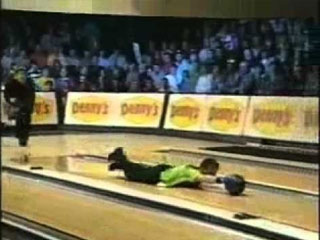 On lanes 5 & 6: A battle of league titans as C.I.C.K. Ass 2 tried to fight against See you next Tuesday! but just couldn't seem to get their hearts into it. Though led (somewhat) by Ken M. Wilson with his 576 series, CICK got swept by Next Tuesday. In the meantime, Seth Gunderson with his better-than-normal 583 series saw Next Tuesday sweep the competition. C.I.C.K. Ass 2 remains in 2nd place, while Next Tuesday remains in 1st.
On lanes 7 & 8: In what many perceived as a race between tortoises and sloths, The James Tott Center for Kids Who Can't Bowl Good and Wanna Learn To Do Other Stuff Too hoped to be able to outperform Rear Admirals. Despite being propelled by James Tott with his above-average 473 series, James Tott School for B's accomplished only 1 win against Admirals. Keeping the p[ace slow and steady, Scott Murdock with his 498 series inspired Admirals as his team took the match with 3 wins. The James Tott Center for Kids Who Can't Bowl Good and Wanna Learn To Do Other Stuff Too drops 1 spot in the standings to 5th place, while Admirals move up 1 spot to 6th.
Finally, down on lanes 9 & 10: In the night's most unbalanced matchup, two members Pin Is King 2 faced off against two members of Bowl Movements and their new sub. Featuring Dennis Walling with his above-average 578 series, Kings collected a clean sweep over Movements. On the other half of the score sheet, Conor Clarke with his (almost had to be sandbagging, but why???) 350 series motivated Movements despite his team getting swept. Pin Is King 2 remains in 3rd place, while Movements sink 1 spot to 7th.
Bowlers slipping into The 200 Club include: Cory Chorpenning (241), Curtis Whiles (202), Dennis Walling (256), Ian Goetz (235), Jonathan Vigliaturo (208), Ken M. Wilson (214), Nick Kinney (205), and Seth Gunderson (252)
In this week's Tournament of Champions brackets: Jeremy Cline shut down Division 1, while Scott Murdock made quick work of Division 2. Curtis Whiles triumphed over his enemies in Division 3, and nobody claimed victory in Division 4 (though Brian Bockelman came closest). In terms of overall points: Michael Gordon leads Division 1; Scott Murdock and Rob Kaszuba govern Division 2 in a tie; Conor Clarke holds the reins in Division 3; and Jared Nuhn runs the show in Division 4.
BOWLING THROUGH TIME... (Full Results)
Leader Boards
This Week's Results vs Spring 2010:
BDE went 2-2 against Scoot Gave Us The Schlitz
Scared Splitless went 1-3 against 3 Pin Moon
C.I.C.K. Ass 2 went 2-2 against No Pinheads
See you next Tuesday! went 0-4 against Empire Strikes Back
The James Tott Center for Kids Who Can't Bowl Good... went 3-1 against Lil' Devils
Rear Admirals went 3-1 against Bowlumpkin
Pin Is King 2 went 3-1 against The Prak Attack
Bowl Movements went 0-4 against Little Lebowski Urban Achievers
Current Standings:
C.I.C.K. Ass 2: 30-10
See you next Tuesday!: 27-13
Pin Is King 2: 26-14
The James Tott Center for Kids Who Can't Bowl Good...: 25.5-14.5
Rear Admirals: 19-21
Bowl Movements: 18.5-21.5
BDE: 17.5-22.5
Scared Splitless: 17-23
The top 4 teams in terms of points at the end of the season will win extra cash.
Individual Standings
DIVISION 1

1.
Carl Goetz
21.5

(+1)

2.
Jeremy Cline
21

(+2)

3.
Michael Gordon
20.5

(+1)

4.
Ian Goetz
20

(+1)

5.
Ken M. Wilson
20

(+3)

6.
Matthew Taylor
18

(+2)

7.
Aaron Barber
17

(+1)

8.
Cory Chorpenning
16

(+3)

DIVISION 2

1.
Nick Kinney
23

(+1)

2.
Dennis Walling
22.5

(+2)

3.
Scott Murdock
22.5

(+1.5)

4.
Seth Gunderson
22

(+2)

5.
Jonathan Vigliaturo
21

(+1)

6.
AJ Hofmann
20

(+3)

7.
Ben Spencer
16.5

(+3)

8.
Rob Kaszuba
15.5

(+0.5)

DIVISION 3

1.
Curtis Whiles
27

(+4)

2.
James Tott
25

(+3)

3.
JoAnne Gordon
22.5

(+2)

4.
Jeremy Varnell
19.5

(+1)

5.
Luke Melton
19.5

(+2)

6.
Conor Clarke
19.5
7.
Freda Schroeder
16.5

(+3)

8.
Joe Meyer
14.5

(+2)

DIVISION 4

1.
Jared Nuhn
21.5

(+3)

2.
Brian Bockelman
21

(+3)

3.
Alison Radke
19

(+1)

4.
Dennis Cummings
16

(+2)

5.
Michael Whiles
15.5

(+1)

6.
Tony Marin
15

(+1)

7.
Ben Conaghan
13.5
The top 4 individuals in terms of points in each division at the end of the season will win extra cash.

NEXT WEEK:
*(Remember, the predicted results above are based on mathematical extrapolations and can be changed by all sorts of factors. If you don't like how your team's results are predicted, you and your teammates have the power to prove the math wrong!)
FROM THE GUTTER (GUTTER QUOTE)

"You can see right here, me theories predicted this. The gravitational perturbations surrounding your team's anchor cause time dilation and this is why you are the last to finish."

Albert Einstein, on why one matchup was taking to long.


EXPANDED STANDINGS
Top Individual Achievements for Week 10