The Fall 2019 position round is now history, and and the championship will be on us before we know it! The eighth week saw two teams climb in the standings, while two teams slipped. One bowler rolled a new personal best game. Freda Schroeder picked up this week's high game (185) and series (466) for the women. As for the men, Ken M. Wilson snagged this week's high game with a 224, and high series was earned by Aaron Barber with a 639. Read on for all the rest of the details!
First up, on lanes 3 & 4: With the narrowest of handicaps, See you next Tuesday! laughed with confidence and contempt upon discovering they were rolling against only half of Pin Is King 2. Strengthened by trifecta-winner (#1 Head-to-Head, #1 Power-Ranked, and Most Valuable Bowler) Aaron Barber and his almost awe-inspiring 639 series, Next Tuesday collected 3 wins against Kings. But wait, is one TRULY the Most Valuable Bowler when, with all his own personal achievements secured but a clean sweep not quite locked up for his team, he uses his final roll of the night to clean dead wood out of the gutter rather than to pick up the final few pins needed to earn the sweep? That's why this week's coveted Dead Wood Dick Award goes to... [drum roll]... Aaron Barber! Meanwhile, Ben Spencer with his 524 series called the shots for Kings and also chose to leave any and all dead wood alone, thus gaining his team a single win. Despite the Dead Wood Dopiness, See you next Tuesday! remains in 1st place, while Kings sink 1 spot to 3rd.
On lanes 5 & 6: The wrathful C.I.C.K. Ass 2 turbocharged themselves with some BDE. With top billing by Ken M. Wilson with his 628 series, CICK felt the glory of a clean sweep over BDE. Concurrently, Jeremy Cline with his slightly-off 497 series led a somewhat flaccid BDE despite his team getting swept. C.I.C.K. Ass 2 climbs 1 spot in the standings to 2nd place, while BDE remains in 4th.
On lanes 7 & 8: We find a pairing of virtually equal strengths, as The James Tott Center for Kids Who Can't Bowl Good and Wanna Learn To Do Other Stuff Too apparently needed to learn to eat more fiber after having a difficult time with Bowl Movements. Headmaster James Tott ruled the School with his above-average 441 series, but James Tott School for B's accomplished only 1 win against Movements. On the other half of the score sheet, Conor Clarke with his better-than-normal 493 series firmed up the Bowl Movements as his team took the match with 3 wins. The James Tott Center for Kids Who Can't Bowl Good and Wanna Learn To Do Other Stuff Too remains in 5th place, while Movements remain in 6th.
Finally, down on lanes 9 & 10: In a repeat matchup from last week, Scared Splitless chucked gutter balls with Rear Admirals. Although receiving some motivation from Curtis Whiles with his above-average 489 series, Splitless got swept by Admirals. In the meantime, Scott "Maybe I shouldn't Get My Shoulder Fixed After All" Murdock with his better-than-normal 530 series oversaw Admirals as they earned their first sweep of the season and hit double-digit win territory. Scared Splitless drop 1 spot in the standings to 8th place, while Admirals move up 1 spot to 7th.
Bowlers fending off an onslaught of cougars at The 200 Club include: Aaron Barber (215,215,209), Ben Spencer (200), Carl Goetz (204,204), Ian Goetz (202), James Tott (203), Jonathan Vigliaturo (209), Ken M. Wilson (224,212), Nick Kinney (214), and Scott Murdock (212)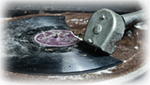 A new personal high game was set tonight by Michael Whiles (150, previous best 148).


In this week's Tournament of Champions brackets: Aaron Barber routed Division 1, while Scott Murdock triumphed over his enemies in Division 2. Conor Clarke won Division 3, and Jared Nuhn trounced Division 4. In terms of overall points: Ian Goetz and Michael Gordon reign over Division 1 in a tie; Scott Murdock and Rob Kaszuba are both in the driver's seat (on each other's laps?) in Division 2 in a tie; Conor Clarke holds the reins in Division 3; and Jared Nuhn calls the shots Division 4.
---
This week's Bowling Thru Time results can be seen here.
---
NEXT WEEK:
*(Remember, the predicted results above are based on mathematical extrapolations and can be changed by all sorts of factors. If you don't like how your team's results are predicted, you and your teammates have the power to prove the math wrong!)
FROM THE GUTTER (GUTTER QUOTE)

"Finally!!! Thanks to Barber's dead wood fiasco maybe now people will forget about the Rule 6B incident."

Ryan Doll, hoping this makes people forget about the time he rolled between the legs and other trick shots in league play because he didn't realize that the other team forfeiting doesn't mean you automatically get four wins.


EXPANDED STANDINGS
Top Individual Achievements for Week 8