8 teams arrived to kick off our fortieth season, greeted by new flooring installed over the summer by
last season's last-place team, who are now all taking a season off to recovering from the fumes. (This season's last-place team will get to replace all the ceiling tiles.)
One bowler set a new personal best series. (Sub) Monica Hufford picked up this week's high game (189) and series (494) for the women. As for the men, Ian Goetz snagged this week's high game with a 236, and high series was earned by Ken M. Wilson with a 609. Read on for all the rest of the details!
First up, on lanes 3 & 4: In a rather lopsided matchup, the demonic C.I.C.K. Ass 2 shared a major lane malfunction with the charming BDE. With the strength of #1 Power-Ranked Ken M. Wilson and his 609 series, with props to #1 Head-to-Head bowler , CICK collected 3 wins against BDE. Concurrently, Rob Kaszuba with his 526 series showed off for BDE despite his team notching only a single win. At one point during the match we all thought another demon was being summoned from the bowels of Hell to join the CICK Ass roster, but it turned out to just be the lane 3-4 ball return catching fire for the first time in 2 years, 6 months, and 12 days. C.I.C.K. Ass 2 enters the world in 3rd place, while BDE begins in 5th.
On lanes 5 & 6: In a battle of good against evil, the foul scoundrels of See you next Tuesday! menaced Scared Splitless. Highlighting the skills of Aaron Barber with his 535 series, with kudos to Most Valuable Bowler Seth Gunderson, Next Tuesday landed a clean sweep over Splitless. Moving on to the challengers, Luke Melton with his 425 series laid down the law for Splitless despite his team getting swept. See you next Tuesday! leaves the gate in 2nd place, while Splitless commence with 8th.
On lanes 7 & 8: In a truly mismatched pairing, the rapscallions of The James Tott Center for Kids Who Can't Bowl Good and Wanna Learn To Do Other Stuff Too waged a heated competition against the evil Pin Is King 2. Although charging into the fray behind AJ Hofmann with his 464 series, James Tott School for B's got swept by the Kings. In the meantime, Matthew Taylor with his 587 series took charge of the Pinis as they swept the competition. The James Tott Center for Kids Who Can't Bowl Good and Wanna Learn To Do Other Stuff Too gets underway in 7th place, while the Gozerians get going with 1st.
Finally, down on lanes 9 & 10: Rear Admirals shared a platter of cheese sticks with Bowl Movements. Strengthened by sub Monica Hufford with her 494 series, Admirals collected 3 wins against Movements. Countering this, Joe Meyer with his shocking 467 series ruled Movements despite his team notching only a single win. Rear Admirals begins the season in 4th place, while Bowl Movements plop out in 6th.
Bowlers entering The 200 Club include: Aaron Barber (231), Carl Goetz (203,220), Cory Chorpenning (200), Ian Goetz (236), Ken M. Wilson (234), and Matthew Taylor (210)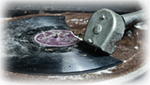 A new personal best series was rolled tonight by Joe Meyer (467, previous best 464).


The Tournament of Champions begins in 3 weeks. Here are how the divisions are shaping up so far:


DIVISION 1
1. Ken Wilson
2. Ian Goetz
3. Cory Chorpenning
4. Carl Goetz
5. Matthew Taylor
6. Michael Gordon
7. Aaron Barber
8. Rob Kaszuba
DIVISION 2
1. Ben Spencer
2. Jeremy Cline
3. Dennis Walling
4. Seth Gunderson
5. Jonathan Vigliaturo
6. Joe Meyer
7. Nick Kinney
8. AJ Hofmann
DIVISION 3
1. Scott Murdock
2. Luke Melton
3. James Tott
4. Conor Clarke
5. Alison Radke
6. Michael Whiles
7. Dennis Cummings
8. Brian Bockelman
DIVISION 4
1. Jeremy Varnell
2. Curtis Whiles
3. JoAnne Barber
4. Tony Marin
5. Ben Conaghan
BOWLING THRU TIME (Spring 2005 Edition): Detailed online tracking launches in conjunction with the start of the Tournament of Champions in week 4. But here are last night's tentative team-level results:
NEXT WEEK:
*(Remember, the predicted results above are based on mathematical extrapolations and can be changed by all sorts of factors. If you don't like how your team's results are predicted, you and your teammates have the power to prove the math wrong!)
FROM THE GUTTER (GUTTER QUOTE)

"It's kind of tricky fingering someone else's ball."

Ben Conaghan, as he and Conor took turns gently cupping the same ball.


EXPANDED STANDINGS
Top Individual Achievements for Week 1