Many times throughout our history bowlers have bought a new ball and seen immediate improvement in their game. But never before have we seen this happen as dramatically as it did last night with Chantal's new ball.
Overall, two teams climbed in the standings, while three teams slipped. One bowler set a new personal best series, and two rolled new personal high games. Chantal Jacot picked up this week's high game (208) and series (471) for the women, while Dennis Walling earned this week's high game (245) and series (634) for the men. Read on for all the rest of the details!
First up, on lanes 1 & 2: Extreme Outliers did what 3 teams have already failed at: winning all four against the blind team. Ben Spencer led the Outliers with his better-than-normal 519 series, but props also go to to Most Valuable Bowler Nicole Yancy FOR THE SECOND WEEK IN A ROW. The Outliers jump 3 spots to 6th place, no longer have a losing record, and ARE NOW HIGHER IN THE STANDINGS THAN #MGAGA.
On lanes 3 & 4: In a juxtaposition of two close team averages, Scoot's Raging Bone Spur deliberately ate cheese sticks shrimp poppers in front of Bowl Movements. Uniting behind the leadership of Scott Murdock with his 471 series, Bone Spurs collected 3 wins against Movements. As this was happening, Conor Clarke with his slightly-off 438 series propped up Movements despite his team notching only a single win. Scoot's Raging Bone Spur remains in 5th place, while Movements remain in 11th.
On lanes 5 & 6: CICK Ass waged a heated competition against #MGAGA. Though top billing on CICK goes to Ken M. Wilson with his above-average 612 series, it is impossible to ignore the contribution of #1 Power-Ranked Chantal Jacot and her new ball, with a new personal best game tonight that was 100 pins over average and is the new season record for high game scratch by a female bowler! Aaron Barber with his 563 series called the shots for the red hats despite his team notching only a single win. That single win finally broke MGAGA's 14-game losing steak, but was not enough to keep them on the winning side of the standings. CICK Ass remains in 1st place, while the Hashtags sink 1 spot to 7th.
On lanes 7 & 8: We Don't Give a Split took turns kicking the ball return with Open Frames R Us. Strengthened by Aubrey Moren with his 521 series, Split Not Given collected 3 wins against Open Frames. Conversely, James Tott with his 447 series (including his third new personal best game so far this season — a 210 this time) inspired Open Frames despite his team notching only a single win. We Don't Give a Split remains in 2nd place, while Open Frames plunge 2 spots to 9th.
On lanes 9 & 10: JoAnne's Dirty PJs tussled with BDE. Led by JoAnne Gordon with her above-average 403 series, Dirty PJs welcomed a clean sweep over BDE. In the midst of this, Jeremy Cline with his 534 series showed off for BDE despite his team getting swept. JoAnne's Dirty PJs leap 2 spots in the standings to 8th place, while BDE remains in 4th.
Finally, down on lanes 11 & 12: In a battle of "PinIs vs. PinIs" The Pin Is Mightier found it wasn't mighty enough to remain standing before the Pin Is King. Even though highlighted by the skills of Curtis Whiles with his above-average 579 series, Mightiers accomplished only 1 win against the Kings. #1 Head-to-Head Dennis Walling and his dramatic 634 series took the lead among PinIs Kings as his team took the match with 3 wins. The Pin Is Mightier plummets 2 spots in the standings to 10th place, while Pin Is King remains in 3rd.
Bowlers ducking past the bouncer at The 200 Club include: Aubrey Moren (206), Chantal Jacot (208), Curtis Whiles (211), Dennis Walling (245), Ian Goetz (213,204), James Tott (210), Ken M. Wilson (203,208,201), and Seth Gunderson (203)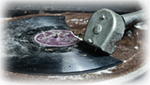 New personal high games were set tonight by James Tott (210, previous best 209) and Chantal Jacot (208, previous best 177). In addition, a new personal best series was rolled by Chantal Jacot (471, previous best 403).
Adding to the excitement, the 208 rolled by Chantal Jacot is this season's new high game among women.


In this week's Tournament of Champions brackets: Ken M. Wilson whipped Division 1, while Dennis Walling swept Division 2. Nobody claimed victory in Division 3 (though Pat Hamell came closest), and nobody claimed victory in Division 4 (though Chantal Jacot and Michael Whiles came closest). Finally, Nicole Yancy (Division 4) routed this week's Interdivisional bracket. And JoAnne (Gordon) Barber (Division 4) proved that she belongs in the Master Bowling Nation by playing with herself to completion. In terms of overall points: Ken M. Wilson is in the driver's seat in Division 1; Rob Kaszuba reigns over Division 2; Pat Hamell governs Division 3; and Nicole Yancy tops Division 4.
NEXT WEEK:
*(Remember, the predicted results above are based on mathematical extrapolations and can be changed by all sorts of factors. If you don't like how your team's results are predicted, you and your teammates have the power to prove the math wrong!)
FROM THE GUTTER (GUTTER QUOTE)

"The ball was actually made of wood when it was released, but it petrified into stone by the time it reached the pins."

AJ, on the excruciatingly slow speed that some people's balls roll down the lane.


EXPANDED STANDINGS
| | | | | | |
| --- | --- | --- | --- | --- | --- |
| Pos. | Team name | Record | Percent | Total Pins | Change |
| 1 | CICK Ass | 24-8 | .750 | 15,890 | n/a |
| 2 | We Don't Give a Split | 22-10 | .688 | 14,995 | n/a |
| 3 | Pin Is King | 21-11 | .656 | 17,809 | n/a |
| 4 | BDE | 18-14 | .563 | 15,144 | n/a |
| 5 | Scoot's Raging Bone Spur | 18-14 | .563 | 13,487 | n/a |
| 6 | Extreme Outliers | 16-16 | .500 | 10,035 | +3 |
| 7 | #MGAGA | 15-17 | .469 | 17,345 | -1 |
| 8 | JoAnne's Dirty PJs | 15-17 | .469 | 12,056 | +2 |
| 9 | Open Frames R Us | 14-18 | .438 | 13,209 | -2 |
| 10 | The Pin Is Mightier | 13-19 | .406 | 12,094 | -2 |
| 11 | Bowl Movements | 11-21 | .344 | 12,492 | n/a |
| 12 | Holy Forkin Shirt Balls | 0-32 | .000 | 1,440 | n/a |
Top Individual Achievements for Week 8