This season has seen its share of weirdness -- due both to the number of teams and two both really high and really low games coming from unexpected places. This week was no exception. But next week it will get even weirder.
The shocking news, is that it appears very likely that Ray & Stevie is leaving us. (And they didn't even bother to say goodbye to anyone last night, the jerks.) Taking their place will be a new team that has materialized out of VML, including a veteran from way back -- Shane Pflaffly.
Our league has precedent for a new team joining late in the season, it happened with the Ashley Razabacks way back in Fall 2004. At that time, to make it fair for teams that not had their turn to bowl against the Vacant team, we made the Razabacks wait until after the position round to begin. But with the number of teams we have this season, if we make the new team wait until that point then they would be starting the league with only a month of bowling left to go. And that's no fun for them.
But we have a plan.
First, a few things to keep in mind: (1) We are a non-sanctioned league, so have more freedom to improvise. (2) We are about having fun and finding ways to let people bowl who want to bowl. (3) Nonetheless, we want to keep things fair for everyone.
So here's how it will go down. Next week, Open Frames R Us is scheduled to bowl against the New Team. Though the bowling alley won't be able to show it this way, we will score Open Frames as if they were still bowling against a vacant team, while the New Team will be scored normally. On paper, this means it's possible (even likely) that the same game can be won by both teams. That's ok: even though the bowling alley can't do it that way, we can and that's what matters.
Then, the following week Pin Is King will do the same thing.
After that every team (except of course for the new team) will have each had an opportunity to bowl against the Vacancy, and scoring will go back to normal.
Could this theoretically mean slightly smaller per-win prize payouts at the end since this system can create more than the usual number of win-shares? It might seem yes, but since the new team will be contributing to the overall prize fund with every game they play, so we actually expect greater per-win payouts than we would have had otherwise.
So, with all that explained, let's move on to how everyone did last night....
---
The ninth week of Spring 2019 saw four teams climb in the standings, while three teams slipped. One bowler set a new personal best series, and one rolled new personal high game. Monica Hufford picked up this week's high game (167) and series (464) for the women, while Aaron Barber earned this week's high game (232) and series (677) for the men. Read on for all the rest of the details!
First up, on lanes 1 & 2: Open Frames R Us kept stealing sips of beer from Pin Is King. Emboldened by James Tott with his above-average 476 series, Open Frames collected 3 wins against the Kings. While that was going down, Dennis Walling showed off his PinIs with his 557 series despite his team notching only a single win. Open Frames R Us climb 1 spot in the standings to 8th place, while PinIs Kings move up 1 spot to 2nd.
On lanes 3 & 4: #MGAGA continues their amazing streak of luck in rolling against people bowling their best ever, as Josh Rothermel rolled his new personal best game AND series (214 and 512, respectively). This propelled JoAnne's Dirty PJs to a 3-1 victory over the floundering-as-of-late #MGAGA. It was only the sheer force of #1 Power Ranked and #1 Head-to-Head Aaron Barber and his staggering 677 series that saved his team from an outright sweep. JoAnne's Dirty PJs climb 1 spot in the standings to 7th place, while Hashtags plunge 2 spots to 9th.
On lanes 5 & 6: The Pin Is Mightier was likely the last team this season to get to hang out with Ray & Stevie. Starring Chuck Kissee as the hero with his above-average 373 series, Mightiers collected 3 wins against the Blind Team. Just three? Yeah, because unfortunately Chuck also played the role of the villain with an uncharacteristically below-average first game that dropped the team below the threshold of victory. (Don't beat yourself up, Chuck, you team was by no means the first to lose a game to the blind team.) The Pin Is Mightier remains in 10th place, while the Blind Team remains in 12th.
On lanes 7 & 8: The two (for now) VML teams finally got a chance to check out each other's balls as BDE compared their weight and smoothness with Bowl Movements. Featuring Jeremy Cline with his 529 series, BDE split the series with Movements. On the other side of ball return, Conor Clarke with his slightly-off 431 series ruled Movements as they matched their opponent in wins. BDE remains in 4th place, while Movements remain in 11th.
On lanes 9 & 10: Each season when I do orientations for the new bowlers, I reassure rookie bowlers that they should not be frustrated if they have low scores - that it's not the numbers alone that matter but how you improve over time that makes all the difference for your team. Extreme Outliers has been living proof of that this season. Starting out at the very bottom of the standings, the Outliers have been quietly racking up wins as their most inexperienced team members have become more confident and started figuring things out. Because of this, in what should have been a rather lopsided matchup but instead became an equally lopsided matchup in the other direction, We Don't Give a Split found themselves absolutely swept away by the Outliers. Dennis Laube led Split with his 472 series, while Ben Spencer was the big Outlier with his 463 series. We Don't Give a Split drops 1 spot in the standings to 3rd place, while Outliers move up 1 spot to 5th. Not just 5th, a 5th that includes a now WINNING record and is in a tie with 4th place!
Finally, down on lanes 11 & 12: CICK Ass faced off against an uncharacteristically faltering Scoot's Raging Bone Spur. Demonstrating the prowess of Ian Goetz with his 565 series, CICK Ass garnered a clean sweep over the painfully under-performing Bone Spurs. In the meantime, Sean Miller with his 461 series led the Bone Spurs despite his team getting swept. CICK Ass remains in 1st place, while Bone Spurs sink 1 spot to 6th.
Bowlers arrested when The 200 Club was raided by the vice squad include: Aaron Barber (232,228,217), Carl Goetz (223), Dennis Walling (222), Ian Goetz (204,206), Jeremy Cline (228), Josh Rothermel (214), Ken M. Wilson (216), and Rob Kaszuba (210)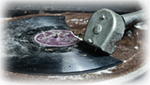 A new personal high game was set tonight by Josh Rothermel (214, previous best 187). In addition, a new personal best series was rolled by Josh Rothermel (512, previous best 502).


In this week's Tournament of Champions brackets: Aaron Barber swept Division 1, while Sean Miller eradicated Division 2. Josh Rothermel whipped Division 3, and Michael Whiles cleaned up Division 4. And, finally, nobody claimed victory in the Interdivisional bracket (though Emily DeCoursey (Division ) came closest). In a disappointing footnote, nobody successfully played with themself this week. In terms of overall points: Ken M. Wilson calls the shots Division 1; Rob Kaszuba dominates Division 2; Pat Hamell governs Division 3; and Michael Whiles tops Division 4.
NEXT WEEK:
*(Remember, the predicted results above are based on mathematical extrapolations and can be changed by all sorts of factors. If you don't like how your team's results are predicted, you and your teammates have the power to prove the math wrong!)
FROM THE GUTTER (GUTTER QUOTE)

"Just wait until the end of this inning!"

Emily DeCoursey, on how well her team was scoring during a particular frame.


EXPANDED STANDINGS
| | | | | | |
| --- | --- | --- | --- | --- | --- |
| Pos. | Team name | Record | Percent | Total Pins | Change |
| 1 | CICK Ass | 28-8 | .778 | 17,872 | n/a |
| 2 | Pin Is King | 22-14 | .611 | 19,642 | +1 |
| 3 | We Don't Give a Split | 22-14 | .611 | 16,642 | -1 |
| 4 | BDE | 20-16 | .556 | 16,988 | n/a |
| 5 | Extreme Outliers | 20-16 | .556 | 11,359 | +1 |
| 6 | Scoot's Raging Bone Spur | 18-18 | .500 | 15,068 | -1 |
| 7 | JoAnne's Dirty PJs | 18-18 | .500 | 13,783 | +1 |
| 8 | Open Frames R Us | 17-19 | .472 | 14,857 | +1 |
| 9 | #MGAGA | 16-20 | .444 | 19,549 | -2 |
| 10 | The Pin Is Mightier | 16-20 | .444 | 13,510 | n/a |
| 11 | Bowl Movements | 13-23 | .361 | 14,009 | n/a |
| 12 | Holy Forkin Shirt Balls | 0-36 | .000 | 1,440 | n/a |
Top Individual Achievements for Week 9