By now every team has bowled each other once, so many of you league veterans may be expecting a position round next week. But, because of the way a 16-week schedule works with 6 teams, there will be no position rounds until the final week to allow every team ro bowl every other team an equal number of times.
This week was full of clean sweeps, lots of 200s, and much improved scores across the board as we acclimate to our new surroundings. Two teams climb in the standings, while two teams slipped. One bowler rolled a new personal best game. Emily Nicolet picked up this week's high game (167) and series (376) for the women, while Carl Goetz earned this week's high game (240) and series (621) for the men. Read on for all the rest of the details!
First up, on lanes 1 & 2: 3/5 of Kenny Fan Club couldn't stop inappropriately groping the balls of The Heavy Pins, which was such a distraction that despite being led by Conor Clarke with his above-average 531 series, Kenny got swept by Heavy P. Simultaneously, Kent Harms with his stunning 511 series drew the spotlight of Heavy P as they swept the competition and also added "hey, we liked the groping, there was nothing inappropriate about it at all.". Kenny Fan Club remains in 6th place, while Heavy P jumps 2 spots to 2nd.
On lanes 3 & 4: In a battle of good against evil, the bad guys of Going Going Bald deliberately ate cheese sticks in front of the swashbucklers of Bowlie Guacamole. It worked. Emboldened by Most Valuable Bowler Dennis Walling and his spectacular 620 series, Baldness felt the glory of a clean sweep over Guac. On the adjacent lane, Dustin Schmeltz with his 451 series called the shots for Guac despite his team getting swept. Going Going Bald remains in 1st place, while Guac plunges 2 spots to 5th.
Finally, down on lanes 5 & 6: Would You Rather... tried everything to distract Shephus Cripes -- even going so far as tossing Scoot's bowling towel into Seth's tray of taquitos. Nothing helped. Though reinforced by #1 Power-Ranked AJ Hofmann and his mesmerizing 503 series, Would You got swept by Shephus. Meanwhile, #1 Head-to-Head Carl Goetz and his wonderful 621 series guided Shephus as they swept the competition. Would You Rather... plummets 2 spots in the standings to 4th place, while Shephus jump 2 spots to 3rd.
Bowlers no longer banned from The 200 Club include: Aaron Barber (220), Carl Goetz (240,202), Dennis Walling (209,239), James Tott (201,210), and Seth Gunderson (201,224)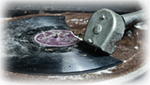 A new personal high game was set tonight by Emily Nicolet (167, previous best 164).
Emily Nicolet earned both this season's women's high game and series with her 167 and 376, respectively.


In this week's Tournament of Champions brackets: Carl Goetz walloped Division 1, while James Tott made quick work of Division 2. Kent Harms decimated Division 3, and Emily Nicolet won Division 4. In terms of overall points: Carl Goetz and Dennis Walling lead Division 1 in a tie; James Tott holds the reins in Division 2; Kent Harms tops Division 3; and Emily Nicolet governs Division 4.
Public service announcement 1: Are you tired of logging your ball up and down the hill every Tuesday? Storage lockers are available for rent for just $10 for the season.
Public service announcement 2: Several of you have been exploring the various pre-gaming options throughout the neighborhood. We have our own little guide to 13 places you can grab a drink or snack within blocks of the bowling alley.
NEXT WEEK:
First, on lanes 1&2, 5th-place Bowlie Guacamole (hcp 164) will roll against 3rd-place Shephus Cripes. Guac is expected to maintain their current strength as they get swept; while Shephus are forecast to hold steady as they rack up a sweep.

Moving to lanes 3&4, 4th-place Would You Rather... will throw some gutter balls with 2nd-place The Heavy Pins (hcp 23). Would You might maintain their current strength as they just barely win the series; while Heavy P ought to hold steady as they avoid getting swept.

Finally, on lanes 5&6, 6th-place Kenny Fan Club (hcp 100) will chuck some balls with 1st-place Going Going Bald. Kenny is predicted to maintain their current strength as they get swept; while Baldness are anticipated to raise their average while they rack up a sweep.
*(Remember, the predicted results above are based on mathematical extrapolations and can be changed by all sorts of factors. If you don't like how your team's results are predicted, you and your teammates have the power to prove the math wrong!)
FROM THE GUTTER (GUTTER QUOTE)

"Now that is just ridiculous, Dude. Nobody is going to cut your dick off. Not if I have anything to say about it."

Seth Gunderson, reassuring Matthew Taylor, as they heading to the men's room.


EXPANDED STANDINGS
Top Individual Achievements for Week 5