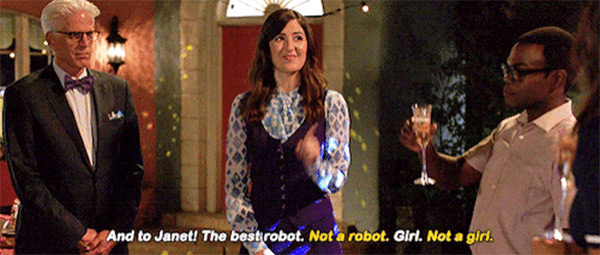 This writeup has nothing to do with robots or "The Good Place", I just found myself unable to think of a title or cover image this week. But at least it's not a robot-written write-up, so we'll celebrate that. The sixth week saw two teams climb in the standings, while two teams slipped. Emily Nicolet landed this week's high game for the women with a 116, and women's high series was bagged by JoAnne Barber with a 325. As for the men, Ben Spencer earned this week's high game (249) and series (588). Read on for all the rest of the details!
First up, on lanes 1 & 2: What should have been a very lopsided match in one direction went surprisingly the other way, as underdogs Bowlie Guacamole waged competition against the heavily favored Shephus Cripes. Blessed by Dustin Schmeltz with his above-average 501 series, Guac collected a shocking 3 wins against Shephus. Meanwhile, temporary Aaron replacement and very welcome face to see around the lanes again Jonathan Vigliaturo with his 566 series ruled Shephus despite his team notching only a single win. Bowlie Guacamole climbs 1 spot in the standings to 4th place, while Shephus plunge 2 spots to 5th.
(For those who noticed the tablet-related delays at the start of this matchup's first game, the tablet was not allowing score entry for the 4th position on Shephus regardless of any changes to the bowling order. Scoot finally figured out that even though JV had been entered as a sub. the scoring database was still holding onto Aaron Barber for that 4th spot and trying to make him be up to bowl. A quickly whipped up garbage collection subroutine fixed the problem, so this shouldn't happen again.)
On lanes 3 & 4: In the only closely-matched lineup this evening, Would You Rather... had some bonding time time with The Heavy Pins. Led by trifecta-winner (#1 Head-to-Head, #1 Power-Ranked, and Most Valuable Bowler) AJ Hofmann and his powerful 532 series, Would You locked up a clean sweep over Heavy P. While that was going down, Kent Harms with his better-than-normal 500 series took charge of Heavy P despite his team getting swept. Would You Rather... leaps 2 spots in the standings to 2nd place, while Heavy P sinks 1 spot to 3rd. (This marks the first time Would You Rather managed to have a winning week with both Scoot & AJ present.)
Finally, in as minimally-staffed a matchup as it is possible to get down on lanes 5 & 6: Kenny Fan Club spent some quality time chowing down on free steaks at a work-related function, so Going Going Bald got to reap the benefits of a forfeit. All Baldness needed to do was roll within 40 pins of their combined team average each game. However, that would not be the case in every game. In their battle to get within at least 40 pins of average, Ben Spencer with his better-than-normal 588 series dominated Baldness as his team still took the match with 3 of the 4 possible wins. Kenny Fan Club remains in 6th place, while Baldness remain in 1st.
Bowlers rolling into The 200 Club include: AJ Hofmann (206), Ben Spencer (249,207), Carl Goetz (203), and Scott Murdock (203)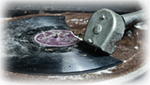 The 249 rolled by Ben Spencer is this season's new high game for men.


In this week's Tournament of Champions brackets: Nobody claimed victory in Division 1, and in fact we aren't even going to talk about Division 1 as it was a complete embarassment, while nobody claimed victory in Division 2 (though Nicholas Knight came closest). Kent Harms shut down Division 3, and Brandon Martinez vanquished Division 4. In terms of overall points: Carl Goetz reigns over Division 1; James Tott and Nicholas Knight call the shots in Division 2 in a tie; Kent Harms runs the show in Division 3; and Emily Nicolet leads Division 4.
NEXT WEEK:
First, on lanes 1&2, 3rd-place The Heavy Pins (hcp 104) will spend some quality time with 1st-place Going Going Bald. Heavy P is expected to maintain their current strength as they get swept; while Baldness are forecast to raise their average while they rack up a sweep.

Moving to lanes 3&4, 6th-place Kenny Fan Club (hcp 116) will chuck some balls with 5th-place Shephus Cripes. Kenny might perform well, yet still manage to lose the series but avoid getting swept; while Shephus ought to hold steady as they enjoy their victories.

Finally, on lanes 5&6, 4th-place Bowlie Guacamole (hcp 71) will chill with 2nd-place Would You Rather.... Guac is predicted to roll decently, yet still manage to lose the series but avoid getting swept; while Would You is anticipated to hold steady as they enjoy their victories.
*(Remember, the predicted results above are based on mathematical extrapolations and can be changed by all sorts of factors. If you don't like how your team's results are predicted, you and your teammates have the power to prove the math wrong!)
FROM THE GUTTER (GUTTER QUOTE)

"I'm just tired of looking at Luke's skinny ass."

Jeremy Varnell, saying aloud what many of us with more, uh, "ample" posteriors were thinking.


EXPANDED STANDINGS
Top Individual Achievements for Week 6