In this seventh week of Fall 2021 the first-place team widened its already substantial lead slightly, while the second-place team continues doing all it can to remain a contender. And while we saw fewer 200s this week than in recent weeks, scores overall continue their trend toward improving. One bowler rolled a new personal best game. JoAnne Barber picked up this week's high game (160) and series (417) for the women, while Ben Spencer earned this week's high game (231) and series (584) for the men. Read on for all the rest of the details!
Before we get into that, there is one schedule change to announce. Week 9 will be rolled on Monday, November 1 instead of Tuesday, November 2, due to an election watch party.
First up, on lanes 1 & 2: The Heavy Pins tried using their Luke powers to stall and disrupt the momentum of Going Going Bald, but it just didn't work out. Notwithstanding the leadership of Nicholas Knight with his 418 series and Luke's ability to make the other teams lane reset unexpectedly due to how fast he rolls his ball, Heavy P got swept by Baldness. Top bald-man Ben Spencer with his better-than-normal 584 series emboldened the Baldies (with kudos to Most Valuable Bowler Chris Windham) as they swept the competition. The Heavy Pins plummet 2 spots in the standings to 5th place, while Baldness remain in 1st.
On lanes 3 & 4: A matchup that many would consider unfair turned out to be anything but. The meek Kenny Fan Club instead turned things around to double their win count tonight ina surprising defeat of Shephus Cripes. Charging into the fray behind Conor Clarke with his 501 series, Kenny collected 3 wins against Shephus. Meanwhile Carl Goetz with his better-than-normal 583 series dominated Shephus despite his team notching only a single win. Despite the win-loss outcome, Kenny Fan Club remains in 6th place, while Shephus moves up 1 spot to 4th.
Finally, down on lanes 5 & 6: A half-blind half-prebowled Bowlie Guacamole found their destiny gripped in the icy hands of Would You Rather.... Even though highlighted by the skills of Dustin Schmeltz with his 478 series, Guac accomplished only 1 win against Would You. On the other half of the score sheet, #1 Power Ranked and #1 Head-to-Head AJ Hofmann and his dizzying 535 series shone in Would You as his team took the match with 3 wins. In fact, both AJ and JoAnne Barber found themselves carrying the dead weight of their other two teammates, who just could not muster consistently good games. Bowlie Guacamole climbs 1 spot in the standings to 3rd place, while Would You remains in 2nd.
Bowlers who lied to their significant other claiming bowling was running long then went out for after-bowling drinks at The 200 Club include: AJ Hofmann (205), Ben Spencer (231), Carl Goetz (225), and Dennis Walling (200)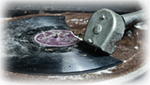 A new personal high game was set tonight by Adam Scherzer (175, previous best 169).
Adding to the excitement, the 417 rolled by JoAnne Barber is this season's new high series among women.


In this week's Tournament of Champions brackets: Carl Goetz creamed Division 1, while nobody claimed victory in Division 2, and in fact we aren't even going to talk about Division 2 as it was a complete embarassment. AJ Hofmann triumphed over his enemies in Division 3, and Ben Conaghan whipped Division 4. In terms of overall points: Carl Goetz holds the reins in Division 1; Nicholas Knight calls the shots Division 2; Kent Harms reigns over Division 3; and Emily Nicolet tops Division 4.
NEXT WEEK:
First, on lanes 1&2, 6th-place Kenny Fan Club (hcp 21) will battle 2nd-place Would You Rather.... Kenny is expected to roll a little low and get swept; while Would You is forecast to raise their average while they rack up a sweep.

Moving to lanes 3&4, 5th-place The Heavy Pins will hang out with 3rd-place Bowlie Guacamole (hcp 34). Heavy P might perform well and sweep the series; while Guac ought to hold steady as they endure a rough night.

Finally, on lanes 5&6, 1st-place Going Going Bald (hcp 12) will test their mettle against 4th-place Shephus Cripes. Baldness are predicted to roll decently, yet still manage to get swept; while Shephus are anticipated to catapult their team average they rack up a sweep.
*(Remember, the predicted results above are based on mathematical extrapolations and can be changed by all sorts of factors. If you don't like how your team's results are predicted, you and your teammates have the power to prove the math wrong!)
FROM THE GUTTER (GUTTER QUOTE)

"Do my balls smell like blueberries?"

Sure, that may not be exactly what JV said, but we all heard what we wanted to hear.


EXPANDED STANDINGS
Top Individual Achievements for Week 7