When we have 8 teams the Position Round slices our season cleanly in half. But when we have 12 teams the Position Round is more like the mighty guillotine, slicing off just the end while the main body remains on the slab of history. Three normal-ish weeks remain before the Championship round, but even less time that that remains for anyone to act before the current #1 team clinches the championship outright.
This week, a great number of bowlers had their best or near-best weeks all season. About the same number had their worst or near-worst. Four teams climb in the standings, while four teams slipped. One bowler set a new personal best series, and two rolled new personal high games. Monica Hufford picked up this week's high game (178) and series (465) for the women, while Matthew Taylor earned this week's high game (243) and series (633) for the men. Read on for all the rest of the details!
First up, on lanes 1 & 2: CICK Ass showed why they have such a strong first place lead by pounding Pin Is King into oblivion in game 1 despite King rolling one of their better sessions. Led by Ian Goetz with his above-average 615 series, CICK Ass then took a moment to catch their breath in game 2 before returning mostly to form for game 3. Poor Matthew Taylor, rolled his second-best series of the season (633) and had this week's high game (243) yet the only game the Kings won was the one where Matthew took a break. CICK Ass remains in 1st place, while PinIs Kings remain in 2nd.
On lanes 3 & 4: Normally one would think of Extreme Outliers as the underdog in a matchup with We Don't Give a Split, but the way they the Outliers have been bowling lately, there's a strong argument for it being the other way around. Nevertheless, Split came out firing to hand the Outliers their first losing session since Week 6. Like two men fighting over the last bottle of Rogaine at a Walgreens Black Friday sale, Aubrey Moren of Split and Ben Spencer of Outliers each rolled their best performances of the season tonight. #1 Head-to-Head Aubrey Moren led Split to three wins with his triple-twos and his season-best 626 series, while #1 Power-Ranked Ben Spencer rolled double-twos (including a new personal best 214) for a new personal best 581 series and to help save his team from being swept. We Don't Give a Split remains in 3rd place, while Outliers sink 1 spot to 5th.
On lanes 5 & 6: The half of BDE that showed up had a rather average and consistent evening. Meanwhile Open Frames R Us was all over the place... with Emily being the most consistent while James, who rolled a new personal best game for the fourth time this season, had a spread of 101 pins. By the numbers, Rob Kaszuba let BDE with his 448 series, while Neil Hufford's 489 series led Open Frames despite James having the team's high game by a long shot. BDE's consistency combined with Open Frame's erratic style to lead to a perfectly-split outcome. BDE climbs 1 spot in the standings to 4th place, while Open Frames sink 1 spot to 7th.
On lanes 7 & 8: After last week's trouncing of the same team they faced tonight, #MGAGA hoped to repeat the scenario. However Scoot's Raging Bone Spur was pretty fed up after three consecutive weeks of losses, and shut that plan down. In spite of the prowess of Jonathan Vigliaturo with his above-average 573 series, Hashtags got swept by Bone Spurs. Meanwhile, former bone-spur owner Scott Murdock with his better-than-normal 534 series ruled Bone Spurs as they swept the competition in a matchup that included so many splits the balls may as well have been guillotines. #MGAGA plummets 3 spots in the standings to 10th place, while Bone Spurs jump 2 spots to 6th. (BTW Scoot had not had any 200+ games this season before tonight, as he had been saving them for Seth.)
On lanes 9 & 10: MARK IT ZERO! With Lane 9 malfunctioning and recording about every other roll as a foul, the bottom half of Bowl Movements (would that make them dingleberries?) shared a frustrating session with an even more frustrated JoAnne's Dirty PJs. Joe Meyer with his above-average 435 series (assuming all the fouls were correctly fixed) pinched off 3 wins and some bits of corn for the BMs, while Jeremy Varnell with his 411 series took the lead among Dirty PJs despite his team notching only a single win. Bowl Movements climb 1 spot in the standings to 8th place, while Dirty PJs sink 1 spot to 11th.
Finally, down on lanes 11 & 12: The Pin Is Mightier did battle with Holy Forkin Shirt Balls. Featuring Curtis Whiles with his 456 series, with kudos to Most Valuable Bowler Michael Whiles, the Mightiers locked up a clean sweep over Shirtballs. Conversely, Shane Pfaffly with his slightly-off 399 series mastered Shirtballs despite his team getting swept. After a strong start for the Shirtballs, this week saw a rather dramatic plunge for most of the team. Let's see if they can regroup next week and take advantage of what will at least be a stronger handicap. The Pin Is Mightier leaps 2 spots in the standings to 9th place, while Shirtballs remain in 12th.
Bowlers who were overserved at The 200 Club include: Aubrey Moren (201,203,222), Ben Spencer (214,201), Carl Goetz (214), Dennis Walling (204), Ian Goetz (209,239), James Tott (219), Jonathan Vigliaturo (232), Ken M. Wilson (226), Matthew Taylor (243,210), and Scott Murdock (200,210)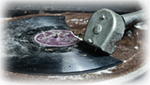 New personal high games were set tonight by Ben Spencer (214, previous best 209) and James Tott (219, previous best 210). In addition, a new personal best series was rolled by Ben Spencer (581, previous best 531).


In this week's Tournament of Champions brackets: Carl Goetz made quick work of Division 1, while Sean Miller had his way with Division 2. AJ Hofmann routed Division 3, and Michael Whiles swept Division 4. Finally, Aubrey Moren (Division 1) trounced this week's Interdivisional bracket. And Jonathan Vigliaturo (Division 1) proved that he belongs in the Master Bowling Nation by playing with himself to completion. In terms of overall points: Ken M. Wilson dominates Division 1; Sean Miller holds the reins in Division 2; Ben Spencer is in the driver's seat in Division 3; and Michael Whiles reigns over Division 4.
NEXT WEEK:
*(Remember, the predicted results above are based on mathematical extrapolations and can be changed by all sorts of factors. If you don't like how your team's results are predicted, you and your teammates have the power to prove the math wrong!)
FROM THE GUTTER (GUTTER QUOTE)

"Pat flunked 69? I'm pretty sure a lot of women already knew that."

Jeremy Varnell, after another foul malfunction on lane 9 caused "F 69" to appear by Pat's name.


EXPANDED STANDINGS
| | | | | | |
| --- | --- | --- | --- | --- | --- |
| Pos. | Team name | Record | Percent | Total Pins | Change |
| 1 | CICK Ass | 38-10 | .792 | 24,195 | n/a |
| 2 | Pin Is King | 30-18 | .625 | 26,155 | n/a |
| 3 | We Don't Give a Split | 30-18 | .625 | 22,357 | n/a |
| 4 | BDE | 27-21 | .563 | 22,789 | +1 |
| 5 | Extreme Outliers | 27-21 | .563 | 15,544 | -1 |
| 6 | Scoot's Raging Bone Spur | 23-25 | .479 | 20,179 | +2 |
| 7 | Open Frames R Us | 23-25 | .479 | 19,845 | -1 |
| 8 | Bowl Movements | 22-26 | .458 | 18,769 | +1 |
| 9 | The Pin Is Mightier | 21-27 | .438 | 18,059 | +2 |
| 10 | #MGAGA | 20-28 | .417 | 25,778 | -3 |
| 11 | JoAnne's Dirty PJs | 20-28 | .417 | 18,447 | -1 |
| 12 | Holy Forkin Shirt Balls | 4-44 | .083 | 6,476 | n/a |
Top Individual Achievements for Week 12