By now every team has bowled each other once, so next week is the Spring 2019 position round. But enough about next week, you came here to read about this week. The eleventh week saw four teams climb in the standings, while four teams slipped. Freda Schroeder picked up this week's high game (175) and series (442) for the women. As for the men, Jonathan Vigliaturo and Ken M. Wilson both tied for this week's high game with a 237, and high series was earned by Aaron Barber with a 663.
---
But, before we get into the details, I'd like to take a moment to address something.
This has been a very unusual season. We've never had this many teams, and our schedule isn't designed for it. Only once before have we had a team join late, but never before the position round. I've spent multiple hours this season researching the USBC Rulebook and consulting various bowling-related message boards and chat groups. There was no consensus to be found as to how to address our multiple unique situations. In the end, AJ and I worked tirelessly to come up with the least disruptive solutions that are as fair as possible. Not everybody is happy. Not everybody was going to be happy no matter what we did. I have to keep reminding myself of that fact and stop losing sleep over it. But the schedule so far has been the standard USBC 12-team schedule. There's been no monkeying around other than allowing the two teams who didn't get a chance to bowl Ray & Stevie to be scored as if they did.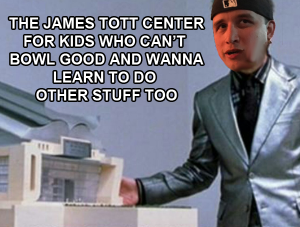 So please, remember: this is a game. We're here to have fun and because we enjoy hanging out together one night a week. There's no trophy. There's no medal. Your final team rank is just a number. There's no shame in whatever that number ends up being after May 7 as long as you had fun along the way. If you need a higher rank in order to have fun, then take the sage advice of the James Tott School of Bowling: "Just bowl better."
There are going to be a few people who think this message is directed at them, so I want to assure those people, you are wrong. This isn't a response to any specific incident or conversation. This is something that's been percolating since before the season began and the stress is taking its toll on me.
Other important notes:

This upcoming Tuesday is the Position Round. Subs who have previously bowled this season are permitted, new subs are not.
The schedule for weeks 13-15 is now set... barring the bowling alley coming back and saying "Uh, this is impossible".
You all made a HUGE headway in paying bowling fees this week. THANK YOU! Remember, all money is due by the end of April.
Finally, did somebody lose a fabulously soft bowling towel? It was found in the vicinity of lanes 1-4. I have it in my possession. It's so soft I might not give it back.
And now, finally, let's get on to how everybody bowled last night...
---
First up, on lanes 1 & 2: The Pin Is Mightier saw their hopes built up but then their dreams of getting some wins from We Don't Give a Split smashed to pieces. While headlined by Chuck Kissee and Curtis Whiles with their combined 393 series (just kidding, they tied), Mightiers got swept by Split Not Given. Across the ball return, Phil Schroeder with his better-than-normal 528 series took charge of Split Not Given as they swept the competition. The Pin Is Mightier drops 1 spot in the standings to 11th place, while Split Not Given moves up 1 spot to 3rd.
On lanes 3 & 4: With closely-matched team strength, CICK Ass deliberately ate cheese sticks in front of BDE. Demonstrating the prowess of Most Valuable Bowler Carl Goetz and his above-average 606 series, CICK Ass collected 3 wins against BDE. On the flipside, Jeremy Cline with his better-than-normal 581 series called the shots for BDE despite his team notching only a single win. CICK Ass remains in 1st place, while BDE plunges 2 spots to 5th.
On lanes 5 & 6: Open Frames R Us found their destiny gripped in the icy hands of former good-guys but rapidly becoming bad-guys Extreme Outliers. In spite of the leadership of Headmaster James Tott with his 442 series, Open Frames accomplished only 1 win against Outliers. Simultaneously, Ben Spencer with his better-than-normal 527 series motivated Outliers as his team took the match with 3 wins. Open Frames R Us remains in 6th place, while Outliers move up 1 spot to 4th.
On lanes 7 & 8: In a truly mismatched pairing, the oppressive #MGAGA had a delightful time mostly-clobbering Scoot's Raging Bone Spur. Starring #1 Power Ranked and #1 Head-to-Head Aaron Barber and his above-average 663 series, with a huge assist from Jonathan Vigliaturo, Hashtags collected 3 wins against Bone Spurs. Concurrently, Scott Murdock with his better-than-normal 499 series mastered Bone Spurs despite his team notching only a single win. #MGAGA leaps 2 spots in the standings to 7th place, while Bone Spurs sink 1 spot to 8th.
On lanes 9 & 10: Holy Forkin Shirt Balls spent some quality time with Pin Is King. Though featuring Garrett Rathbone with his below-average 481 series, Shirtballs accomplished only 1 win against PinIs Kings. While that was going down, Dennis Walling with his better-than-normal 612 series reigned supreme within PinIs Kings as they swept... being the final team to get to enjoy Ray & Stevie scoring. Holy Forkin Shirt Balls remains in 12th place, while PinIs Kings remain in 2nd. From this point forward, all games againbst the Shirt Balls will be scored normally.
Finally, down on lanes 11 & 12: In a juxtaposition of two close team averages, Bowl Movements entered a showdown to the death with JoAnne's Dirty PJs. Highlighting the skills of Conor Clarke with his above-average 491 series, Movements collected 3 wins against Dirty PJs. So what went on with the other team? Well, Jeremy Varnell with his 416 series showed off for Dirty PJs despite his team notching only a single win. Bowl Movements leap 2 spots in the standings to 9th place, while Dirty PJs plunge 2 spots to 10th.
Bowlers who flashed their boobs to get let into The 200 Club include: Aaron Barber (235,205,223), Carl Goetz (226,221), Dennis Walling (233), Jeremy Cline (213), Jonathan Vigliaturo (237), Ken M. Wilson (237), Russell Bingham (211), and Ryan Schooley (204)
In this week's Tournament of Champions brackets: Jeremy Cline decimated Division 1, while Phil Schroeder walloped Division 2. Neil Hufford eradicated Division 3, and Chuck Kissee got the better of Division 4. Finally, Ben Spencer (Division 3) creamed this week's Interdivisional bracket. In a disappointing footnote, nobody successfully played with themself this week. In terms of overall points: Ken M. Wilson holds the reins in Division 1; Rob Kaszuba runs the show in Division 2; Ben Spencer reigns over Division 3; and Emily DeCoursey governs Division 4.
NEXT WEEK:
*(Remember, the predicted results above are based on mathematical extrapolations and can be changed by all sorts of factors. If you don't like how your team's results are predicted, you and your teammates have the power to prove the math wrong!)
FROM THE GUTTER (GUTTER QUOTE)

"SCOOOOT??? Get your ASS ready!"

Jonathan Vigliaturo, thinking he was about to get a turkey. He didn't at that time... but he way more than made up for it later.


EXPANDED STANDINGS
| | | | | | |
| --- | --- | --- | --- | --- | --- |
| Pos. | Team name | Record | Percent | Total Pins | Change |
| 1 | CICK Ass | 35-9 | .795 | 22,128 | n/a |
| 2 | Pin Is King | 29-15 | .659 | 24,040 | n/a |
| 3 | We Don't Give a Split | 27-17 | .614 | 20,464 | +1 |
| 4 | Extreme Outliers | 26-18 | .591 | 14,160 | +1 |
| 5 | BDE | 25-19 | .568 | 20,902 | -2 |
| 6 | Open Frames R Us | 21-23 | .477 | 18,104 | n/a |
| 7 | #MGAGA | 20-24 | .455 | 23,756 | +2 |
| 8 | Scoot's Raging Bone Spur | 19-25 | .432 | 18,375 | -1 |
| 9 | Bowl Movements | 19-25 | .432 | 17,198 | +2 |
| 10 | JoAnne's Dirty PJs | 19-25 | .432 | 16,917 | -2 |
| 11 | The Pin Is Mightier | 17-27 | .386 | 16,526 | -1 |
| 12 | Holy Forkin Shirt Balls | 4-40 | .091 | 5,005 | n/a |
Top Individual Achievements for Week 11