Woe to you, oh Earth and sea, for the Devil sends the Beast with wrath
Because he knows the time is short
Let him who hath understanding reckon the number of the Beast
For it is a human number, its number is six hundred and sixty six,... plus six
The unlucky thirteenth week of Spring 2019 featured the rise of the Antichrist, who entered our world specifically to shatter a whole slew of league records. It also saw one team climb in the standings, while one team slipped. Two bowlers set a new personal best series, and two rolled new personal high games. Alison Radke picked up this week's high game (170) and series (424) for the women, while Satan himself AJ Hofmann earned this week's high game (279) and series (672) for the men and destroyed several league records in the process. Read on for all the rest of the details!
First up, on lanes 1 & 2: With what should have been closely-matched team strength, Scoot's Raging Bone Spur deliberately ate cheese sticks in front of Bowl Movements. Propelled by the skills of #1 Power Ranked and #1 Head-to-Head AJ Hofmann and his amazing 672 series, Bone Spurs landed a clean sweep over Movements. (AJ was supposed to stop at 183 in game 3 to earn a 666 series, but naturally he decided to tack on another six.) Conor Clarke tried to throw some holy water on the fire with his slightly-off 440 series but his team's hopes for any wins tonight turned to ash. Scoot's Raging Bone Spur remains in 6th place, while Movements sink 1 spot to 9th.
For a complete list of the records AJ broke tonight, see the "Broken Records" section below. (Special note to #MGAGA: See? Not everyone bowls their best against you.)
Moving on...
On lanes 3 & 4: In a rather lopsided matchup though in the opposite way one would expect in any other season, what should have been the long-shots Open Frames R Us did battle with (the in any normal season but not this one) villainous #MGAGA. Strengthened by James Tott with his above-average 502 series, Open Frames collected 3 wins against Hashtags. As this was happening, Nick Kinney with his 510 series showed off for Hashtags despite his team notching only a single win. Open Frames R Us remains in 7th place, while Hashtags remain in 10th.
On lanes 5 & 6: Holy Forkin Shirt Balls waged a heated competition against CICK Ass. In spite of top-billing by Garrett Rathbone with his 480 series, Shirtballs accomplished only 1 win against CICK Ass. Moving on to the challengers, Carl Goetz with his better-than-normal 597 series took charge of CICK Ass as his team took the match with 3 wins. Holy Forkin Shirt Balls remains in 12th place, while CICK Ass remain in 1st.
On lanes 7 & 8: An unusually (and unnecessarily) sober JoAnne's Dirty PJs rejected the kind PBR overtures of The Pin Is Mightier, and it showed. Notwithstanding the leadership of Pat Hamell with his 379 series, Dirty PJs got swept by Mightiers. Most Valuable Bowler Luke Melton and his shocking 485 series took the lead among Mightiers as they swept the competition. (Honestly, had AJ not goe completely berserk tonight, Luke might have been the top story.) JoAnne's Dirty PJs remains in 11th place, while Mightiers move up 1 spot to 8th.
On lanes 9 & 10: In a pairing of teams of similar strength, a split-in-half We Don't Give a Split accepted a challenge by BDE. In spite of the prowess of Phil Schroeder with his below-average 413 series, Split Not Given accomplished only 1 win against BDE. Jeremy Cline with his slightly-off 510 series propped up BDE as his team took the match with 3 wins. We Don't Give a Split remains in 3rd place, while BDE remains in 4th.
Finally, down on lanes 11 & 12: With a battle so mismatched that the outcome could trigger the apocalypse, the mischievous Pin Is King fought to a draw with Extreme Outliers. Emboldened by Russell Bingham with his 524 series, PinIs Kings split the series with Outliers. Ben Spencer with his better-than-normal 561 series emboldened Outliers as they matched their opponent in wins. Pin Is King remains in 2nd place, while Outliers remain in 5th.
Bowlers getting the VIP treatment in The 200 Club include: AJ Hofmann (204,279), Ben Spencer (203,212), Carl Goetz (229), Ian Goetz (210), and Ken M. Wilson (218)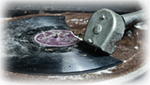 New personal high games were set tonight by AJ Hofmann (279, previous best 215) and Luke Melton (197, previous best 185). In addition, new personal best series were rolled by AJ Hofmann (672, previous best 569) and Luke Melton (485, previous best 448).

Now, a closer look at all the records AJ matched or broke tonight.
First, a few of the quirkier items:
Losing only to Luke Melton in game 2 and Ben Spencer in game 3, his was the 6th's best head-to-head performance in league history and the best head-to-head performance this season.
His first game (279) also achieved the 6th highest jump from a previous personal best game, at 64 pins above his previous best.
With an improvement of 103 pins over his previous best series, he is one of only 7 bowlers to ever roll a new personal best series that was 100 pins or more over the previous.
And now, the big stuff:
Tied for the 5th highest scratch game in league history. (Matthew Taylor also joined this tie earlier this season.)
Shattered the all-time league record for high game handicap.
Shattered the all-time league record for high series handicap, despite that record having been shattered by Matthew Taylor earlier this season.
At 137 pins over average, his first game shattered an 8-year-old record for most pins over average.
But, most-impressively, AJ toppled a nearly 14-year-old record for Top Power Ranked Performance, a record set by John Richardson in 2005 that held for exactly 27 seasons!
Yet, despite all this, AJ was knocked out of the Tournament of Champions in the second round by Luke Melton.
Go figure!

In this week's Tournament of Champions brackets: Carl Goetz routed Division 1, while nobody claimed victory in Division 2, and in fact we aren't even going to talk about Division 2 as it was a complete embarassment. Luke Melton mopped up Division 3, and Nicole Yancy got the better of Division 4. Finally, Sean Miller (Division 2) cleaned up this week's Interdivisional bracket. In a disappointing footnote, nobody successfully played with themself this week. In terms of overall points: Ken M. Wilson holds the reins in Division 1; Sean Miller dominates Division 2; Ben Spencer runs the show in Division 3; and Nicole Yancy is in the driver's seat in Division 4.
NEXT WEEK:
*(Remember, the predicted results above are based on mathematical extrapolations and can be changed by all sorts of factors. If you don't like how your team's results are predicted, you and your teammates have the power to prove the math wrong!)
FROM THE GUTTER (GUTTER QUOTE)

"Oh, we're saving that for GutterAlley After Dark. It's premium content available only to our gold-level subscribers."

Scoot, after a Dennis asked why AJ hadn't cashed in any of the humpings earned from his six turkeys tonight.


EXPANDED STANDINGS
| | | | | | |
| --- | --- | --- | --- | --- | --- |
| Pos. | Team name | Record | Percent | Total Pins | Change |
| 1 | CICK Ass | 41-11 | .788 | 26,234 | n/a |
| 2 | Pin Is King | 32-20 | .615 | 28,305 | n/a |
| 3 | We Don't Give a Split | 31-21 | .596 | 24,135 | n/a |
| 4 | BDE | 30-22 | .577 | 24,609 | n/a |
| 5 | Extreme Outliers | 29-23 | .558 | 16,992 | n/a |
| 6 | Scoot's Raging Bone Spur | 27-25 | .519 | 22,189 | n/a |
| 7 | Open Frames R Us | 26-26 | .500 | 21,534 | n/a |
| 8 | The Pin Is Mightier | 25-27 | .481 | 19,619 | +1 |
| 9 | Bowl Movements | 22-30 | .423 | 20,242 | -1 |
| 10 | #MGAGA | 21-31 | .404 | 27,830 | n/a |
| 11 | JoAnne's Dirty PJs | 20-32 | .385 | 19,758 | n/a |
| 12 | Holy Forkin Shirt Balls | 5-47 | .096 | 8,180 | n/a |
Top Individual Achievements for Week 13