Thank you very much Monica, AJ, members of the league, and Freda, the First Lady of the league. And my fellow bowlers. We meet tonight at a moment of unlimited potential, as we prepare to begin a new Tournament of Champions, I stand here ready to roll with you and pick up difficult splits. Dozens of our fellow citizens are watching us, gathered in this bowling alley, hoping we will roll not as eleven teams, but as one league.
I would like to begin by acknowledging the great work of BDE. They are unable to join us this evening, as they have been directed to attend to the mounting crisis at our southern border along Lane 12, where a caravan of invaders from Wabash and Tuesday Early are expected to arrive any week now. Because of the importance of their mission, they will be bowling later in the week. I shall tweet out a report on the matchup between BDE and Extreme Outliers when the scores come in. It is for this reason that so many results are tintative. I will provide KFCs and hamberders and Pizza Huts to the eventual winner.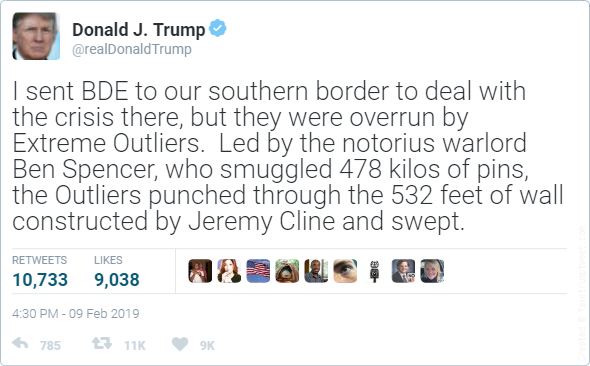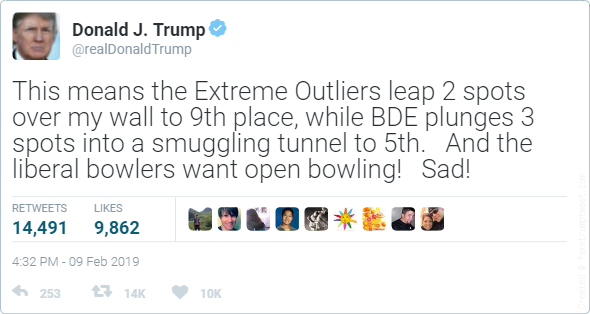 On lanes 3 & 4: We have accomplished a fantastic deal with oppressive regime of Pin Is King through meetings with our top foreign strategy team, Scoot's Raging Bone Spur. He is such a great leader, that Michael Gordon, much like me with his 577 series. But faced with the threat of my new ambassador, Scott Murdock and his 480 series, my Bone Spurs matched the King evenly and we saw eye to eye and split the series. Pin Is King tetanusly remains in 5th place, while Bone Spurs tentacly remain in 4th.
On lanes 5 & 6: My very favotite of teams, simply the best and the brightest, the true bowlers who share the best values and are the shining example of hardworking folk — #MGAGA — were mercilesly heckled and jeered by protesters who Just Don't Give a Split. Uniting behind the leadership of Jonathan Vigliaturo with his historic 586,000,000 series, the Hashtags covfefed 3 wins against a team that has so far only had two bowlers each week, always in a different combinaton. Phil Schroeder with his 490 series was the Liberal leading the Splits, but only got a single win. #MGAGA remains in 1st place thanks to all I have done for them, while Split Not Given remains in 6th.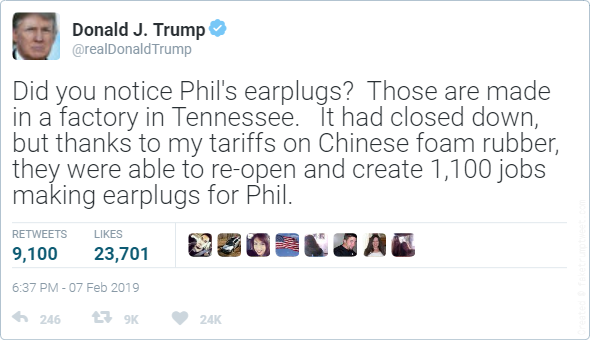 On lanes 7 & 8, Bowl Movements benefited from my great program that delivers blind people to one team every week for them to have someone they can bowl better than. Featuring tentative #1 Head-to-Head and Most Valuable Bowler Joe Meyer and his death-defying 464 series, Movements achieved a clean sweep over the Blind Team. Bowl Movements climb 1 spot in the standings to 8th place (tenetively), while the Blind Team remains in 12th for ever and ever amen.
On lanes 9 & 10: A product I absolutely do not need to use for my doctor tells me I am in perfect virile health, The Pin Is Mightier was put to use by JoAnne's Dirty PJs. Emboldened by Curtis Whiles with his above-average 557 series, the Mightiers collected 3 wins against Dirty PJs. Simultaneously, Jeremy Varnell with his 454 series inspired Dirty PJs despite his team notching only a single win. The Pin Is Mightier tenatively remains in 10th place, while Dirty PJs tenavitally sink 1 spot to 9th.
Finally, down on lanes 11 & 12: I have directed my new head guy in the Department of Commerce, a great guy who has done excellent work, to provide support to re-open key Open Frames R Us locations after they were shut down by the unfair monopoly CICK Ass. Your know, Open Frames R Us was led by Monica Hufford, a wonderful woman with a 475 series. But the liberal billionaire and tentative #1 Power-Ranked Carl Bezos and his failing fake news Wahingbowl Post (with only 629 readers a 629 series) crushed the spirits and dreams of these important entreprendoers. Open Frames R Us tentativelky remains in 7th place, while CICK Ass tintatively climbs 1 spot to 2nd.
We must keep bowling alive in our souls. And we must always keep faith in our league's destiny — that our 11 teams, under AMF, must be the hope and the promise and the light and the glory among all the leagues of the bowling alley! Thank you. Scoot bless you, and AJ bless your payment envelopes. Thank you very much
Bowlers invited to join me at Mar-a-Largo The 200 Club include: Aaron Barber (239), Carl Goetz (255), Curtis Whiles (235), Dennis Walling (216), Ian Goetz (233), Jeremy Cline (206), Jonathan Vigliaturo (209,200), Ken M. Wilson (227), Michael Gordon (203), Nick Kinney (200), and Russell Bingham (208)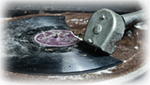 A new personal high game was set tonight by Curtis Whiles (235, previous best 225).
Monica Hufford claimed the season's women's high series with her 475. In addition, Carl Goetz nabbed both high game and series for the men this season with his 255 and 629, respectively.


The Tournament of Champions begins next week. Here are the final division assignments for this season:


DIVISION 1
1. Russell Bingham
2. Seth Gunderson
3. Carl Goetz
4. Michael Gordon
5. Jeremy Cline
6. Jonathan Vigliaturo
7. Ken Wilson
8. Ian Goetz
9. Aaron Barber
10. Aubrey Moren
11. Nick Kinney
DIVISION 2
1. Matthew Taylor
2. Conor Clarke
3. Dennis Walling
4. Curtis Whiles
5. Phil Schroeder
6. Scott Murdock
7. Dennis Laube
8. Sean Miller
9. Rob Kaszuba
10. Monica Hufford
11. Jeremy Varnell
DIVISION 3
1. Chadwick Andrews
2. Ben Spencer
3. AJ Hofmann
4. James Tott
5. Neil Hufford
6. Alison Radke
7. Joe Meyer
8. Josh Rothermel
9. Luke Melton
10. Ben Conaghan
11. Pat Hamell
DIVISION 4
1. Freda Schroeder
2. JoAnne Barber
3. Emily Nicolet
4. Chantal Jacot
5. Tony Marin
6. Chuck Kissee
7. Dennis Cummings
8. Christy Schlosser
9. Michael Whiles
10. Nicole Yancy
11. Emily DeCoursey
NEXT WEEK:
*(Remember, the predicted results above are based on mathematical extrapolations and can be changed by all sorts of factors. If you don't like how your team's results are predicted, you and your teammates have the power to prove the math wrong!)
FROM THE GUTTER (GUTTER QUOTE)

"Ok, explain this to me again. You need your ankle reset again because they do WHAT to you after turkeys?!?"

Scoot's orthopedic surgeon, after Scoot was violated in all sorts of creative ways last night.


EXPANDED STANDINGS
| | | | | | |
| --- | --- | --- | --- | --- | --- |
| Pos. | Team name | Record | Percent | Total Pins | Change |
| 1 | #MGAGA | 11-1 | .917 | 6,571 | n/a |
| 2 | CICK Ass | 10-2 | .833 | 5,755 | +1 |
| 3 | Scoot's Raging Bone Spur | 8-4 | .667 | 4,978 | +1 |
| 4 | Pin Is King | 7-5 | .583 | 6,427 | +1 |
| 5 | BDE | 6-6 | .500 | 5,600 | -3 |
| 6 | We Don't Give a Split | 6-6 | .500 | 5,449 | n/a |
| 7 | Open Frames R Us | 5-7 | .417 | 4,894 | n/a |
| 8 | Bowl Movements | 5-7 | .417 | 4,824 | +1 |
| 9 | Extreme Outliers | 5-7 | .417 | 3,682 | +2 |
| 10 | JoAnne's Dirty PJs | 4-8 | .333 | 4,545 | -2 |
| 11 | The Pin Is Mightier | 4-8 | .333 | 4,357 | -1 |
| 12 | Holy Forkin Shirt Balls | 0-12 | .000 | 1,440 | n/a |
Top Individual Achievements for Week 3