As the nation prepared to plunge into the harsh abyss of arctic doom, the second week of Spring 2019 saw five teams climb in the standings, while five teams slipped and one remained frozen in place. Two bowlers roll a new personal best game. Alison Radke landed this week's high game for the women with a 196, and women's high series was bagged by Monica Hufford with a 461. As for the men, Russell Bingham snagged this week's high game with a 236, and high series was earned by Seth Gunderson with a 620. Read on for all the rest of the details!
First up, on lanes 1 & 2: A different combination than last week of We Don't Give a Split, who hopes to field more than two bowlers at some point this season wiped themselves clean of Bowl Movements. Strengthened by the icy fist of Aubrey Moren with his 529 series, Split Not Given pumped up their record with a clean sweep over the Movements. Moving on to the challengers, Conor Clarke with his slightly-off 537 series commanded the Movements despite his team getting swept. We Don't Give a Split climbs 1 spot in the standings to 6th place, while Movements sink 1 spot to 9th.
On lanes 3 & 4: Open Frames R Us snuggled in a warm oversized quilt and sharing some hot cocoa with JoAnne's Dirty PJs. Showcasing Monica Hufford with her 461 series, Open Frames split the series with Dirty PJs. Under the other side of the quilt, Jeremy Varnell with his better-than-normal 478 series showed off for Dirty PJs as they matched their opponent in wins while also bowling at a glacial pace for the second week in a row. Open Frames R Us plummet 2 spots in the standings to 7th place, while Dirty PJs move up 1 spot to 8th.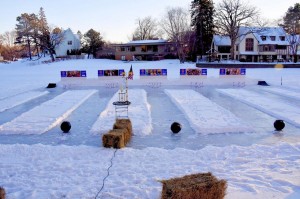 On lanes 5 & 6: In a rather lopsided matchup, the perpetually-absent Ray & Stevie decided it was just way to cold to come face BDE. Are they going to have a different excuse to not show up all season? With the Blind Team forfeiting, all BDE needed to do was roll within 40 pins of their combined team average each game. However, that would not be the case. In their battle to get within at least 40 pins of average, Jeremy Cline with his 558 series emboldened BDE (with kudos to Most Valuable Bowler Chadwick Andrews) as his team took the match with 3 wins, but still losing game 3 by a substantial margin. Ray & Stevie remains buried under the ice in 12th place, while BDE jumps 2 spots to 2nd.
On lanes 7 & 8: In a matchup that could almost be considered unfair, the unlikely heroes of Extreme Outliers had a rendezvous with the wicked #MGAGA. In spite of the leadership of Ben Spencer with his 428 series, the Outliers got swept by the MGAGA Boys. Meanwhile, #1 Power Ranked and #1 Head-to-Head Seth Gunderson and his better-than-normal 620 series took the lead among Hashtags as they swept the competition. Extreme Outliers drop 1 spot in the standings to 11th place where they are now embedded in the permafrost, while the Hashtags remain in 1st despite numerous indictments over colluding with Wabash.
On lanes 9 & 10: Pin Is King traded barbs and snowballs with CICK Ass. With top billing by Russell Bingham with his 615 series, PinIs split the Ass 2-2. While that was going down, Ken M. Wilson with his 541 series drew the spotlight of CICK Ass as they matched their opponent in wins. Pin Is King plummets 2 spots in the standings to 5th place, while CICK Ass sinks 1 spot to 3rd.
Finally, down on lanes 11 & 12: Scoot's Raging Bone Spur huddled for warmth with The Pin Is Mightier. With extra motivation generated by sub Michael Mead with his above-average (or, more accurately, almost back-to-normal) 524 series, Bone Spurs collected 3 wins against Mightiers. On the other side of the tracks, Curtis Whiles with his impressive 504 series (including a new personal best 225) propped up Mightiers despite his team notching only a single win. Scoot's Raging Bone Spur leaps 2 spots in the standings to 4th place, while Mightiers move 1 spot to 10th.
Bowlers slipping under the velvet rope in front of The 200 Club include: Aaron Barber (204), Carl Goetz (200), Conor Clarke (201), Curtis Whiles (225), James Tott (200), Jeremy Cline (214), Jonathan Vigliaturo (224,203), Ken M. Wilson (203), Matthew Taylor (211), Michael Gordon (208), Michael Mead (201), Nick Kinney (211), Phil Schroeder (206), Russell Bingham (236,202), and Seth Gunderson (232,222)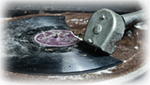 New personal high games were set tonight by Alison Radke (196, previous best 185) and Curtis Whiles (225, previous best 213).
Alison Radke earned this season's women's high game with her 196 In addition, Russell Bingham nabbed this season's men's high game with his 236., while Seth Gunderson bagged the season's men's high series with his 620.


The Tournament of Champions begins in 2 weeks. Here are how the divisions are shaping up so far:


DIVISION 1
1. Russell Bingham
2. Seth Gunderson
3. Jeremy Cline
4. Conor Clarke
5. Michael Gordon
6. Ken Wilson
7. Jonathan Vigliaturo
8. Aubrey Moren
9. Ian Goetz
10. Matthew Taylor
11. Aaron Barber
DIVISION 2
1. Carl Goetz
2. Nick Kinney
3. Chadwick Andrews
4. Phil Schroeder
5. Dennis Walling
6. Rob Kaszuba
7. Dennis Laube
8. Sean Miller
9. Curtis Whiles
10. James Tott
11. Monica Hufford
DIVISION 3
1. Jeremy Varnell
2. Neil Hufford
3. Ben Spencer
4. AJ Hofmann
5. Alison Radke
6. Josh Rothermel
7. Ben Conaghan
8. Joe Meyer
9. Luke Melton
10. Pat Hamell
11. Emily Nicolet
DIVISION 4
1. Chantal Jacot
2. JoAnne Barber
3. Tony Marin
4. Chuck Kissee
5. Dennis Cummings
6. Christy Schlosser
7. Michael Whiles
8. Nicole Yancy
9. Emily DeCoursey
NEXT WEEK:
*(Remember, the predicted results above are based on mathematical extrapolations and can be changed by all sorts of factors. If you don't like how your team's results are predicted, you and your teammates have the power to prove the math wrong!)
FROM THE GUTTER (GUTTER QUOTE)

"Yeah, that's not the only thing Scott does prematurely."

Cari Murdock, on Scoot unblinding late-arriving bowlers before they even had their shoes, forcing everyone else to have to wait.


EXPANDED STANDINGS
| | | | | | |
| --- | --- | --- | --- | --- | --- |
| Pos. | Team name | Record | Percent | Total Pins | Change |
| 1 | #MGAGA | 8-0 | 1.000 | 4,329 | n/a |
| 2 | BDE | 6-2 | .750 | 3,809 | +2 |
| 3 | CICK Ass | 6-2 | .750 | 3,723 | -1 |
| 4 | Scoot's Raging Bone Spur | 6-2 | .750 | 3,284 | +2 |
| 5 | Pin Is King | 5-3 | .625 | 4,257 | -2 |
| 6 | We Don't Give a Split | 5-3 | .625 | 3,610 | +1 |
| 7 | Open Frames R Us | 5-3 | .625 | 3,391 | -2 |
| 8 | JoAnne's Dirty PJs | 3-5 | .375 | 3,045 | +1 |
| 9 | Bowl Movements | 1-7 | .125 | 3,233 | -1 |
| 10 | The Pin Is Mightier | 1-7 | .125 | 2,764 | +2 |
| 11 | Extreme Outliers | 1-7 | .125 | 2,430 | -1 |
| 12 | Holy Forkin Shirt Balls | 0-8 | .000 | 1,440 | -1 |
Top Individual Achievements for Week 2