The Fall 2018 position round is now history, and we now have a new league leader that has pulled ahead of the pack. The tenth week saw two teams climb in the standings, while one team slipped. Two bowlers set a new personal best series. Freda Schroeder landed this week's high game for the women with a 190, and women's high series was bagged by Monica Hufford with a 480. As for the men, Dennis Walling earned this week's high game (224) and series (598). Read on for all the rest of the details!
First up, on lanes 3 & 4: One of the two teams that is likely to win the championship this season, 8 Balls faced off with the other team that still has a reasonable shot, Red Strikes Matter. After both teams met at Cinder Block for some pre-bowling beer, Red Strikes came out, well, striking, and won an early victory. However, in part because he drank only one barrel-aged beer at Cinder Block then switched to Blue Moon at bowling, #1 Power-Ranked Dennis Walling sobered up and came back with crushing fury as his above-average 598 series helped 8-Balls collect 3 wins against Red Strikes. #1 Head-to-Head Scott Murdock and his better-than-normal 526 series led the Strikes as they came close to splitting the series but just couldn't get it together. 8 Balls remains in 1st place but is no longer in a tie, while Red Strikes remain in 2nd. Thus proving that, once in a Blue Moon, it's possible to cleanly overtake Red Strikes for first place.
All the way down in the distant non-champions section of the position round, on lanes 5 & 6, Serious Bowlers seriously hoped to be able to seriously outperform We Don't Give a Split and make some serious headway. However, while somewhat emboldened by Aaron Barber with his seriously below-average 537 series, Serious Bs seriously lost as many games as their place in the rankings and accomplished only 1 win against Give a Split. Seriously. Meanwhile Dennis Laube didn't give a split because his 465 series took charge as his team took the match with 3 wins. Serious Bowlers remains in 3rd place, while Split Not Given remains in 4th by total pins, tied for 3rd.
On lanes 7 & 8: With closely-matched team strength, BDE sparred with Open Frames R Us. Despite being led by Jeremy Cline with his 504 series, BDE suffered another off week after a string of mid-season victories and accomplished only 1 win against Open Frames. Monica Hufford with her 480 series dominated Open Frames (with kudos to Most Valuable Bowler Emily Nicolet) as her team took the match with 3 wins. BDE remains in 5th place, while Open Frames remain in 6th.
On lanes 9 & 10: With the narrowest of handicaps, Gucci Lane had some probably too close for comfort time with Bowling For Beers. Although blessed by Conrad Bonney with his 425 series, Gucci got swept by Beers. On the Beers, JoAnne Gordon (who was on a tear until Pat Hamell jinxed it by pointing it out to other people) with her better-than-normal 438 series shone in Beers as they swept the competition. Gucci Lane plummets 2 spots in the standings to 9th place, while Beers move up 1 spot to 7th.
Finally, down on lanes 11 & 12: A well-matched pair of rivals gathered as Teeby Dee took turns kicking the ball return with Bowl Movements. Starring Luke Melton with his above-average 427 series, TBD welcomed a much-needed clean sweep that unfortunately flushed the BMs of any hope of getting out of the sewer soon. Conor Clarke with his slightly-off 422 series ruled BMs despite his team getting swept. Teeby Dee climbs 1 spot in the standings to 8th place, while BMs remain in 10th.
With the position round now behind us, next week the matchup schedule starts over. However, since a 10-team schedule doesn't fit into 17 weeks, you will each repeat against only 5 of the 9 other teams before the final championship round.
Bowlers slipping under the velvet rope in front of The 200 Club include: Aaron Barber (200) and Dennis Walling (210,224)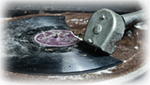 New personal best series were rolled tonight by JoAnne Gordon (438, previous best 429) and Emily Nicolet (406, previous best 399).


In this week's Tournament of Champions brackets: Jeremy Cline shut down Division 1, while AJ Hofmann clobbered Division 2. Nobody claimed victory in Division 3 (though Conrad Bonney came closest), and nobody claimed victory in Division 4 (though Josh Rothermel came closest). And, finally, nobody claimed victory in the Interdivisional bracket, and in fact we aren't even going to talk about this bracket as it was a complete embarassment. In terms of overall points: Nick Kinney calls the shots Division 1; Phil Schroeder holds the reins in Division 2; Jeremy Varnell and Neil Hufford top Division 3 in a tie; and Chuck Kissee runs the show in Division 4.
NEXT WEEK:
*(Remember, the predicted results above are based on mathematical extrapolations and can be changed by all sorts of factors. If you don't like how your team's results are predicted, you and your teammates have the power to prove the math wrong!)
FROM THE GUTTER (GUTTER QUOTE)

"Together? At the same time? IT'S FINALLY HAPPENING!!!!"

Jeremy Varnell, after Pat Hamell suggested that he, Jeremy, Josh, Scoot, James, AJ, and as many other guys as possible all use the left urinal next Tuesday in an effort to get its constantly stagnant water flushed out.


EXPANDED STANDINGS
| | | | | | |
| --- | --- | --- | --- | --- | --- |
| Pos. | Team name | Record | Percent | Total Pins | Change |
| 1 | 8 Balls | 28-12 | .700 | 21,206 | n/a |
| 2 | Red Strikes Matter | 26-14 | .650 | 18,609 | n/a |
| 3 | Serious Bowlers | 24-16 | .600 | 20,483 | n/a |
| 4 | We Don't Give a Split | 24-16 | .600 | 18,566 | n/a |
| 5 | BDE | 21-19 | .525 | 17,576 | n/a |
| 6 | Open Frames R Us | 21-19 | .525 | 16,178 | n/a |
| 7 | Bowling For Beers | 17-23 | .425 | 15,564 | +1 |
| 8 | Teeby Dee | 16-24 | .400 | 16,200 | +1 |
| 9 | Gucci Lane | 15-25 | .375 | 17,446 | -2 |
| 10 | Bowl Movements | 8-32 | .200 | 14,417 | n/a |
Top Individual Achievements for Week 10