(Note: Until Gucci Lane post-bowls later this week, this will mostly remain a robo-writeup.) But we can say this much: While the results aren't official until post-bowling scores are in, we can confirm that the defending back-to-back champions Serious(ly not in first) Bowlers, anchored by Aaron Barber, have tightened their grasp on third place after a dramatic week of bowling. Meanwhile Monica Hufford picked up this week's high game (162) and series (427) for the women, while Michael Gordon earned this week's high game (242) and series (595) for the men. Read on for all the rest of the details!
First up, on lanes 3 & 4: Bowl Movements cowered in sheer terror upon discovering they were rolling against BDE. Even though highlighted by the skills of Conor Clarke with his 435 series, BMs accomplished only 1 win against BDE. On the other lane, Jeremy Cline with his better-than-normal 569 series dominated BDE as his team took the match with 3 wins. Bowl Movements remains in 10th place, while BDE remains in 5th.
On lanes 5 & 6: Red Strikes Matter celebrated their love of large, heavy balls with Open Frames R Us. Reinforced by Scott Murdock with his 476 series, Red Strikes collected 3 wins against Open Frames. Concurrently, James Tott with his better-than-normal 472 series drew the spotlight of Open Frames despite his team notching only a single win. Red Strikes Matter returns to their natural habitat (1st place), while Open Frames remain in 6th.
On lanes 7 & 8: We Don't Give a Split traded lane malfunctions with Serious Bowlers. Led by Most Valuable Bowler Aubrey Moren and his above-average 568 series, Split Not Given split the series with Serious Bs. Countering this, Aaron Barber with his 569 series called the shots for Serious Bs as they matched their opponent in wins. We Don't Give a Split remains in 4th place, while Serious Bs remain in 3rd.
Finally, down on lanes 9 & 10: In a battle of good against evil, the demonic 8 Balls had a rendezvous with the rascally Teeby Dee. Notwithstanding the leadership of Michael Gordon with his above-average 595 series, 8-Balls got swept by TBD. Among the other players in the match, #1 Power Ranked and #1 Head-to-Head Curtis Whiles and his marvelous 541 series showed off for TBD as they swept the competition. 8 Balls drop 1 spot in the standings to 2nd place, while TBD remains in 8th.
Finally, down on lanes 11 & 12: We might have found a pairing of virtually equal strengths, but Gucci Lane was never able to get a post-bowl scheduled int heir match against Bowling For Beers. With Gucci forfeiting, all Beers needed to do was roll within 40 pins of their combined team average each game. Mission accomplished. In their battle to get within at least 40 pins of average, Jeremy Varnell with his better-than-normal 475 series emboldened Beers as they swept the competition. Gucci Lane remains in 9th place, while Beers remain in 7th.
Bowlers who needed Trump to issue an executive order granting them entry into The 200 Club include: Aaron Barber (211), Dennis Walling (211), Jeremy Cline (226,203), Matthew Taylor (207), and Michael Gordon (242)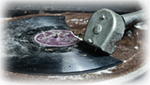 A new personal high game was set tonight by Jeremy Varnell (199, previous best 198).


In this week's Tournament of Champions brackets: Jeremy Cline shut down Division 1, while Aubrey Moren swept Division 2. Nobody claimed victory in Division 3 (though Chadwick Andrews came closest), and Luke Melton dominated Division 4. Finally, Chuck Kissee (Division 4) clobbered this week's Interdivisional bracket. In terms of overall points: Jeremy Cline tops Division 1; Phil Schroeder and Aubrey Moren call the shots in Division 2 in a tie; Chadwick Andrews holds the reins in Division 3; and Chuck Kissee runs the show in Division 4.
NEXT WEEK:
*(Remember, the predicted results above are based on mathematical extrapolations and can be changed by all sorts of factors. If you don't like how your team's results are predicted, you and your teammates have the power to prove the math wrong!)
FROM THE GUTTER (GUTTER QUOTE)

"Hurry and get it in, I don't know how much longer I can hold this up!"

Emmy Hanlon, to Conor Clarke, as they attempted to re-attach a wheel to a bowling bag.


EXPANDED STANDINGS
| | | | | | |
| --- | --- | --- | --- | --- | --- |
| Pos. | Team name | Record | Percent | Total Pins | Change |
| 1 | Red Strikes Matter | 29-15 | .659 | 20,408 | +1 |
| 2 | 8 Balls | 28-16 | .636 | 23,344 | -1 |
| 3 | Serious Bowlers | 26-18 | .591 | 22,464 | n/a |
| 4 | We Don't Give a Split | 26-18 | .591 | 20,348 | n/a |
| 5 | BDE | 24-20 | .545 | 19,389 | n/a |
| 6 | Open Frames R Us | 22-22 | .500 | 17,787 | n/a |
| 7 | Bowling For Beers | 21-23 | .477 | 17,197 | n/a |
| 8 | Teeby Dee | 20-24 | .455 | 17,984 | n/a |
| 9 | Gucci Lane | 15-29 | .341 | 17,446 | n/a |
| 10 | Bowl Movements | 9-35 | .205 | 15,915 | n/a |
Top Individual Achievements for Week 11