With the position round in the rearview mirror and the league officially half over, everyone faced their Week #1 opponents Tuesday night as the schedule began anew. With only exception, each lower ranked team handed out an ass whoopin' to their higher ranked opponents as the league standings shuffled once again. Only ten games separate the eight teams – meaning anyone could still take the title this season over the remaining seven weeks. After being swept off the lanes last week, the Turkey Hunters regrouped in an effort to get back to their winning ways. Despite a 10th frame meltdown in which opponents Bobby Belt and The Facebook Friends came away with an 18-pin victory in Game #1, the Turkeys reversed their own fortunes – compliments of this week's #1 Power Ranked bowler Aubrey Moren and his career-high 667 series – to win the showdown 3-1. The Belt's anchor Bill Krejci put up the second highest series of the night (606) but only managed the Game #1 win. With the victories, the Turkey Hunters climb two spots into 3rd while The Belt slips a notch down into 5th place.Word on the street was that Split It and Hit It's anchor Dennis Blake had the game figured out. Shooting his third career 200+ game to start off the night to easily take Game #1, Blake seemed to be the man to watch as he shot his 520 series. Yet, the Pocket Pounders had other plans. Down two bowlers, Ryan Doll and Rob Kaszuba combined to take the remaining games in a 3-1 matchup victory. Anchor Doll led the team with his 534 series. The wins were a welcome change for the Pounders, who remain in 2nd but have cut the gap from first by half. Split It and Hit It, still trying to regain their first half magic, remain in 6th place by total pins.While most of us know that the world will end in December according to the Mayan calendar, very few would have predicted that the 8th place team Sexual Chocolate would outright clobber the recently surging Mayan Apocalypse. With this weeks' Most Valuable Bowler Teresa Deterding leading the way with her 488 series, the Chocolates crushed their opponents in a clean 4-0 sweep. Carl Goetz led the Mayans with his 579 series but finds his team slipping one spot into 4th place. Despite the four victories, Sexual Chocolate remains put in 8th place.When your team is six games up over the entire league fresh out off the position round, generally you look to extend that lead. This simply wasn't in the cards for current league leaders FTOP. To celebrate absent bowler Dave Winger's birthday, Ballz Out decided to blow out FTOP like candles on a birthday cake. With en fuego roller Cliff Barendsen leading the way with his second consecutive impressive over-average series (shooting a 500 this week), Ballz Out took each game in the 10th frame and never let FTOP snatch a single come-from-behind victory. Lead off bowler John Boren led FTOP with a 596 series but received no help from the rest of his teammates. Despite the wins and losses, neither team moved spots in the standings with FTOP remaining at the top of the heap in 1st and Ballz Out staying put in 7th place.Bowlers ending better than the St. Louis Cardinals and hanging out at The 200 Club this week include: Angela Bradford (209), Aubrey Moren (223, 254), Bill Krejci (202, 213), Carl Goetz (202), Dennis Blake (203), John Boren (216, 201), and Pat Searcy (224).And speaking of Pat Searcy, he and five other bowlers – namely David Codding, Demond Robinson, Janelle (Laube) Lamar, Jason Carpio, and Seth Gunderson – would very much appreciate it if you would vote for them as they each try to make their way into the GutterAlley Hall of Fame. Voting is now open and will remain so until the end of Week #15, just before the Finals. What are you waiting for?!? Get in there and vote!The Tournament of Champions continues on without very little change in the current top seeds in any division. Carl Goetz (19) is still the top dog in Division #1, with John Boren (12) holding onto the second spot. Division #2 is still represented with the 1-2 punch of Aubrey Moren (19) and Phil Schroeder (10), respectively. Andy McLeod (20) remains atop Division #3 while AJ Hofmann (10) makes his move to tie Dennis Blake (10) in the second spot. Division #4's eternal leader Teresa Deterding (22) may soon find herself in second place as Cliff Barendsen (20) moves right on her tail.Remember, voting for this season's Hall of Fame inductees is now open. Please be sure to vote! It only takes a minute.And, lastly, if you are still feeling the sting from last night's battle, perhaps this shot of Jonathan Vigliaturo will cheer you up slightly: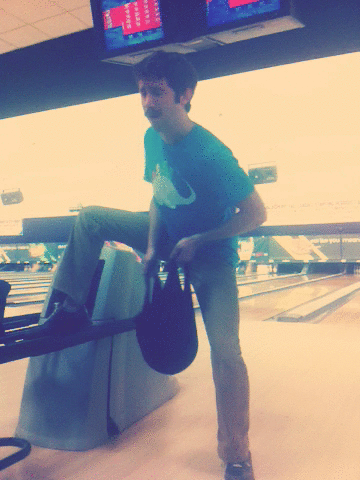 See you next Tuesday!
FROM THE GUTTER (GUTTER QUOTE)

"So let me get this straight, to get nominated for the Hall of Fame you have to get swept by the 2nd to last place team?"

Cliff Barendsen, after absolutely destroying David Codding and team.


EXPANDED STANDINGS
Top Individual Achievements for Week 9