The fourth week of Fall 2021 saw one team climb in the standings, while one team slipped. One bowler roll a new personal best game. JoAnne Barber picked up this week's high game (181) and series (403) for the women, while Dennis Walling earned this week's high game (200) and series (590) for the men. Meanwhile, the Tournament of Champions also kicked off tonight, beginning of 13 weeks of one-on-one bowling excitement! Read on for all the rest of the details!
First up, on lanes 1 & 2: With the narrowest of handicaps, Shephus Cripes spent some quality time with Going Going Bald. Headlined by Carl Goetz with his above-average 527 series, Shephus split the series with Baldness. On the flipside, trifecta-winner (#1 Head-to-Head, #1 Power-Ranked, and Most Valuable Bowler) Dennis Walling and his dramatic 590 series motivated Baldness as they matched their opponent in wins. Shephus Cripes remains in 5th place, while Baldness remain in 1st.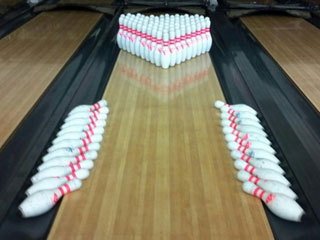 On lanes 3 & 4: In a fairly closely-matched lineup Would You Rather... debated whether to go all Tonya Harding on Kenny Fan Club. With extra motivation generated by Scott Murdock with his 452 series, Would You collected 3 wins against Kenny. Concurrently, Jeremy Cline with his 510 series took charge of Kenny despite his team notching only a single win. Would You Rather... climbs 1 spot in the standings to 2nd place, while Kenny remains in 6th.
Finally, down on lanes 5 & 6: A well-matched pair of rivals gathered as Bowlie Guacamole took turns kicking the ball return with The Heavy Pins. Even though highlighted by the skills of Nathan Burrows with his above-average 389 series, Guac accomplished only 1 win against Heavy P. While that was going down, Kent Harms with his better-than-normal 442 series commanded Heavy P as his team took the match with 3 wins. Bowlie Guacamole drops 1 spot in the standings to 3rd place, while Heavy P remains in 4th.
Bowlers who lied to their significant other claiming bowling was running long then went out for after-bowling drinks at The 200 Club include: Dennis Walling (200)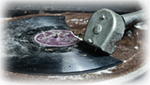 A new personal high game was set tonight by LaReash Bridges (157, previous best 134).
JoAnne Barber earned both this season's women's high game and series with her 181 and 403, respectively.


In this week's Tournament of Champions brackets: Dennis Walling whipped Division 1, while Nicholas Knight topped Division 2. Kent Harms swept Division 3, and nobody claimed victory in Division 4, and in fact we aren't even going to talk about Division 4 as it was a complete embarassment. In terms of overall points: Dennis Walling runs the show in Division 1; Nicholas Knight holds the reins in Division 2; Kent Harms leads Division 3; and Emily Nicolet and Nathan Burrows top Division 4 in a tie.
NEXT WEEK:
First, on lanes 1&2, 6th-place Kenny Fan Club will hang out with 4th-place The Heavy Pins (hcp 16). Kenny is expected to maintain their current strength as they get swept; while Heavy P is forecast to hold steady as they rack up a sweep.

Moving to lanes 3&4, 1st-place Going Going Bald will chuck some balls with 3rd-place Bowlie Guacamole (hcp 145). Baldness might roll a little low, yet still manage to win the series; while Guac ought to hold steady as they avoid getting swept.

Finally, on lanes 5&6, 2nd-place Would You Rather... (hcp 88) will meet with 5th-place Shephus Cripes. Would You is predicted to maintain their current strength as they lose the series but avoid getting swept; while Shephus are anticipated to hold steady as they enjoy their victories.
*(Remember, the predicted results above are based on mathematical extrapolations and can be changed by all sorts of factors. If you don't like how your team's results are predicted, you and your teammates have the power to prove the math wrong!)
FROM THE GUTTER (GUTTER QUOTE)

"Oh, that's JoAnne's dog. I think it's a Pomeranian. I can't leave him home alone or he eats the furniture."

James Tott, describing Nicholas Knight to one of the rookies.


EXPANDED STANDINGS
Top Individual Achievements for Week 4