The second week of Fall 2021 saw three teams climb in the standings, while two teams slipped. Emily Nicolet landed this week's high game for the women with a 143, and women's high series was bagged by JoAnne Barber with a 364. As for the men, Dennis Walling earned this week's high game (216) and series (561). And all three matches were played with unknown handicaps as last week's three absent bowlers showed up to set their averages. Read on for all the rest of the details!
First up, on lanes 1 & 2: During the course of events between The Heavy Pins and Would You Rather..., the St. John's volunteers got their steps in for the day going back multiple times to reset pins or retrieve lost balls. At least 90% of these trips were at the hand of Luke "Rocket Man" Melton, who fired his balls with so much force that missed pins tended to slide into spots where the pinsetter couldn't pick them up. Despite Luke's turbocharged balls, and some motivation from Nicholas Knight with his 392 series, Heavy P accomplished only 1 win against Would You Rather. Among the other players in the match, Scott Murdock with his 459 series took the lead among Would You as his team took the match with 3 wins. The Heavy Pins remains in 5th place, while Would You moves up 1 spot to 2nd.
On lanes 3 & 4: Despite holding their own all night and a good 499 series from Conor Clarke, there wasn't much Kenny Fan Club could do once Going Going Bald's Dennis Walling decided to stop sandbagging and win the trifecta (#1 Head-to-Head, #1 Power-Ranked, and Most Valuable Bowler) with his commanding 561 series to sweep the competition. Kenny Fan Club plummets 2 spots in the standings to 6th place, while Baldness move up 1 spot to 1st.
Finally, down on lanes 5 & 6: By all rights this should have been a sweep in favor of Shephus Cripes, and even when Aaron Barber's blood chemistry changed by game 3 it still should have been a split series at the very worst for Shephus. But after Bowlie Guacamole's series-leader Dustin Shmeltz (404 series) faltered ever so slightly in game 3, the resulting reduction in his expected average affected the handicap just enough for Guac to also win game 1 by 4 pins and game 2 by 1 pin. The result? Bowlie Guacamole walked away with a stunning sweep over Cripes. Shephus Cripes plummets 3 spots in the standings to 4th place, while Guac jumps 3 spots to 3rd.
Personal note from Scoot: I'm really impressed with the way you all have adapted so quickly to paper scoring and doing the math that had previously been done for us by computers. Thank you all so much! With luck, I'll be able to take "doing math" off your chores list next week!
Bowlers hiking up their shorts in order to use their sexy legs to seduce the bouncer into letting them into The 200 Club include: Dennis Walling (216)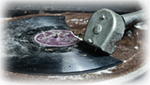 Emily Nicolet earned this season's women's high game with her 143 In addition,, while Dennis Walling bagged the season's men's high series with his 561.


NEXT WEEK:
First, on lanes 1&2, 3rd-place Bowlie Guacamole (hcp 68) will throw some gutter balls with 6th-place Kenny Fan Club. Guac is expected to perform well, but split the series with Kenny; while Kenny is forecast to hold steady as they keep the series tied.

Moving to lanes 3&4, 4th-place Shephus Cripes will chuck some balls with 5th-place The Heavy Pins (hcp 114). Shephus might roll a little low, yet still manage to win the series; while Heavy P ought to raise their average even as they avoid getting swept.

Finally, on lanes 5&6, 1st-place Going Going Bald will chill with 2nd-place Would You Rather... (hcp 70). Baldness are predicted to maintain their current strength as they win the series; while Would You is anticipated to hold steady as they avoid getting swept.
*(Remember, the predicted results above are based on mathematical extrapolations and can be changed by all sorts of factors. If you don't like how your team's results are predicted, you and your teammates have the power to prove the math wrong!)
FROM THE GUTTER (GUTTER QUOTE)

"If I could get a million dollars out of Scoot, I'd milk him every night."

Seth, leaving Scoot wondering what he could get for twenty bucks.


EXPANDED STANDINGS
Top Individual Achievements for Week 2