While the standings still to unchanged in terms of team ranks, the number of possible outcomes for next week's championships has. Team 1 & Scoot's Fault are now the only two teams with a shot at the Championship, and the only hope Scoot's Fault actually has is to either sweep or win three to force a tiebreaker game. Meanwhile, though mathematically eliminated from the Championship, Team 2 has a reasonable shot at overtaking Scoot's Fault and moving into 2nd place. And if they fail at that, Team 4 has a shot at overtaking them for third! But that's enough about next week. THIS week, JoAnne Barber picked up this week's high game (160) and series (433) for the women, while Dennis Walling earned this week's high game (210) and series (574) for the men. Read on for all the rest of the details!
First up, on lanes 11 & 12: The only member ofTeam 1 who could be bothered (though credit to Matthew Taylor for at least pre-bowling) shared a few beers with Team 4. Led by trifecta-winner (#1 Head-to-Head, #1 Power-Ranked, and Most Valuable Bowler) Dennis Walling and his above-average 574 series, Team 1 earned a clean sweep over Team 4. Moving on to the challengers, Dustin Schmeltz with his slightly-off 433 series mastered Team 4 despite his team getting swept. Team 1 remains in 1st place, while Team 4 remains in 4th.
Next, on lanes 13 & 14: With closely-matched team strength, Scoot's Fault: Plus Ben's, With AJ as The Puppetmaster matched wits with Team 2. In spite of top-billing by Jeremy Varnell with his above-average 492 series, AJ's Fault accomplished only 1 win against Team 2. On the other lane, Aaron Barber with his 537 series drew the spotlight of Team 2 as his team took the match with 3 wins. Scoot's Fault remains in 2nd place, while Team 2 remains in 3rd.
Bowlers who ended up just roofying each other at The 200 Club include: Ben Spencer (205), Dennis Walling (210), and Dustin Schmeltz (207)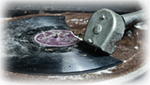 The 433 rolled by JoAnne Barber is this season's new high series among women.


In this week's Tournament of Champions brackets: Aaron Barber vanquished Division 1, while Dennis Walling made quick work of Division 2. In terms of overall points: Aaron Barber tops Division 1; and Dennis Walling holds the reins in Division 2. Next week, in the ToC Championship Round, Division 1 sends Aaron Barber, Michael Gordon, Ben Spencer, and Matthew Taylor. Division 2 will be represented by Dennis Walling, Jeremy Varnell, and (after applying the Average Power Rank tiebreaker to the 3-way tie) Nathan Burrows and Brandon Martinez.
NEXT WEEK:
*(Remember, the predicted results above are based on mathematical extrapolations and can be changed by all sorts of factors. If you don't like how your team's results are predicted, you and your teammates have the power to prove the math wrong!)
FROM THE GUTTER (GUTTER QUOTE)

"I need lighter balls."

Nathan Burrows, needing great effort to swing each leg forward as he tried to walk up the approach.


EXPANDED STANDINGS
Top Individual Achievements for Week 7