A hot and sticky sixth week of Summer 2021 resulted in copius amounts of sweat but once again no movement in the standings. JoAnne Barber picked up this week's high game (137) and series (379) for the women, while Dennis Walling earned this week's high game (237) and series (624) for the men. Read on for all the rest of the details!
First up, on lanes 11 & 12: Team 4 waged a superheated competition against Team 2. Featuring Dustin Schmeltz with his above-average 563 series, Team 4 collected 3 wins against Team 2. Conversely, Aaron Barber with his 539 series motivated Team 2 despite his team notching only a single win. Team 4 remains in 4th place, while Team 2 remains in 3rd.
On lanes 13 & 14: A well-matched pair of rivals gathered as Team 1 and AJ's Fault 2: JoAnne Awakens each watched their hopes of winning the series melt away. Charging into the fray behind #1 Power Ranked and #1 Head-to-Head Dennis Walling and his spectacular 624 series, Team 1 split the series with AJ's Fault. Meanwhile, as former team leader James Tott stayed away in terror he might lose the ToC to AJ, Most Valuable Bowler Jeremy Varnell and his better-than-normal 483 series took the lead among AJ's Fault as they matched their opponent in wins. Team 1 remains in 1st place, while AJ's Fault remains in 2nd.
Bowlers dancing awkwardly in front of the stage at The 200 Club include: Aaron Barber (213), AJ Hofmann (229), Dennis Walling (213,237), Dustin Schmeltz (201), and Matthew Taylor (212). But only one of them was caught on video...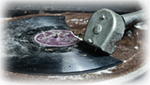 Dennis Walling nabbed both high game and series for the men this season with his 237 and 624, respectively.


In this week's Tournament of Champions brackets: Ben Spencer vanquished Division 1, while Dennis Walling routed Division 2. In terms of overall points: Michael Gordon and Ben Spencer call the shots in Division 1 in a tie; and Dennis Walling tops Division 2.
NEXT WEEK:
First, on lanes 11&12, 1st-place Team 1 will throw some gutter balls with 4th-place Team 4 (hcp 121). Team 1 is expected to maintain their current strength as they sweep the series; while Team 4 is forecast to hold steady as they endure a rough night.

Finally, on lanes 13&14, 2nd-place AJ's Fault 2: JoAnne Awakens (hcp 9) will match wits with 3rd-place Team 2. AJ's Fault is predicted to roll a little low and get swept; while Team 2 is anticipated to raise their average while they rack up a sweep.
*(Remember, the predicted results above are based on mathematical extrapolations and can be changed by all sorts of factors. If you don't like how your team's results are predicted, you and your teammates have the power to prove the math wrong!)
FROM THE GUTTER (GUTTER QUOTE)

"I mean, Levar Burton is our generation's Alec Baldwin."

Aaron Barber, making a point that a surprising number of people understood.


EXPANDED STANDINGS
Top Individual Achievements for Week 6