There's really nothing special about having a multi-team tie for 1st place in the second week of the season, I just couldn't think of any particular fitting title for this week. And because describing this type of tie using normal lingo (a number followed by the word "way") attracts PornBots, we'll just refer to it as a First Place Trifecta. The elements going into this scenario include Carolina Mach (again) picking up this week's high game (147) and series (389) for the women, Ben Spencer snagging this week's high game for the men with a new personal best 240, and Aaron Barber landing high series with a 603. Read on for all the rest of the details!
First up, on lanes 1 & 2: Big Bowl Movements found their destiny gripped in the icy hands of Whiles We Were Bowling.... Blessed by Conor Clarke with his 485 series, Movements split the series with Whiles Bowling. As for the opposition, Bob Brunker with his 503 series commanded Whiles Bowling as they matched their opponent in wins. Big Bowl Movements leap 2 spots in the standings to 6th place, while Whiles Bowling jumps 2 spots to 5th.
On lanes 3 & 4: Scootylicious cowered (apparently unnecessarily) in sheer terror upon discovering they were rolling against F. C. C. K. It. Topped with a dollop of Scott Murdock with his 451 series, 'Licious collected 3 wins against the FCCKers. Across the yet-unkicked ball return, Carl Goetz with his 557 series guided FCCKers despite his team notching only a single win. Scootylicious drops 1 spot in the standings to 3rd place though remains tied for 1st, while FCCKers plunge 3 spots to 4th.
On lanes 5 & 6: In a matchup that could almost be considered unfair, the intimidating Pin Is King 3 sparred with the dark horse AJ's Fault. Highlighting the skills of #1 Power-Ranked and Most Valuable Bowler Michael Gordon and his amazing 601 series, Kings felt the glory of a clean sweep over AJ's Fault. In the meantime, AJ Hofmann with his slightly-off 471 series laid down the law for AJ's Fault despite his team getting swept. Pin Is King 3 leaps 3 spots in the standings to 1st place, while AJ's Fault plunges 2 spots to 7th.
Down on lanes 7 & 8: In a truly mismatched pairing, the wrathful KLEAN BAWLZ!!1 shared a few beers with the endearing Low Expectations. Uniting behind the leadership of Aaron Barber with his above-average 603 series, with props to #1 Head-to-Head bowler , BAWLZ welcomed a clean sweep over Expectations. Conversely, Stu Marthers with his 446 series propped up Expectations despite his team getting swept. KLEAN BAWLZ!!1 climbs 1 spot in the standings to 2nd place (tied for 1st), while Expectations plunge 2 spots to 8th.
Finally, on lane Infinity, the bowlers of Team Celestial welcomed their new anchor, Pat Searcy, after four seasons of trying to convince him to join their team. While teammates Eric Summers, Dave Winger, and Ryan Housknecht each rolled 600+ series, Pat rolled a new personal best 900 series. After Searcy boasted that he was now as good as David Codding, Brian Coe, and Dennis Walling at their best combined, Winger reminded Searcy that on Team Celestial they take turns being the bowler who gets to roll a 300 and they only let Pat do it thrice this week since he was new. "Just wait until finds out 300 isn't even the highest possible score on our team," Summers whispered. "He's gonna flip!"
Bowlers who stumbled into The 200 Club include: Aaron Barber (226), AJ Hofmann (213), Ben Spencer (240), Bob Brunker (201), Matthew Taylor (225,204), Michael Gordon (226), and Nick Kinney (202)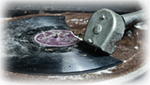 A new personal high game was set tonight by Ben Spencer (240, previous best 235).


NEXT WEEK:
*(Remember, the predicted results above are based on mathematical extrapolations and can be changed by all sorts of factors. If you don't like how your team's results are predicted, you and your teammates have the power to prove the math wrong!)
FROM THE GUTTER (GUTTER QUOTE)

"Jesus, Wilson. I can't think of anything recently that plunged the way your games did tonight."

Kobe Bryant, on Ken Wilson's sudden steep descent of scores.


EXPANDED STANDINGS
Top Individual Achievements for Week 2