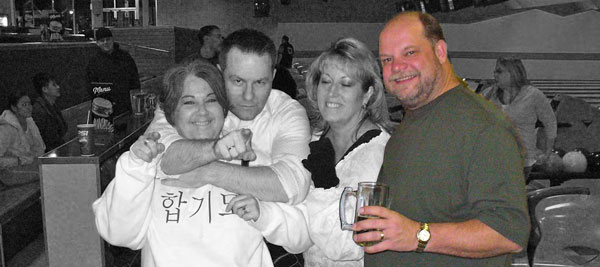 We are very saddened to report the passing of one of our founding members and a true legend of our league, Patrick Searcy. He left our world from the comfort of his home, with his wife Shelly at his side, after a two-year battle with cancer.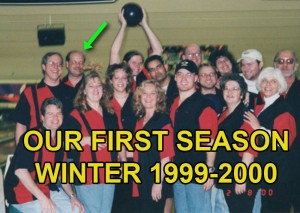 Pat was with us from our very first season way back in the winter of 1999-2000. With a few breaks here and there, he was a regular fixture on the lanes through 2009. In 2012 he returned for one more season before putting the ball away for good.
Though Pat was one of the league's top bowlers during his career, and in fact despite not having rolled for nearly 8 years he is still in the top 10 for career 200+ games, it is his larger than life personality that Pat will most be remembered for. Those of you who joined the league more recently so never had the opportunity to know him will still likely recognize him as the namesake for our recurring Pat Searcy "Life of the Party" Award. An award he never himself won, as we created it after his final season, but we are certain he would have won it all 16 seasons he bowled had it existed from the beginning. You could take one look at Pat and know instantly that he was the life of the party. He possessed a powerful magnetism that drew everyone to him like moths to a flame.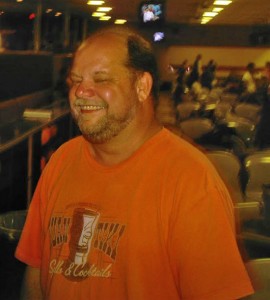 His booming laughter filled the entire place -- an infectious sound that began the second he walked through the doors. Simply put, Pat was loved by one and all.
For those of you that never had the opportunity to meet Pat, let us try to paint a picture: he was loud, he was gregarious, he was a trash talker, he was hilarious, he was clutch on the lanes in the heat of battle, and he was the first person to tell you "good game" win or lose with his trademark nearly-finished beer clutched in his hand.
Speaking of that beer, Pat was the absolute king of balancing bowling and beer, and set the metric by which all beer-loving bowlers are measured. Often sneaking his own beer in, he was even caught in the act once but was so beloved by the staff member who caught him that he was simply told "Next time sneak in something we sell so that we won't know." Pat was such a good bowler with all the beer we drank that we often wondered what would happen if he rolled without it. We got that answer on November 20, 2012, when he had to skip beer due to a medication he was taking at the time. He rolled the worst series, by far, of his entire career.
It was legendary.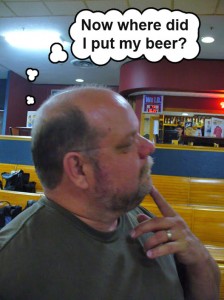 After Pat left the league he would drop in on occasion to down a beer or three and catch up with all of us. The entire place would light up instantly when we learned that he was in the house, usually beginning with us hearing him out of the blue shouting a comical put down of someone that was getting ready to roll. When he would, the entirety of the league would be put on hold as we all couldn't wait to go over and say "hey!"
He was inducted into our league's Hall of Fame back in 2013. Those present that day will never forget the look on his face when he was presented with our traditional bowling pin painted in the likeness of the inductee and he realized that his had been jokingly painted with him naked as the day he was born. People several states over reportedly heard his laughter. You can almost hear it by looking at the picture of him holding his trophy. "I'm nakey!" were the only words he was able to get out before he regained his composure. That's how we'll always remember Pat -- mischievous grin and all.
Pat's cancer diagnosis was unexpected and brutal, and in his particular case the cancer was unusually aggressive. He had been seeing a doctor regularly, taking better care of himself, and checked out perfectly fine in his annual physical.
Six months later he began showing what was not yet recognizable (even to his doctor) as symptoms of already-metastasized cancer, and two months later he received the diagnosis and learned nothing could be done. He gave it a very good fight, and his wife was absolutely amazing at keeping him comfortable and his spirits up during the two year ordeal.
We love you, Pat, and you will be in our minds and hearts forever.
Also, F*CK cancer.