Week 7 was the grooviest anyone in our league or at the bowling counter had ever seen. In addition to being so freakin' groovy, this week saw two teams climb in the standings, while one team slipped. Monica Hufford picked up this week's high game (188) and series (496) for the women. As for the men, Nick Kinney snagged this week's high game with a 225, and high series was earned by Aaron Barber with a 607. Read on for all the rest of the details!
First up, on lanes 3 & 4: In a rather lopsided matchup, the more-intimidating-lately 8 Balls decided they were tired of 2nd place and decided to take it out on some poor hapless Bowl Movements. However, they didn't quite get there. Featuring Dennis Walling with his above-average 558 series, 8-Balls collected 3 wins against BMs. Over on the other side of the bathroom stall divider, Conor Clarke with his 480 series was the biggest BM despite his team notching only a single win. 8 Balls remains in 2nd place, while BMs remain in 10th.
On lanes 5 & 6: In a pairing of teams of similar strength, Bowling For Beers celebrated their love of balls with Open Frames R Us. While headlined by Jeremy Varnell with his above-average 449 series, Beers accomplished only 1 win against Open Frames. Meanwhile, inspired by the news that Toys R Us might re-open, Monica Hufford pre-bowled her way to goodness as her 496 series called the shots for Open Frames. The Frames took the match with 3 wins. Bowling For Beers remains in 8th place, while Open Frames move 1 spot to 6th.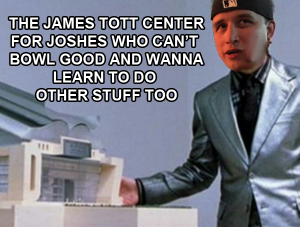 With Josh Rothermel having a rough go at it during games 2 and 3, tonight's Runner-Up Most Valuable Bowler James Tott offered up some sage words of bowling wisdom at various points throughout these games. It would behoove all bowlers to take these tenets to heart when having an off night:
"Knock down as many pins as you can."
"Don't suck."
"Just be better."
"Suck less."
"You're not very good."
"Just try not to f this up."
On lanes 7 & 8: Serious Bowlers decided they were sick of being a third-rate team, but despite their best efforts against Teeby Dee they were unable to do anything about it. Led by Aaron Barber with his above-average 607 series, Serious Bowlers collected 3 wins against TBD -- not quite enough to get out of their dilemma. Luke Melton with his better-than-usual 442 series reigned supreme within TBD despite his team notching only a single win. Serious Bowlers remains in 3rd place, while TBD remains in 9th.
On lanes 9 & 10: In a matchup that turned out actually extremely close to what the Predictions expected, Red Strikes Matter faced off against BDE. Although charging into the fray behind Sean Miller with his above-average 505 series, Red Strikes accomplished only 1 win against BDE. Meanwhile, Rob Kaszuba with his 473 series showed off for BDE as his team took the match with 3 wins. It should be noted everyone present on BDE rolled well over average at various times, including a season-best 190 (51 pins over average) by the guy who was noted multiple times by people of both genders as having the "tiniest" and "cutest" ball sack they had ever seen-- Chadwick Andrews. Red Strikes Matter remains in 1st place albeit with a much more tenuous hold, while BDE remains in 4th.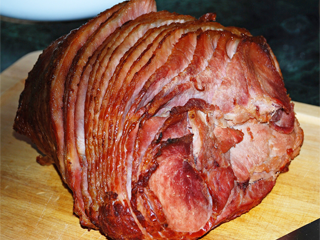 While series could not have been saved by Red Strikes, game 3 might have had a different outcome if not for a bizarre lane malfunction. After rebounding from game 2 with a very solid first half of game 3, in the middle of the 5th frame AJ Hofmann's ball was returned resembling a spiral-cut ham. It had a 3mm-wide groove gouged into it that looped completely around the ball multiple times. No one at the bowling alley who got the opportunity to gaze upon AJ's big groovy ball had ever seen anything like it. The pro shop will be getting to work on Wednesday to make things right, while AJ went home tonight with a lop-sided bag.
Finally, down on lanes 11 & 12: We Don't Give a Split shared a few beers with Gucci Lane. Showcasing trifecta-winner (#1 Head-to-Head, #1 Power-Ranked, and Most Valuable Bowler) Aubrey Moren and his astounding 570 series, Split Not Given locked up a clean sweep over Gucci. In the meantime, Steven Anthony with his dramatic 539 series inspired Gucci despite his team getting swept. ( Brian Orrick -- We're sorry that this was how you were welcomed back to bowling but we are very happy to have you back and see you looking well.) We Don't Give a Split climbs 1 spot in the standings to 5th place, while Gucci plunges 2 spots to 7th.
Bowlers whose racks were sexy enough that the bouncer let them into The 200 Club include: Aaron Barber (204,209), Dennis Walling (215), Michael Gordon (204), Nick Kinney (225), and Russell Bingham (201)
In this week's Tournament of Champions brackets: Aaron Barber cleaned up Division 1, while Aubrey Moren rolled his ass to the top of Division 2. Steven Anthony crushed Division 3, and Luke Melton clobbered Division 4. And, finally, nobody claimed victory in the Interdivisional bracket (though Pat Hamell (Division ) came closest). In terms of overall points: Rob Kaszuba and Nick Kinney run the show in Division 1 in a tie; Scott Murdock calls the shots Division 2; Chadwick Andrews and Neil Hufford lead Division 3 in a tie; and Chuck Kissee dominates Division 4.
NEXT WEEK:
*(Remember, the predicted results above are based on mathematical extrapolations and can be changed by all sorts of factors. If you don't like how your team's results are predicted, you and your teammates have the power to prove the math wrong!)
FROM THE GUTTER (GUTTER QUOTE)

"OF COURSE! It's only fitting that I'm going home a ball short right before we have to roll against '8 Balls'!"

AJ Hofmann, after his ball was sliced apart.


EXPANDED STANDINGS
| | | | | | |
| --- | --- | --- | --- | --- | --- |
| Pos. | Team name | Record | Percent | Total Pins | Change |
| 1 | Red Strikes Matter | 21-7 | .750 | 13,019 | n/a |
| 2 | 8 Balls | 20-8 | .714 | 14,856 | n/a |
| 3 | Serious Bowlers | 17-11 | .607 | 14,313 | n/a |
| 4 | BDE | 16-12 | .571 | 12,182 | n/a |
| 5 | We Don't Give a Split | 15-13 | .536 | 12,913 | +1 |
| 6 | Open Frames R Us | 14-14 | .500 | 11,272 | +1 |
| 7 | Gucci Lane | 12-16 | .429 | 12,510 | -2 |
| 8 | Bowling For Beers | 10-18 | .357 | 10,873 | n/a |
| 9 | Teeby Dee | 8-20 | .286 | 11,174 | n/a |
| 10 | Bowl Movements | 7-21 | .250 | 10,187 | n/a |
Top Individual Achievements for Week 7