Scoot isn't feeling well, so we're going to stick mostly with the Robo-Writeup this week. The fifth week of Fall 2018 saw two teams climb in the standings, while two teams slipped. One bowler set a new personal best series, and one rolled new personal high game. Monica Hufford tentatively picked up this week's high game (199) and series (522) for the women, while Aaron Barber teantatively earned this week's high game (257) and series (609) for the men. Read on for all the rest of the details!
First up, on lanes 3 & 4: A well-matched pair of rivals gathered as Red Strikes Matter took turns breathing Jeremy's farts with Bowling For Beers. With extra motivation generated by Scott Murdock with his above-average 490 series, Red Strikes collected 3 wins against Beers. Simultaneously, sub Michael Mead with his 568 series reigned supreme within Beers despite his team notching only a single win. Red Strikes Matter remains in 1st place, while Beers remain in 8th.
On lanes 5 & 6: With the narrowest of handicaps, 8 Balls had a rendezvous with We Don't Give a Split. Topped by Russell Bingham with his above-average 583 series, with kudos to tentative Most Valuable Bowler Matthew Taylor, 8-Balls earned a clean sweep over Split Not Given. In the meantime, Carl Goetz with his slightly-off 560 series dominated Split Not Given despite his team getting swept. 8 Balls remains in 2nd place, while Split Not Given sinks 1 spot to 6th.
On lanes 7 & 8: A well-matched pair of rivals gathered as Gucci Lane rock and rolled all night and partied every day with one member of BDE while a couple more showed up to roll six days later. In spite of top-billing by Steven Anthony with his above-average 452 series, Gucci got swept by BDE. While that was going down, Jeremy Cline with his better-than-normal 520 series laid down the law for BDE as they swept the competition. Gucci Lane plummets 3 spots in the standings to 7th place, while BDE jumps 2 spots to 5th.
On lanes 9 & 10: In a battle of good against evil, the finally all-present (with shirts!!!) Bowl Movements were flushed by the villainous Serious Bowlers. In spite of top-billing by Conor Clarke with his below-average 456 series, BMs got wiped by Serious Bs. Moving on to the challengers, Aaron Barber with his better-than-normal 609 series emboldened Serious Bs (with props to tentatively #1 Head-to-Head Jonathan Vigliaturo and his tentatively #1 Power-Ranked ass) as they swept the competition. Bowl Movements plop 1 spot in the standings to 10th place, while Serious Bs remain in 3rd.
Finally, down on lanes 11 & 12: In a pairing of teams of similar strength, Teeby Dee found their destiny gripped in the icy hands of Open Frames R Us. Regardless of the star power of David Juiliano with his 452 series, TBD accomplished only 1 win against Open Frames. On the flipside, Monica Hufford with her better-than-normal 522 series oversaw Open Frames as her team took the match with 3 wins. Teeby Dee climbs 1 spot in the standings to 9th place, while Open Frames jumps 2 spots to 4th.
Bowlers rolling into The 200 Club include: Aaron Barber (257), Carl Goetz (220), Dennis Walling (203), Jeremy Cline (202), Matthew Taylor (206), Nick Kinney (202), and Russell Bingham (228)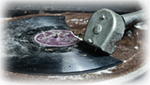 A new personal high game was set tonight by Josh Rothermel (187, previous best 185). In addition, a new personal best series was rolled by Monica Hufford (522, previous best 514).
Monica Hufford claimed the season's women's high series with her 522. In addition, Aaron Barber nabbed this season's men's high game with his 257.


In this week's Tournament of Champions brackets: Nobody claimed victory in Division 1 (though Russell Bingham came closest), while nobody claimed victory in Division 2 (though David Juiliano came closest). Neil Hufford crushed Division 3, and Chuck Kissee made quick work of Division 4. Finally, Seth Gunderson (Division 2) got the better of this week's Interdivisional bracket. In terms of overall points: Nick Kinney runs the show in Division 1; Seth Gunderson is in the driver's seat in Division 2; Neil Hufford governs Division 3; and JoAnne Gordon reigns over Division 4.
NEXT WEEK:
*(Remember, the predicted results above are based on mathematical extrapolations and can be changed by all sorts of factors. If you don't like how your team's results are predicted, you and your teammates have the power to prove the math wrong!)
FROM THE GUTTER (GUTTER QUOTE)

"Eric and I have decided to start a Celestial bowling league. We both miss you guys so we plan to recruit heavily within your ranks. You'll be surprised by which of you we are drafting next!"

The Ghost of Dave Winger, threatening to poach from our league.


EXPANDED STANDINGS
| | | | | | |
| --- | --- | --- | --- | --- | --- |
| Pos. | Team name | Record | Percent | Total Pins | Change |
| 1 | Red Strikes Matter | 16-4 | .800 | 9,325 | n/a |
| 2 | 8 Balls | 13-7 | .650 | 10,622 | n/a |
| 3 | Serious Bowlers | 13-7 | .650 | 10,126 | n/a |
| 4 | Open Frames R Us | 11-9 | .550 | 8,088 | +2 |
| 5 | BDE | 10-10 | .500 | 8,475 | +2 |
| 6 | We Don't Give a Split | 9-11 | .450 | 9,067 | -1 |
| 7 | Gucci Lane | 9-11 | .450 | 8,995 | -3 |
| 8 | Bowling For Beers | 7-13 | .350 | 7,732 | n/a |
| 9 | Teeby Dee | 6-14 | .300 | 7,892 | +1 |
| 10 | Bowl Movements | 6-14 | .300 | 7,251 | -1 |
Top Individual Achievements for Week 5