This week was packed with splits, open frames, and many normally-good bowlers struggling to roll even respectfully close to their averages, while others with lower averages soared this week. Was it the oil pattern, or was it some sort of conspiracy? All that aside, Monica Hufford picked up this week's high game (168) and series (479) for the women, while Aaron Barber earned this week's high game (203) and series (586) for the men. Meanwhile, the Tournament of Champions also kicked off tonight, beginning of 13 weeks of one-on-one bowling excitement! Read on for all the rest of the details!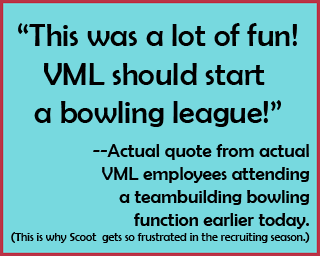 First up, on lanes 3 & 4: Open Frames R Us mounted a strong defense against Serious Bowlers. Reinforced by Monica Hufford with her above-average 479 series, Open Frames split the series with Serious Bs. It wasn't undtil game 3 that all four of the So Serious team decided enough was enough and combined their powers to stop the assault. Aaron Barber with his better-than-normal 586 series guided Serious Bs as they matched their opponent in wins. Open Frames R Us remains in 6th place, while Serious Bs move up 1 spot to 3rd.
On lanes 5 & 6: The initially-floundering Teeby Dee finally saw things come together tonight as they commandeered control of the series from BDE. Topped by David Juiliano with his 440 series (and assisted by Curtis Whiles just barely missing a 200 in game 3), TBD collected 3 wins against BDE. As for the hapless victims, Chadwick Andrews with his better-than-normal 441 series inspired BDE despite his team notching only a single win. While this wasn't quite enough to get Teeby Dee out of 10th place, they are now will positioned to start climbing the rankings. BDE remains in 7th.
On lanes 7 & 8: The team of unofficially five members that can never seem to produce more than two to show up in any given week Bowl Movements found themselves initially stymied by Bowling For Beers. It was only because game 3 demonstrated the twin powers of #1 Head-to-Head Conor Clarke (with an above-average 517 series) and Colin Belmont also rolling well-above average that they didn't suffer complete collapse and were able to split the series with Beers. #1 Power-Ranked and Most Valuable Bowler Pat Hamell and his marvelous 431 series laid down the law for Beers as they matched their opponent in wins. Bowl Movements remains constipated in 9th place, while Beers remain passed out drunk in 8th.
On lanes 9 & 10: In the most sparsely-populated matchup of the night, half of Gucci Lane was able to hold off a challenge by half of 8 Balls. Showcasing Conrad Bonney with his 452 series, Gucci split the series with 8-Balls. Meanwhile, Michael Gordon with his slightly-off 489 series piloted 8-Balls as they matched their opponent in wins. Gucci Lane climbs 1 spot in the standings to 4th place, while 8-Balls move 1 spot to 2nd. Only three scores in this entire matchup were above average. But at least it wasn't as pathetic as what went down next door...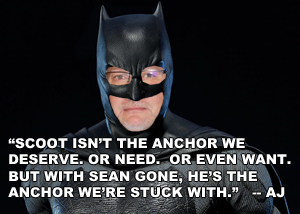 Finally, down on lanes 11 & 12: Red Strikes Matter would like to be proud of their victories over We Don't Give a Split, but they can't. In a matchup packed full of so many splits and missed spares that most frames ended with the lanes left oh so more pin laden than they should have been, the series really came down to which side could out-mediocre the other. With top billing by Ben Spencer with his 468 series, Red Strikes collected 3 not-really-earned wins against Split Not Given. Phil Schroeder with his 466 series propped up Split despite his team notching only a single win. Red Strikes Matter remains in 1st place, while Split Not Given plunges 3 spots to 5th.
Bowlers somehow getting past security and gaining access to The 200 Club include: Aaron Barber (203,201). Yes, that's really it. Wow.
In this week's Tournament of Champions brackets: Nick Kinney staked a claim for the Iron Throne in Division 1, while Monica Hufford walloped Division 2. Chadwick Andrews trounced Division 3, and Pat Hamell creamed Division 4. Finally, JoAnne Gordon (Division 4) spanked this week's Interdivisional bracket. In terms of overall points: Nick Kinney dominates Division 1; Monica Hufford reigns over Division 2; Chadwick Andrews holds the reins in Division 3; and Pat Hamell and JoAnne Gordon run the show in Division 4 in a tie.
NOTE:Because of a typo in a database lookup sort order, the printed tournament bracket sheets this week had the Interdivisional bracket in the wrong order. This has been corrected. So if you were in the interdivisionals this week, it didn't turn out the way you thought it did. The corrected bracket is linked to above. I'm really sorry about this, but it's fixed going forward.
And yes, I know,... transgression.
NEXT WEEK:
*(Remember, the predicted results above are based on mathematical extrapolations and can be changed by all sorts of factors. If you don't like how your team's results are predicted, you and your teammates have the power to prove the math wrong!)
FROM THE GUTTER (GUTTER QUOTE)

"What's with you tonight? You seem really happy! Did you get laid last night?"

"No." [immediately rolls a strike]

"Well you're bowling like you at least got a hand job."

Jeremy, then Pat, then Jeremy, on Pat's glowing performance.


EXPANDED STANDINGS
| | | | | | |
| --- | --- | --- | --- | --- | --- |
| Pos. | Team name | Record | Percent | Total Pins | Change |
| 1 | Red Strikes Matter | 13-3 | .813 | 7,442 | n/a |
| 2 | 8 Balls | 9-7 | .563 | 8,427 | +1 |
| 3 | Serious Bowlers | 9-7 | .563 | 7,958 | +1 |
| 4 | Gucci Lane | 9-7 | .563 | 7,442 | +1 |
| 5 | We Don't Give a Split | 9-7 | .563 | 7,117 | -3 |
| 6 | Open Frames R Us | 8-8 | .500 | 6,364 | n/a |
| 7 | BDE | 6-10 | .375 | 6,841 | n/a |
| 8 | Bowling For Beers | 6-10 | .375 | 5,982 | n/a |
| 9 | Bowl Movements | 6-10 | .375 | 5,732 | n/a |
| 10 | Teeby Dee | 5-11 | .313 | 6,320 | n/a |
Top Individual Achievements for Week 4