The Spring 2018 season draws to a close, with WITNESS!!! officially earning this season's championship title last week. But we aren't quite finished yet -- next week we will meet at our usual time to name all the award winners and hand out prize money (in the meeting room on the Finnegan's side, through the back of the snack bar), followed by 9-pin-tap fun night.
BE SURE TO VOTE FOR YOUR END-OF-SEASON FAVORITES!
BALLOTS DUE 5PM MONDAY!
Our final real week saw three teams climb in the standings, while two teams slipped. One bowler set a new personal best series. Monica Hufford picked up this week's high game (167) and series (475) for the women, while Dennis Walling earned this week's high game (235) and series (660) for the men. Read on for all the rest of the details!
First up, on lanes 3 & 4: We find a pairing of champs vs chumps (Nick told me to write that), as WITNESS!!! tussled with HOF Sandwich. Highlighting the skills of Nick Kinney with his 531 series, Witness!!! collected 3 wins against the Sandwich. Moving on to the challengers, a pre-bowled Kody Karnes with his slightly-off 579 series reigned supreme within the Sandwich despite his team notching only a single win. WITNESS!!! complete in 1st place, while the Sandwich end up with 2nd.
On lanes 5 & 6: Two teams each despserately fought to end the season in second place, both failed./ Splitbowl Countries tried to sneak some tokes from Mary Janes Last Frame, but things did not go as planned. Despite the strength of Matthew Taylor with his 562 series, Splitbowl accomplished only 1 win against Mary Jane. Meanwhile, trifecta-winner (#1 Head-to-Head, #1 Power-Ranked, and Most Valuable Bowler) Dennis Walling and his better-than-normal 660 series motivated Mary Jane to free pizza and beer next week courtesy of winning a bet with Scoot as his team took the match with 3 wins. Splitbowl Countries plummet 2 spots in the standings to end in... 5th place (?!?!?!?), while Mary Jane moves up 1 spot to go home with 3rd.
On lanes 7 & 8: Holy Sandbaggers, Batman! waged a very protracted battle with PBR Me, ASAP. While Dennis Laube was busy winning the Tournament of Champions, Aubrey Moren with his below-average 525 series helped the Sandbaggers end the season with a clean sweep over PBR. Among the other players in the match, Josh Rothermel with his 417 series showed off for PBR despite his team getting swept. Holy Sandbaggers, Batman! climbs 1 spot in the standings to close out in 4th place, while PBR cross the finish line in 6th.
Finally, down on lanes 9 & 10: We witnessed a gathering of underdogs as Three Strikes and a Spare took turns kicking the ball return with Sit Down, Be Humbowl. Though featuring Monica Hufford with her 475 series, Three Strikes accomplished only 1 win against Humbowl. Simultaneously, Brian Byfield with his better-than-normal 517 series propped up Humbowl as his took 2nd Place in the Tournament of Champions and his team took the match with 3 wins. Three Strikes and a Spare drops 1 spot in the standings to finish in 8th place, while Humbowl moves 1 spot to wind up in 7th.
Bowlers paying far too much for well vodka at The 200 Club include: Aubrey Moren (213), Brian Byfield (206), Dennis Walling (223,235,202), Matthew Taylor (201), and Scott Murdock (222)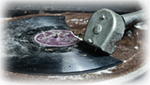 A new personal best series was rolled tonight by Ben Spencer (531, previous best 497).


After a hard fought season, the Tournament of Champions was won tonight by Dennis Laube (Division 2), with Brian Byfield (Division 4) landing in second place. Dennis will pocket the nice first-place pot, while Brian will take away the second-place pot. Congratulations!
Though tonight was the last night that counts, we still have one more week to go! Next week begins with a league meeting led by WITNESS!!!, where awards winners will be announced and prize money handed out. Everybody gets cash! The meeting will be at 6:30 and, unless otherwise announced later, will be held in the Small Meeting Room in Finnegan's Hall. (Go through the door in the back of the snack bar and turn right.) After that, 9-pin tap bowling just for fun! (Knocking down 9 pins on the first ball counts as a strike.)
FROM THE GUTTER (GUTTER QUOTE)

"Did I ever tell you about the time I got punched in the face by a stripper?"

Pat Hamell, moments after Scoot accidentally hit Aaron in the nose.


EXPANDED STANDINGS
| | | | | | |
| --- | --- | --- | --- | --- | --- |
| Pos. | Team name | Record | Percent | Total Pins | Change |
| 1 | WITNESS!!! | 44-20 | .688 | 34,890 | n/a |
| 2 | HOF Sandwich | 36-28 | .563 | 34,650 | n/a |
| 3 | Mary Janes Last Frame | 35-29 | .547 | 34,543 | +1 |
| 4 | Holy Sandbaggers, Batman! | 35-29 | .547 | 32,106 | +1 |
| 5 | Splitbowl Countries | 34-30 | .531 | 33,696 | -2 |
| 6 | PBR Me, ASAP | 26-38 | .406 | 24,714 | n/a |
| 7 | Sit Down, Be Humbowl | 23-41 | .359 | 27,150 | +1 |
| 8 | Three Strikes and a Spare | 22-42 | .344 | 24,834 | -1 |
Top Individual Achievements for Week 16