All hope for a mathematically-difficult upset by any of the three teams in position to unseat the reigning champs quickly went up in flames last night, as WITNESS!!! lit up enough wins to clinch the championship outright. This makes 11 championships for Seth Gunderson, 6 for Jonathan Vigliaturo, 3 (consecutive) for Aaron Barber, and 2 (consecutive) for Nick Kinney. Congratulations, guys! Now get to work on your awards night presentation!
Among the rest of us: One bowler set a new personal best series, Freda Schroeder picked up this week's high game (179) and series (526) for the women, and Kody Karnes earned this week's high game (277) and series (743) for the men. Meanwhile, Tournament of Champions is officially down to its final eight bowlers, who will face each other next week competing for two cash prizes! Read on for all the rest of the details!
First up, on lanes 3 & 4: The present half of Sit Down, Be Humbowl made reasonably effective use of voodoo dolls resembling each member of Splitbowl Countries. Strengthened by Brian Byfield with his spectacular 535 series, Humbowl split the series with Splitbowl. Russell Bingham with his better-than-normal 583 series took the lead among Splitbowl as they matched their opponent in wins. Sit Down, Be Humbowl remains in 8th place, while Splitbowl moves 1 spot to 3rd.
On lanes 5 & 6: The best chance for an upset in the battle for the championship would have required Mary Janes Last Frame to sweep this series. However, they instead chose to do exactly the opposite. Showcasing #1 Power Ranked and #1 Head-to-Head Kody Karnes and his smoking hot 743 series, HOF Sandwich incinerated Mary Jane. Michael Mead with his slightly-off 540 series led the smoldering embers of Mary Jane. HOF Sandwich climbs 1 spot in the standings to 2nd place, while Mary Jane plunges 2 spots to 4th.
On lanes 7 & 8: In a truly mismatched pairing, the underdogs of Three Strikes and a Spare hung out with the big bullies of WITNESS!!!. While headlined by Monica Hufford with her below-average 390 series, Three Strikes accomplished only 1 win against Witness!!! before seeing their chances for any more victories extinguished. Over on the evil side, Aaron Barber with his 615 series ignited Witness!!! as his team took the match and the championsip with 3 wins. Three Strikes and a Spare remains in 7th place, while Witness!!! remains in 1st forever.
Finally, down on lanes 9 & 10: PBR Me, ASAP took a beating from Holy Sandbaggers, Batman!. Despite an attempt at suppression from Jeremy Varnell with his 411 series, PBR found themselves consumed by the Sandbaggers. Like a lit cigarette carelessly tossed onto a rooftop deck on a windy day, Freda Schroeder's smoldering 526 series kindled the Sandbaggers as they scorched the competition. PBR Me, ASAP remains in 6th place, while the Sandbaggers remain in 5th.
Bowlers showing enough cleavage to get past the bouncer at The 200 Club include: Aaron Barber (232,202), Bob Brunker (242), Brian Byfield (206), Carl Goetz (211), Dennis Walling (200), Kody Karnes (224,277,242), Michael Mead (235), Russell Bingham (223), and Scott Murdock (206)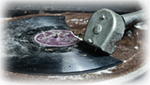 A new personal best series was rolled tonight by Brian Byfield (535, previous best 528).
Adding to the excitement, the 743 rolled by Kody Karnes is this season's new high series for men.
The 277 rolled by Kody Karnes is tied for the 7th-best game in league history!
The 743 rolled by Kody Karnes is tied for the 5th-best series in league history!


In this week's Tournament of Champions brackets: Nobody claimed victory in Division 1 (though Russell Bingham came closest), while Dennis Laube decimated Division 2. Freda Schroeder got the better of Division 3, and Brian Byfield spanked Division 4. Congratulations to our division champions! The following eight people will compete next week for the big prize! Division 1: Michael Mead and Aubrey Moren. Division 2: Dennis Laube and Scott Murdock. Division 3: Freda Schroeder and Jonathan Vigliaturo. Division 4: Emily Nicolet and Brian Byfield.
NEXT WEEK:
*(Remember, the predicted results above are based on mathematical extrapolations and can be changed by all sorts of factors. If you don't like how your team's results are predicted, you and your teammates have the power to prove the math wrong!)
FROM THE GUTTER (GUTTER QUOTE)

"F*** off."

Carl Goetz, each time someone pointed out how much he and AJ Hofmann looked alike due to their (nearly) matching shirts.


EXPANDED STANDINGS
| | | | | | |
| --- | --- | --- | --- | --- | --- |
| Pos. | Team name | Record | Percent | Total Pins | Change |
| 1 | WITNESS!!! | 41-19 | .683 | 32,827 | n/a |
| 2 | HOF Sandwich | 35-25 | .583 | 32,584 | +1 |
| 3 | Splitbowl Countries | 33-27 | .550 | 31,554 | +1 |
| 4 | Mary Janes Last Frame | 32-28 | .533 | 32,333 | -2 |
| 5 | Holy Sandbaggers, Batman! | 31-29 | .517 | 30,132 | n/a |
| 6 | PBR Me, ASAP | 26-34 | .433 | 23,285 | n/a |
| 7 | Three Strikes and a Spare | 21-39 | .350 | 23,223 | n/a |
| 8 | Sit Down, Be Humbowl | 20-40 | .333 | 25,348 | n/a |
Top Individual Achievements for Week 15