(NOTE: Due to Scoot being unusually busy this week, we are sticking with the computer-generated recap for this week.) The fourteenth week of Spring 2018 saw two teams climb in the standings (including one all but written off team that has leapfrogged into second place), while two teams slipped. One bowler set a new personal best series. Freda Schroeder picked up this week's high game (190) and series (522) for the women. As for the men, Aaron Barber and Michael Mead both tied for this week's high game with a 276, and high series was earned by Michael Mead with a 688. Read on for all the rest of the details!
First up, on lanes 3 & 4: In a battle of good against evil, the dark horse PBR Me, ASAP entered a showdown to the death with the dreadful WITNESS!!!. Despite the strength of Josh Rothermel with his spectacular 502 series, PBR accomplished only 1 win against Witness!!!. Over on the other side, Aaron Barber with his better-than-normal 645 series emboldened Witness!!! as his team took the match with 3 wins. PBR Me, ASAP drops 1 spot in the standings to 6th place, while Witness!!! remains in 1st.
On lanes 5 & 6: Three Strikes and a Spare took turns kicking the ball return with Holy Sandbaggers, Batman!. Despite a show of strength by Neil Hufford with his below-average 413 series, Three Strikes got swept by the Sandbaggers. In the meantime, Aubrey Moren with his 537 series drew the spotlight of the Sandbaggers (with kudos to Most Valuable Bowler Freda Schroeder) as they swept the competition. Three Strikes and a Spare remains in 7th place, while the Sandbaggers move 1 spot to 5th.
On lanes 7 & 8: Sit Down, Be Humbowl drew pistols at dawn with Mary Janes Last Frame. Regardless of the star power of Brian Orrick with his 422 series, Humbowl got swept by Mary Jane. Simultaneously, #1 Power Ranked and #1 Head-to-Head Michael Mead and his marvelous 688 series called the shots for Mary Jane as they swept the competition. Sit Down, Be Humbowl remains in 8th place, while Mary Jane jumps 2 spots to 2nd.
Finally, down on lanes 9 & 10: A well-matched pair of rivals gathered as Splitbowl Countries found their destiny gripped in the icy hands of HOF Sandwich. Although blessed by Russell Bingham with his 546 series, Splitbowl managed only 1.5 wins against the Sandwich. Conversely, Bob Brunker with his 553 series propped up the Sandwich as his team took the match with 2.5 wins. Splitbowl Countries plummet 2 spots in the standings to 4th place, while the Sandwich remains in 3rd.
Bowlers ducking past the bouncer at The 200 Club include: Aaron Barber (276), Bob Brunker (204), Carl Goetz (200), Dennis Walling (236,209), Jonathan Vigliaturo (244), Michael Gordon (201,230), Michael Mead (201,211,276), Nick Kinney (201), and Russell Bingham (204)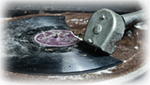 A new personal best series was rolled tonight by Josh Rothermel (502, previous best 453).
The 276 rolled by Aaron Barber is tied for the 8th-best game in league history!


In this week's Tournament of Champions brackets: Dennis Walling eradicated Division 1, while nobody claimed victory in Division 2 (though Bob Brunker came closest). Freda Schroeder routed Division 3, and Josh Rothermel decimated Division 4. In terms of overall points: Michael Mead governs Division 1; Nick Kinney is in the driver's seat in Division 2; Freda Schroeder calls the shots Division 3; and Emily Nicolet holds the reins in Division 4.
NEXT WEEK:
*(Remember, the predicted results above are based on mathematical extrapolations and can be changed by all sorts of factors. If you don't like how your team's results are predicted, you and your teammates have the power to prove the math wrong!)
REMINDER: Next week is the bowling fee payment deadline! All bowling fees for the season must be paid in full next Tuesday unless other arrangements are made personally with AJ or Scott.
FROM THE GUTTER (GUTTER QUOTE)

"If it works, you can rub mine next."

Matthew Taylor, to Brian Byfield, who was rubbing his ball for luck.


EXPANDED STANDINGS
| | | | | | |
| --- | --- | --- | --- | --- | --- |
| Pos. | Team name | Record | Percent | Total Pins | Change |
| 1 | WITNESS!!! | 38-18 | .679 | 30,642 | n/a |
| 2 | Mary Janes Last Frame | 32-24 | .571 | 30,338 | +2 |
| 3 | HOF Sandwich | 31-25 | .554 | 30,271 | n/a |
| 4 | Splitbowl Countries | 31-25 | .554 | 29,382 | -2 |
| 5 | Holy Sandbaggers, Batman! | 27-29 | .482 | 28,132 | +1 |
| 6 | PBR Me, ASAP | 26-30 | .464 | 21,820 | -1 |
| 7 | Three Strikes and a Spare | 20-36 | .357 | 21,718 | n/a |
| 8 | Sit Down, Be Humbowl | 18-38 | .321 | 23,426 | n/a |
Top Individual Achievements for Week 14