This week a record three teams post-bowled due to illness and weather. But not, finally, all the scores are in. The fifth week of Spring 2019 saw four teams climb in the standings, while four teams slipped. One bowler set a new personal best series, and one rolled new personal high game. Monica Hufford picked up this week's high game (188) and series (523) for the women, while Ian Goetz earned this week's high game (243) and series (593) for the men. Read on for all the rest of the details!
First up, on lanes 1 & 2: In what amounted to a David vs Goliath situation, the dark lords of #MGAGA hung out with the hopeful darlings The Pin Is Mightier. Despite being propelled by Seth Gunderson with his 556 series, Hashtags got swept by Mightiers. In the meantime, Curtis Whiles with his slightly-off 460 series called the shots for Mightiers (along with kudos to #1 Power-Ranked and Most Valuable Bowler Michael Whiles) as they swept the competition. #MGAGA plummets 2 spots in the standings to 3rd place, while Mightiers jump 2 spots to 6th.
On lanes 3 & 4: In a rather lopsided matchup, the scrappy underdogs Extreme Outliers had a postbowling experience that would have turned out much better had the actually been able to face the minions of Satan making up CICK Ass in person.. In spite of top-billing by Ben Spencer with his 455 series, Outliers accomplished only 1 win against CICK Ass. On the flipside, Ian Goetz with his 593 series emboldened CICK Ass as his team took the match with 3 wins. Extreme Outliers climb 1 spot in the standings to 10th place, while CICK Ass moves up 1 spot to 1st.
Poor Extreme Outliers. They were stuck post-bowling next to a large group of out-of-control pre-schoolers who kept running across their lanes, as well as trying to bowl on their lanes. But this experience has also led to the creation of a new bowling award. So, we here at GutterAlley are proud to announce that the newly named Christy Schlosser Mother of the Season Award goes to... (drum roll)... Christy Schlosser, for yanking a tot to safety who had stuck his head completely into a ball return. (Charles Darwin was the lone dissenting vote in casting this award.)
On lanes 5 & 6: With a battle so mismatched that the outcome could trigger the apocalypse, the big bullies of Pin Is King cowered in sheer terror upon discovering they were rolling against the lovable Bowl Movements. With the strength of Matthew Taylor with his above-average 584 series, PinIs Kings enjoyed a clean sweep over Movements. On the other side of the tracks, Conor Clarke with his slightly-off 456 series commanded Movements despite his team getting swept. Pin Is King climbs 1 spot in the standings to 2nd place, while Movements sink 1 spot to 11th.
On lanes 7 & 8: Open Frames R Us would have been unable to undressing with their eyes the members of BDE, had Open Frames not been all alone due to post-bowling. Though somewhat emboldened by Monica Hufford with her above-average 523 series, Open Frames accomplished only 1 win against BDE. As this was happening, #1 Head-to-Head Chadwick Andrews and his better-than-normal 532 series dominated BDE as his team took the match with 3 wins. Open Frames R Us remains in 9th place, while BDE sinks 1 spot to 7th.
On lanes 9 & 10: Scoot's Raging Bone Spur attempted to deliver menacing stares toward Ray & Stevie, but that's pointless when your opponent can't see you. With extra motivation generated by Sean Miller with his above-average 508 series, Bone Spurs collected 3 wins against the Blind Team. . With the Blind Team forfeiting, all Bone Spurs needed to do was roll within 40 pins of their combined team average each game. But that's just not quite how things went. Scoot's Raging Bone Spur remains in 5th place, while the Blind Team remains in 12th.
Finally, down on lanes 11 & 12 13 & 14: JoAnne's Dirty PJs waged a heated competition against the post-bowling We Don't Give a Split. Although topped by Pat Hamell with his 363 series, Dirty PJs accomplished only 1 win against Split Not Given. Conversely, Aubrey Moren with his 556 series laid down the law for Split Not Given as his team took the match with 3 wins. JoAnne's Dirty PJs drop 1 spot in the standings to 8th place, while Split Not Given remains in 4th.
Bowlers who sneaked in through the employee entrance of The 200 Club include: Ian Goetz (243), Matthew Taylor (222,202), and Michael Gordon (204)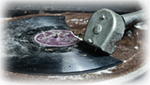 A new personal high game was set tonight by Luke Melton (185, previous best 176). In addition, a new personal best series was rolled by Monica Hufford (523, previous best 522).
Adding to the excitement, the 523 rolled by Monica Hufford is this season's new high series among women.


In this week's Tournament of Champions brackets: Jonathan Vigliaturo trounced Division 1, while Sean Miller ruled Division 2. Alison Radke walloped Division 3, and Michael Whiles crushed Division 4. Finally, AJ Hofmann (Division 3) decimated this week's Interdivisional bracket. And Monica Hufford (Division 2) proved that she belongs in the Master Bowling Nation by playing with herself to completion. In terms of overall points: Ian Goetz and Jonathan Vigliaturo reign over Division 1 in a tie; Sean Miller is in the driver's seat in Division 2; Ben Spencer governs Division 3; and Michael Whiles and Dennis Cummings call the shots in Division 4 in a tie.
NEXT WEEK:
*(Remember, the predicted results above are based on mathematical extrapolations and can be changed by all sorts of factors. If you don't like how your team's results are predicted, you and your teammates have the power to prove the math wrong!)
FROM THE GUTTER (GUTTER QUOTE)

"Don't worry, Scoot, we don't blame you for losing game 3 anymore." "Oh yeah, who or what do you blame now?" "Sean, since he's gone now."

AJ Hofmann, then Scoot, then AJ, on losing game 3 to the blind team.


EXPANDED STANDINGS
| | | | | | |
| --- | --- | --- | --- | --- | --- |
| Pos. | Team name | Record | Percent | Total Pins | Change |
| 1 | CICK Ass | 17-3 | .850 | 9,656 | +1 |
| 2 | Pin Is King | 14-6 | .700 | 10,903 | +1 |
| 3 | #MGAGA | 14-6 | .700 | 10,866 | -2 |
| 4 | We Don't Give a Split | 12-8 | .600 | 9,148 | n/a |
| 5 | Scoot's Raging Bone Spur | 12-8 | .600 | 8,406 | n/a |
| 6 | The Pin Is Mightier | 11-9 | .550 | 7,472 | +2 |
| 7 | BDE | 10-10 | .500 | 9,376 | -1 |
| 8 | JoAnne's Dirty PJs | 8-12 | .400 | 7,537 | -1 |
| 9 | Open Frames R Us | 7-13 | .350 | 8,108 | n/a |
| 10 | Extreme Outliers | 7-13 | .350 | 6,163 | +1 |
| 11 | Bowl Movements | 6-14 | .300 | 7,899 | -1 |
| 12 | Holy Forkin Shirt Balls | 0-20 | .000 | 1,440 | n/a |
Top Individual Achievements for Week 5