For the first time this season, a team has pulled away from the pack of ties to become the first first-place leader of the season. Granted, Red Strikes Matter hasn't had to face any challenging teams yet, especially not this week, so it remains to be seen what will happen next week when they have to deal with some real competition.

The third week of Fall 2018 saw five teams climb in the standings, while five teams slipped. Freda Schroeder picked up this week's high game (206) and series (515) for the women, while Dennis Walling earned this week's high game (233) and series (622) for the men. And the Tournament of Champions divisions are now set, ready for one-on-one action to begin next week! Read on for all the rest of the details!
NOTICE: After negotiating with Wabash League about doing a lane shift, starting next week we will finally be rolling on our normal lanes. If they remember that I asked to be away from the wall, we will settle in on lanes 3-12. (Otherwise, it will be 1-10).
First up, on lanes 11 & 12: Half of a yet-to-all-be-here Bowl Movements chugged some laxative and sat down in the stall right next to Teeby Dee. Topped by Colin Belmont with his 415 series, with kudos to Most Valuable Bowler Ben Conaghan, the BMs squeezed out 3 nuggets of victory against TBD. In the meantime, David Juiliano with his 459 series reigned supreme within TBD despite his team notching only a single win. Bowl Movements climb 1 spot in the standings to 9th place, while TBD sinks 1 spot to 10th.
On lanes 13 & 14: Open Frames R Us sparred with Gucci Lane. With top billing by Neil Hufford with his above-average 455 series, Open Frames garnered a clean sweep over Gucci. Despite being led by sub Michael Mead with his slightly-off 530 series, Gucci's early streak of wins came to a halt. Open Frames R Us leap 2 spots in the standings to 6th place, while Gucci plunges 4 spots to 5th.
On lanes 15 & 16: With closely-matched team strength (how????), Red Strikes Matter kept grabbing the balls of Serious Bowlers. Uniting behind the leadership of AJ Hofmann with his powerful 545 series, Red Strikes collected 3 wins against Serious Bs. On the adjacent lane, Aaron Barber with his better-than-normal 580 series showed he was extra Serious despite his team notching only a single win. Red Strikes Matter climbs 1 spot in the standings to 1st place, while Serious Bs sink 1 spot to 4th.
On lanes 17 & 18: With the narrowest of handicaps separating them, BDE hung out with We Don't Give a Split. Despite the strength of Jeremy Cline with his above-average 493 series, BDE accomplished only 1 win against Split Not Given. Moving on to the challengers, Freda Schroeder with her better-than-normal 515 series dominated Split Not Given as her team took the match with 3 wins. Freda's scores included a 206, which continues an odd recent pattern of Freda only rolling 200s in the Fall seasons. (What's up with that, Freda?
) BDE plummets 2 spots in the standings to 7th place, while Split Not Given jumps 2 spots to 2nd.
Finally, down on lanes 19 & 20: In a battle of good against evil, the wicked 8 Balls entered a showdown to the death with the long-shots Bowling For Beers. Strengthened by #1 Power Ranked and #1 Head-to-Head Dennis Walling and his magnificent 622 series, 8-Balls collected a clean sweep over Beers. Over on the other side, Jeremy Varnell with his 425 series dished out some hugs for the Beers despite his team getting swept. 8 Balls leap 4 spots in the standings to 3rd place, while Beers plunge 2 spots to 8th.
Bowlers who flashed the bouncer for access to The 200 Club include: AJ Hofmann (204), Dennis Walling (204,233), Freda Schroeder (206), Michael Mead (217), and Russell Bingham (202)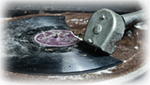 Freda Schroeder earned both this season's women's high game and series with her 206 and 515, respectively.


The Tournament of Champions begins next week. Here are the final division assignments for this season:


DIVISION 1
1. Aaron Barber
2. Russell Bingham
3. Dennis Walling
4. Michael Gordon
5. Matthew Taylor
6. Nick Kinney
7. Ben Spencer
8. Rob Kaszuba
9. Freda Schroeder
10. Jeremy Cline
DIVISION 2
1. Aubrey Moren
2. AJ Hofmann
3. Seth Gunderson
4. Sean Miller
5. Phil Schroeder
6. Brian Byfield
7. Conor Clarke
8. Monica Hufford
9. Scott Murdock
10. Jonathan Vigliaturo
DIVISION 3
1. Conrad Bonney
2. Curtis Whiles
3. Dennis Laube
4. Colin Belmont
5. Brian Orrick
6. Jeremy Varnell
7. Neil Hufford
8. Chadwick Andrews
9. Steven Anthony
10. Luke Melton
DIVISION 4
1. JoAnne Gordon
2. Alison Radke
3. James Tott
4. Josh Rothermel
5. Ben Conaghan
6. Pat Hamell
7. Emily Nicolet
8. Chuck Kissee
9. Emmy Hanlon
NEXT WEEK:
*(Remember, the predicted results above are based on mathematical extrapolations and can be changed by all sorts of factors. If you don't like how your team's results are predicted, you and your teammates have the power to prove the math wrong!)
FROM THE GUTTER (GUTTER QUOTE)

"Eww! There's ball juice all over the soles of my shoes!"

Emily Nicolet, discovering quite a mess after unzipping (her bag).


EXPANDED STANDINGS
| | | | | | |
| --- | --- | --- | --- | --- | --- |
| Pos. | Team name | Record | Percent | Total Pins | Change |
| 1 | Red Strikes Matter | 10-2 | .833 | 5,636 | +1 |
| 2 | We Don't Give a Split | 8-4 | .667 | 5,377 | +2 |
| 3 | 8 Balls | 7-5 | .583 | 6,413 | +4 |
| 4 | Serious Bowlers | 7-5 | .583 | 5,881 | -1 |
| 5 | Gucci Lane | 7-5 | .583 | 5,757 | -4 |
| 6 | Open Frames R Us | 6-6 | .500 | 4,632 | +2 |
| 7 | BDE | 5-7 | .417 | 5,166 | -2 |
| 8 | Bowling For Beers | 4-8 | .333 | 4,429 | -2 |
| 9 | Bowl Movements | 4-8 | .333 | 4,196 | +1 |
| 10 | Teeby Dee | 2-10 | .167 | 4,701 | -1 |
Top Individual Achievements for Week 3