The Fall 2018 bowling season got off to a glitchy start, but with two subs filling in the gaps this was also the largest opening-night turnout in quite some time! Ten teams entered the 16-week competition for the coveted, nonexistent championship trophy, among them ten rookies and only one opening-night Vacancy!
Monica Hufford picked up this week's high game (181) and series (474) for the women, while sub Michael Mead earned this week's high game (237) and series (605) for the men. Read on for all the rest of the details!
First up, on lanes 1 & 2: Dealing with the glitchiest of the lanes, defending champion Serious Bowlers traded lane malfunctions with the newly rebranded We Don't Give a Split. Strengthened by Nick Kinney with his 484 series, the Serious Bs split the series with Split Not Given. In the meantime, Aubrey Moren with his 504 series dominated Split as they matched their opponent in wins. Serious Bowlers starts out in 5th place, while We Don't Give a Split begins in 6th.
On lanes 3 & 4: BDE couldn't stop inappropriately groping Bowl Movements. Starring Jeremy Cline with his 502 series, the power of BDE was demonstrated as they collected 3 wins against the BMs. On the adjacent lane, Colin Belmont with his 431 series pushed out some BMs of his own despite his team notching only a single win. BDE gets underway in 4th place, while Bowl Movement commences the season in 10th.
On lanes 5 & 6: The yet-unnamed Team 5 kept grabbing the balls of 8 Balls. (Ok, not really.) Though featuring David Juiliano with his 470 series, the unnamed team accomplished only 1 win against 8-Balls. Russell Bingham with his 561 series inspired 8-Balls as his team took the match with 3 wins. Team 5 begins with 7th place, while 8-Balls start off in 1st. Which I'm sure really pisses Aaron Barber off.
On lanes 7 & 8: Bowling For Beers had some one-on-one time with Gucci Lane. Although blessed by Josh Rothermel with his 399 series, Beers accomplished only 1 win against Gucci. Moving on to the challengers, #1 Power-Ranked sub Michael Mead and his 605 series mastered Gucci as his team took the match with 3 wins. (And Brian Byfield's 213 in game 3 continue's his demonstrations from last season that he is not a bowler to be dismissed.) Bowling For Beers begins the season in 9th place, while Gucci Lane gets it going with 2nd.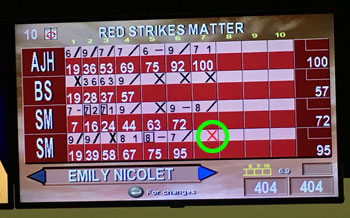 Finally, down on lanes 9 & 10: Open Frames R Us had a romantic candlelight dinner with Red Strikes Matter. Although receiving some motivation from Monica Hufford with her 474 series, Open Frames accomplished only 1 win against Red Strikes. On the other side of broken-for-everyone-but-Scoot hand blower, #1 Head-to-Head Sean Miller and his 515 series guided Red Strikes as his team took the match with 3 wins. Open Frames R Us starts out in 8th place, while Red Strikes launches in 3rd.
Bowlers who lied to their significant other claiming bowling was running long then went out for after-bowling drinks at The 200 Club include: Brian Byfield (213), Michael Gordon (203), Michael Mead (237), and Russell Bingham (226)
The Tournament of Champions begins in 3 weeks. Here are how the divisions are shaping up so far:


DIVISION 1
1. Russell Bingham
2. Michael Gordon
3. Sean Miller
4. Aubrey Moren
5. Jeremy Cline
6. Dennis Walling
7. Rob Kaszuba
8. Matthew Taylor
9. Nick Kinney
10. Monica Hufford
DIVISION 2
1. Ben Spencer
2. Brian Byfield
3. Seth Gunderson
4. Dennis Laube
5. Neil Hufford
6. Aaron Barber
7. Phil Schroeder
8. Jonathan Vigliaturo
9. Conrad Bonney
10. Curtis Whiles
DIVISION 3
1. Colin Belmont
2. Steven Anthony
3. Scott Murdock
4. AJ Hofmann
5. Brian Orrick
6. Josh Rothermel
7. Luke Melton
8. Chadwick Andrews
9. Jeremy Varnell
10. JoAnne Gordon
DIVISION 4
1. Alison Radke
2. James Tott
3. Chuck Kissee
4. Emily Nicolet
5. Pat Hamell
6. Ben Conaghan
7. Emmy Hanlon
NEXT WEEK:
*(Remember, the predicted results above are based on mathematical extrapolations and can be changed by all sorts of factors. If you don't like how your team's results are predicted, you and your teammates have the power to prove the math wrong!)
FROM THE GUTTER (GUTTER QUOTE)

"You brought the fuckin' Pomeranian bowling?"

Alison Radke, failing to recognize one of her own teammates.


EXPANDED STANDINGS
| | | | | | |
| --- | --- | --- | --- | --- | --- |
| Pos. | Team name | Record | Percent | Total Pins | Change |
| 1 | 8 Balls | 3-1 | .750 | 2,084 | n/a |
| 2 | Gucci Lane | 3-1 | .750 | 1,914 | n/a |
| 3 | Red Strikes Matter | 3-1 | .750 | 1,831 | n/a |
| 4 | BDE | 3-1 | .750 | 1,734 | n/a |
| 5 | Serious Bowlers | 2-2 | .500 | 1,830 | n/a |
| 6 | We Don't Give a Split | 2-2 | .500 | 1,768 | n/a |
| 7 | Teeby Dee | 1-3 | .250 | 1,644 | n/a |
| 8 | Open Frames R Us | 1-3 | .250 | 1,619 | n/a |
| 9 | Bowling For Beers | 1-3 | .250 | 1,461 | n/a |
| 10 | Bowl Movements | 1-3 | .250 | 1,276 | n/a |
Top Individual Achievements for Week 1