Until last week, Mary Janes Last Frame had been suffering. They hadn't had a winning week since February 13, so it was good to see their fortunes finally turn last week and continue this week. However, more noteworthy, MJ is also the only team that is consistently tripping up Witness!!!. Their 7-1 record against Witness (making Mary Jane the only team with a winning record against the first-place team) makes one wonder how the championship might turn out if Mary Jane can somehow rally enough in these next three weeks to reach second place in time.
Speculating aside, let's now look at things that and more grounded in reality.
For instance, this week Angela Bradford picked up this week's high game (181) and series (488) for the women, while Russell Bingham earned this week's high game (264) and series (645) for the men. Ben Spencer rolled a new personal best series. Read on for all the rest of the details!
First up, on lanes 3 & 4: In a fairly closely-matched lineup WITNESS!!! did battle with Mary Janes Last Frame. In spite of top-billing by Aaron Barber with his 610 series, Witness!!! accomplished only 1 win (and their first of the season) against Mary Jane. Countering this, Michael Mead with his better-than-normal 595 series ruled Mary Jane as his team smoked the match with 3 wins. WITNESS!!! remains in 1st place, while Mary Jane remains in 4th.
On lanes 5 & 6: Sit Down, Be Humbowl alternated between bowling and dry humping PBR Me, ASAP. Despite being led by Brian Byfield with his above-average 487 series, Humbowl accomplished only 1 win against PBR. As for the opposition, Jeremy Varnell with his 440 series showed off for PBR (with kudos to Most Valuable Bowler Pat Hamell) as his team took the match with 3 wins. Sit Down, Be Humbowl remains in 8th place, while PBR remains in 5th.
On lanes 7 & 8: A well-matched pair of rivals gathered as Holy Sandbaggers, Batman! traded lane malfunctions with Splitbowl Countries. Though featuring Phil Schroeder with his 494 series, the Sandbaggers accomplished only 1 win against Splitbowl. On the other half of the score sheet, #1 Power Ranked and #1 Head-to-Head Russell Bingham and his better-than-normal 645 series dominated Splitbowl as his team took the match with 3 wins. Holy Sandbaggers, Batman! remains in 6th place, while Splitbowl remains in 2nd.
Finally, down on lanes 9 & 10: In a battle of good against evil, the oppressive HOF Sandwich practically went all Tonya Harding on the hopeful darlings Three Strikes and a Spare. Emboldened by Kody Karnes with his 622 series, the Sandwich welcomed a clean sweep over Three Strikes. On the adjacent lane, Neil Hufford with his 441 series laid down the law for Three Strikes despite his team getting swept. HOF Sandwich remains in 3rd place, while Three Strikes remain in 7th.
Bowlers who stumbled into The 200 Club include: Aaron Barber (227), Bob Brunker (209), Dennis Walling (239), Kody Karnes (215,248), Matthew Taylor (222,204), Michael Mead (222,212), Phil Schroeder (201), Russell Bingham (264,200), Sean Simmons (206), and Seth Gunderson (223,213)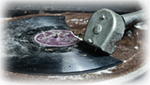 A new personal best series was rolled tonight by Ben Spencer (497, previous best 495).


In this week's Tournament of Champions brackets: Matthew Taylor won Division 1, while Nick Kinney shut down Division 2. AJ Hofmann routed Division 3, and Pat Hamell spanked Division 4. In terms of overall points: Aubrey Moren dominates Division 1; Nick Kinney runs the show in Division 2; Freda Schroeder calls the shots Division 3; and Emily Nicolet leads Division 4.
NEXT WEEK:
*(Remember, the predicted results above are based on mathematical extrapolations and can be changed by all sorts of factors. If you don't like how your team's results are predicted, you and your teammates have the power to prove the math wrong!)
FROM THE GUTTER (GUTTER QUOTE)

"Way to kill Cancer Baby JV!"

Seth, to Aaron Barber. We have stopped trying to figure out why members of that team say the things they do.


EXPANDED STANDINGS
| | | | | | |
| --- | --- | --- | --- | --- | --- |
| Pos. | Team name | Record | Percent | Total Pins | Change |
| 1 | WITNESS!!! | 33-15 | .688 | 26,215 | n/a |
| 2 | Splitbowl Countries | 29.5-18.5 | .615 | 25,382 | n/a |
| 3 | HOF Sandwich | 27.5-20.5 | .573 | 25,966 | n/a |
| 4 | Mary Janes Last Frame | 24-24 | .500 | 25,634 | n/a |
| 5 | PBR Me, ASAP | 24-24 | .500 | 18,600 | n/a |
| 6 | Holy Sandbaggers, Batman! | 21-27 | .438 | 24,110 | n/a |
| 7 | Three Strikes and a Spare | 17-31 | .354 | 18,676 | n/a |
| 8 | Sit Down, Be Humbowl | 15-33 | .313 | 19,762 | n/a |
Top Individual Achievements for Week 12