Half of tonight's matchups saw underdogs come out on top, while the other half saw bullies beat up on their prey. Which way did each matchup go? Read on to find out.First up, on lanes 41 & 42: Bowlgasmic intended to crush Glory Bowl into oblivion. Glory Bowl was already suffering due to Chelsie Finger needing to drop out for the season ue to an elbow injury. But then Bowlgasmic lost both Michelle Tollefson and Angela Bradford for the evening. As it turns out, the bad boys of Bowlgasmic flounder in the absence of their team's women. Kody Karnes and his 606 series proved to be no match for the 536 series by Andrew Finger and a Most Valuable Bowler performance by AJ Hofmann, allowing Glory Bowl a clean sweep over their presumed vanquisher. Bowlgasmic drops 3 spots in the standings to 6th place, while Glory Bowl moves up 1 spot to 4th.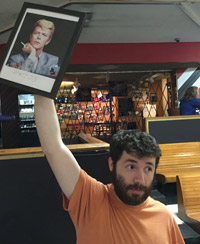 On lanes 43 & 44, the bullies came out to play when Fallop Ian had a rendezvous with Bowies In Space. Led by John Boren and his 616 series, and assisted by Seth Gunderson's #1 Power-ranked performance, Fallop Ian secured 3 wins against Bowies In Space. This was a disaster for Bowies In Space, who lost a photo of David Bowie and the right to write this paragraph,. Led by Aaron Barber and his 630 series, Bowies In Space could only secure 1 win. Fallop Ian remains in 1st place (but no longer in a tie), while Bowies In Space drops 1 spot to 3rd.
On lanes 45 & 46: The underdog 404: Team Name Not Found spent a romantic evening with Split It & Hit It and surprisingly scored big. Led by Scott Murdock and his 519 series, 404: Team Name Not Found secured a rare clean sweep, over Split It & Hit It. Dennis Blake did his best to fight back with his team-leading 565 series, but couldn't get any traction. 404: Team Name Not Found climbs 1 spot in the standings to 5th place, while Split It & Hit It remains in 7th.
Finally, down on lanes 47 & 48: the underdogs Split Sisters met with Holy Sandbaggers, Batman!. Led by Amber Waddle and her 410 series, Split Sisters got swept, inconsiderately, by Holy Sandbaggers, Batman!. Aubrey Moren, proving that he'd rather win than be chivalrous, rolled a 556 series, to earn a clean sweep. Split Sisters remains in 8th place, while Holy Sandbaggers, Batman! jumps 2 spots to 2nd.
The Tournament of Champions began this week, and some of our bowlers who were on the losing side of their matchups got their revenge here. Dennis Blake won Division 1 this week, with Michael Mead taking 2nd. Division 2 was won by this week's bullies, though, with Seth Gunderson taking first place and Andrew Finger taking second. Division 3 was led by Sean Simmons, with Dennis Laube taking second; and Amber Waddle won Division 4 with AJ Hofmann taking second.Bowlers bullying their way into The 200 Club this week include: Aaron Barber (230,217), Aubrey Moren (210), Dennis Blake (200), John Boren (226,202), Jonathan Vigliaturo (204), Kody Karnes (214), Michael Mead (214), and Seth Gunderson (211,201)See you next Tuesday!
FROM THE GUTTER (GUTTER QUOTE)

"I'm a starman waiting in the sky
I told you not to blow it
But then you guys sucked and died."

David Bowie, on failure of Bowies In Space to take the lead tonight.


EXPANDED STANDINGS
Top Individual Achievements for Week 4