Welcome to GutterAlley's Hall of Fame!

The VML Bowling League has been around for a very long time, well over a decade in fact. Since debuting in the Spring of 2000, hundreds of different bowlers have joined us during our 20+ seasons to have fun, laugh and enjoy the sport of bowling. In 2011 it was decided that a Hall of Fame should be created to commemorate and honor those individuals that best represent the bowling league throughout its rich history.
What makes a bowler worthy of being inducted into the Hall of Fame, though? Well, that part is entirely up to you...within the confines of a few rules, of course. At the beginning of each season you will be allowed to nominate any eligible bowler to the Screening Committee, made up of the first four bowlers enshrined into the Hall. You can nominate as many bowlers as you'd like up through the completion of the position round (the mid-way point of each season). The members of the Screening Committee will read the nominations and put together a list of the six most deserving candidates to be voted upon by the bowling community. At the end of each season, the candidate with the most votes will be announced at the awards ceremony and presented with their own official GutterAlley Hall of Fame commemorative trophy.

Bowlers inducted into the GutterAlley Hall of Fame:Spring 2011, Initial Class: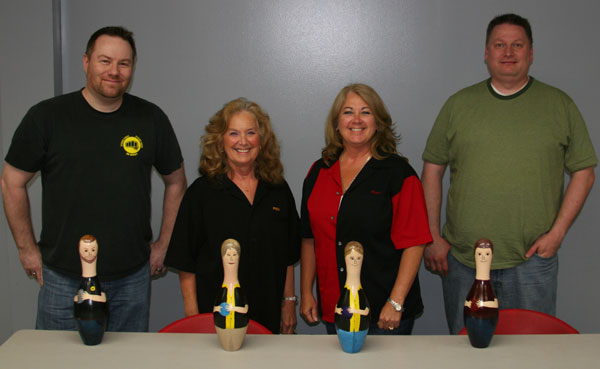 Pictured from left to right: Ken M. Wilson, Freda Schroeder, Angela Bradford and Scott Murdock.