Welcome to GutterAlley's Hall of Fame!

The GutterAlley bowling league has been around for a very long time. Since debuting in the Spring of 2000, hundreds of different bowlers have joined us to have fun, laugh and enjoy the sport of bowling. In 2011 it was decided that a Hall of Fame should be created to commemorate and honor those individuals that best represent the bowling league throughout its rich history.
What makes a bowler worthy of being inducted into the Hall of Fame, though? Well, for some it's the sheer volume of achievements various individuals have scored on the lanes while for others it's the accomplishments off the lanes to strengthen the league. At the end of each fall season, the current members of the Hall will vote and reveal the newest inductee at the awards ceremony and present them with their own official GutterAlley Hall of Fame commemorative trophy -- a pin painted in their likeness.

Bowlers inducted into the GutterAlley Hall of Fame:Spring 2011, Initial Class: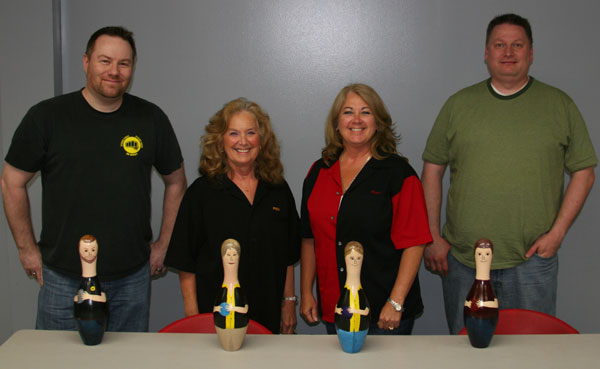 Pictured from left to right: Ken M. Wilson, Freda Schroeder, Angela Bradford and Scott Murdock.





| | |
| --- | --- |
| Fall 2019, unknown | |