The Fall 2018 season draws to a close, with 8 Balls officially earning this season's championship title! But we aren't quite finished yet -- next week we will meet at our usual time to name all the award winners and hand out prize money (in the meeting room on the Finnegan's side, through the back of the snack bar), followed by 9-pin no-tap fun night. The final week saw three teams climb in the standings, while three teams slipped. One bowler set a new personal best series, and one rolled new personal high game. Freda Schroeder picked up this week's high game (191) and series (451) for the women. As for the men, Michael Gordon and Russell Bingham both tied for this week's high game with a 224, and high series was earned by Russell Bingham with a 605.
But before we get on with all the details, Please remember to vote for your season favorites by Monday afternoon!
First up, on lanes 3 & 4: Red Strikes Matter, by all accounts, should have at least forced an additional tiebreaker game if not won the championship outright. But that's not going to happen when they essentially roll their average while the lowest game by 8 Balls was +52 pins over theirs. Scott Murdock tried to lead Red Strikes with his above-average 493 series, but it had no hope of keeping the Strikes from being swept by the Balls for the first time this season. Especially with the big balls of Most Valuable Bowler Russell Bingham and his better-than-normal 605 series, not to mention the over-average series rolled by everyone else on the team. In fact, every single member of 8 Balls saved one of their top three performances of the season for this very night! An interesting strategy. Congrats, guys, by coming together at the very moment it counted, you earned it. Red Strikes Matter drops 1 spot in the standings to close out in 2nd place, while 8-Balls move 1 spot to go home with 1st. This is Michael Gordon's second championship, and the first for Dennis Walling, Matthew Taylor, and Russell Bingham.
On lanes 5 & 6: BDE couldn't stop inappropriately groping Serious Bowlers, but that's okay, those guys like it. Even though highlighted by the skills of definitely-being-upgraded soon in the card deck Rob Kaszuba with his above-average 519 series, BDE accomplished only 1 win against Serious Bs. In the meantime, sub Carl Goetz with his 560 series dominated Serious Bs as his team took the match with 3 wins. BDE drops 1 spot in the standings to finish in 4th place, while Serious Bs move 1 spot to wind up in 3rd.
On lanes 7 & 8: We Don't Give a Split had a bit of an off night, but still kept ot together enough to mostly fend off Teeby Dee. Uniting behind the leadership of Aubrey Moren with his 511 series, Split Not Given collected 3 wins against TBD. Among the other players in the match, Curtis Whiles with his 435 series showed off for TBD despite his team notching only a single win. We Don't Give a Split completes in 5th place, while TBD crosses the finish line in 6th.
On lanes 9 & 10: Open Frames R Us faced off against Gucci Lane. Despite being led by James Tott with his above-average 497 series (because he "bowled better", and k"nocked down as many pins as he could"), Open Frames accomplished only 1 win against Gucci. Meanwhile, Brian Byfield with his miraculous 512 series took charge of Gucci (with props to #1 Head-to-Head Brian Orrick and #1 Power-Ranked Brian Orrick) as his team took the match with 3 wins. Open Frames R Us drop 1 spot in the standings to end in 8th place, while Gucci moves 1 spot to end up with 7th.
Finally, down on lanes 11 & 12: Bowling For Beers took swigs of what they thought was PBR but instead found themselves choking on mouthfuls of Bowl Movements. Although topped by Jeremy Varnell with his 438 series, Beers got completely crapped on by BMs. Conor Clarke, with his better-than-normal 480 series, was the most satisfying BM as they flushed the competition. Bowling For Beers 9th place, while BMs had no chance of escaping 10th no matter how many laxatives they employed.
Bowlers enjoying one final visit to The 200 Club before it gets shut down by the city and re-opens under new management next month include: Aaron Barber (206), Dennis Walling (200,207), Matthew Taylor (202), Michael Gordon (224), Nick Kinney (202), and Russell Bingham (224)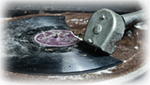 A new personal high game was set tonight by James Tott (192, previous best 189). In addition, a new personal best series was rolled by Brian Orrick (501, previous best 494).


After a hard fought season, the Tournament of Champions was won tonight by Matthew Taylor (Division 1), with AJ Hofmann (Division 2) and Aubrey Moren (Division 2) tying for second place. Matthew will pocket the nice first-place pot, while AJ and Aubrey will split the second-place pot. Congratulations!
Though tonight was the last night that counts, we still have one more week to go! Next week begins with a league meeting led by 8 Balls, where awards winners will be announced and prize money handed out. Everybody gets cash! The meeting will be at 6:30 and, unless otherwise announced later, will be held in the Small Meeting Room in Finnigan's Hall. (Go through the door in the back of the snack bar and turn right.) After that, 9-pin tap bowling just for fun! (Knocking down 9 pins on the first ball counts as a strike.)
FROM THE GUTTER (GUTTER QUOTE)

"Seriously? You guys blew it after being in first almost the entire season? Come January I'm going to have to re-think who I allow to mooch off my average for 2/3 of the season."

Ben Spencer, on his team's miserable championship-round failure.


EXPANDED STANDINGS
| | | | | | |
| --- | --- | --- | --- | --- | --- |
| Pos. | Team name | Record | Percent | Total Pins | Change |
| 1 | 8 Balls | 42-22 | .656 | 34,148 | +1 |
| 2 | Red Strikes Matter | 40-24 | .625 | 30,072 | -1 |
| 3 | Serious Bowlers | 38-26 | .594 | 33,014 | +1 |
| 4 | BDE | 38-26 | .594 | 28,421 | -1 |
| 5 | We Don't Give a Split | 37-27 | .578 | 29,678 | n/a |
| 6 | Teeby Dee | 29-35 | .453 | 25,859 | n/a |
| 7 | Gucci Lane | 27-37 | .422 | 26,112 | +1 |
| 8 | Open Frames R Us | 25-39 | .391 | 25,901 | -1 |
| 9 | Bowling For Beers | 24-40 | .375 | 24,759 | n/a |
| 10 | Bowl Movements | 20-44 | .313 | 21,817 | n/a |
Top Individual Achievements for Week 16