The eleventh week of Spring 2021 saw a shocking turn of events as two underdog teams clobbered the top two teams in the league, right before the final position round. Now we suddenly have four teams that each have very realistic chances of walking out with the championship next Tuesday. The events last night also inspired a couple of new Top 25 Lists. JoAnne Barber picked up this week's high game (161) and series (433) for the woman. As for the men, James Tott snagged this week's high game with a 235, and high series was earned by Matthew Taylor with a 614. Read on for all the rest of the details!
First up, on lanes 13 & 14: Larry, I'm On Ducktales came intending to destroy but instead spent their time with Smokin Js being sad. Although topped by Michael Gordon with his below-average 547 series, Ducktales got swept by Smokin. Concurrently, Most Valuable Bowler JoAnne Barber with her better-than-normal 433 series dominated Smokin as they swept the competition. Larry, I'm On Ducktales plummets 3 spots in the standings to 4th place, while Smokin moves up 1 spot to 3rd. Now suddenly a contender, there are a number of plausible scenarios where Smokin' J's could sneak right in and steal the championship next week.
Originally on lanes 15 & 16 but then mostly on 19 & 20: Name Coming, Curtis Said matched wits with Raining Chimps. Though Chimps came out strong out of the gate as the Whiles boys floundered, the tables turned the moment the two teams were moved to another set of lanes midway through the first game. Thanks to the move-inspired surge of #1 Power Ranked and #1 Head-to-Head Curtis Whiles and his breathtaking 600 series, TBD collected 3 wins against Chimps. Meanwhile AJ Hofmann with his 511 series ruled Chimps despite his team notching only a single win. Name Coming, Curtis Said remains in 5th place, while Chimps remain in 6th.
Finally, in the other big upset of the night on lanes 17 & 18: Gimme Some Of Your Totts couldn't stop inappropriately groping Gordon Michael's Groupies. But why would they want to stop? It was working! Reinforced by James Tott with his above-average 563 series, Gimme Totts collected 3 wins against Groupies. Simultaneously, Matthew Taylor with his 614 series motivated Groupies despite his team notching only a single win. Gimme Some Of Your Totts leap 2 spots in the standings to 1st place, while Groupies remain in 2nd.
This last matchup resulted in James Tott being on a first place team for the first time in his tenure within our league, which was the inspiration for a new Top 25 list: The Top 25 Bowlers Who Took The Longest To Be In First Place. Sorry, James, you're only #5! And, for the sadder version, here are the Top 25 Longst-Rolling Bowlers to NEVER Have First Place. The people in the #3 and #5 positions have a chance to move from this list to the other list next week!
So as we go into our championship (and final night of the Spring 2021 season) next week, all of the top four teams in the standings have potential paths to victory and a number of these scenarios involve the need to roll an additional tiebreaker game. Should be interesting!
Bowlers ducking past the bouncer at The 200 Club include: Curtis Whiles (228,209), James Tott (235), Matthew Taylor (213,226), and Scott Murdock (203)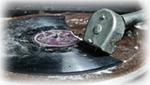 The 433 rolled by JoAnne Barber is this season's new high series among women.


In this week's Tournament of Champions brackets: Curtis Whiles topped Division 1, while Jeremy Varnell creamed Division 2. In terms of overall points: Michael Gordon runs the show in Division 1; and James Tott governs Division 2. The top four bowlers in each division will now face each other next week for the fake championship!
A question came up as to if "Vacancy" was a real person, how would they have done in the Tournament of Champions? So we did the calculations and the answer is: quite well. Now, it's a bit unfair that Vacancy gets 1 point automatically for rolling against themselves in the first round each week. But even after compensating for that, Vacancy would go into next week in 2nd place in Division 1 and in 3rd place in Division 2, if such nonsense were allowed to happen.
NEXT WEEK:
First, on lanes 15&16, 1st-place Gimme Some Of Your Totts (hcp 35) will chill with 2nd-place Gordon Michael's Groupies. Gimme Totts are expected to roll a little low and lose the series but avoid getting swept; while Groupies are forecast to hold steady as they enjoy their victories.

Moving to lanes 17&18, 3rd-place Smokin Js (hcp 104) will meet with 4th-place Larry, I'm On Ducktales. Smokin might maintain their current strength as they get swept; while Ducktales ought to hold steady as they rack up a sweep.

Finally, on lanes 19&20, 5th-place Name Coming, Curtis Said (hcp 11) will spend some quality time with 6th-place Raining Chimps. TBD is predicted to maintain their current strength as they lose the series but avoid getting swept; while Chimps are anticipated to hold steady as they enjoy their victories.
*(Remember, the predicted results above are based on mathematical extrapolations and can be changed by all sorts of factors. If you don't like how your team's results are predicted, you and your teammates have the power to prove the math wrong!)
FROM THE GUTTER (GUTTER QUOTE)

"That's a sweep folks. Aaron Barber, Michael Gordon"

JoAnne Barber, on Facebook, talking well-earned trash against both her husband and her twin brother.


EXPANDED STANDINGS
Top Individual Achievements for Week 11