With the sudden sale and closure of AMF Pro Bowl Lanes just three days before our final session of bowling, we were unsure if we'd be able to finish things up properly or just call it where we stood. Luckily for the team that ended up securing the championship last night,
Gladstone Bowl
helped us out by offering us four lanes to use so we could finish our season! It wasn't ideal squeezing 6 teams onto 4 lanes and maybe wasn't
technically
legal by USBC standards since the 3rd & 4th place teams bowled on separate sets of lanes, but thanks to Gladstone's help we were able to make the best of a bad situation. And with the top 4 teams all having a realistic shot at the title, it was a championship worth fighting for!
A full recap of the Spring 2021 season, along with Season MVB and other details, will be coming in a few days. Meanwhile, read on to find out more about last night's results!
JoAnne Barber picked up this week's high game (146) and series (413) for the woman, while, Aaron Barber snagged this week's high game for the men with a 225, and men's high series was earned by Matthew Taylor with a 607.
First up, on lanes 9 & 10: First-place
Gimme Some Of Your Totts
and second-place
Gordon Michael's Groupies
took turns adapting to rolling on an approach with no slide. In spite of top-billing by
Scott Murdock
with his 514 series, Gimme Totts accomplished only 1 win against Groupies. Matthew Taylor with his 607 series shone in Groupies as his team took the match with 3 wins. Gimme Some Of Your Totts plummeted 2 spots in the standings to wind up in 3rd place, while Groupies were crowned champions of the 43rd season! This is the second title for both
Dennis Walling
and Matthew Taylor.
On lanes 9 & 10 for one team and 11 & 12 for the other: Smokin Js waged a heated competition against Larry, I'm On Ducktales. Although blessed by JoAnne Barber with her above-average 413 series, Smokin accomplished only 1 win against Ducktales. With his teammate vacationing in Utah, a solo-bowling #1 Power-Ranked Aaron Barber and his 603 series emboldened Ducktales as his team took the match with 3 wins. Smokin Js drops 1 spot in the standings to finish 4th place, while Ducktales jump 2 spots to end in 2nd.
Finally, fully down on lanes 11 & 12: With closely-matched team strength, Name Coming, Curtis Said matched wits with Raining Chimps. Despite being led by Curtis Whiles with his 496 series, TBD managed only 1.5 wins against Chimps. #1 Head-to-Head AJ Hofmann and his better-than-normal 544 series trained the Chimps as his team took the match with 2.5 wins. Name Coming, Curtis Said keeps their 5th place position, while former champs Chimps spent the entire season in dead last.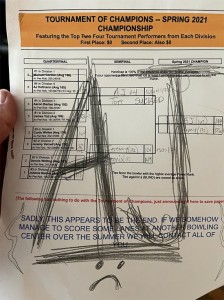 The Tournament of Champions championship was won by AJ Hofmann, with Jeremy Varnell as runner up. This is the first championship for AJ and the first 2nd-place finish for Jeremy Varnell. Congrats, guys! Sorry there was no prize money!
Bowlers who were still trapped in The 200 Club when the wrecking ball hit it and are now presumed dead include: Aaron Barber (214,225), James Tott (223), and Matthew Taylor (218)
The end of NKC Pro Bowl and the end of this season may not be The End after all. Gladstone Bowl has offered us a small summer league, and we have hope that if we build a good relationship with them we can get called up to a more regular schedule if lanes open up in 2022. Cross your fingers! (And more information about the potential summer league will be posted in the days to come.)
FROM THE GUTTER (GUTTER QUOTE)

"My back door is disgusting. It's all brown, and just isn't nice to look at."

Aaron Barber, apparently unaware that the toilet paper shortage ended several months ago.


EXPANDED STANDINGS
Top Individual Achievements for Week 12