The fourteenth week of Spring 2007 saw one team climb in the standings, while one team slipped. Angela Bradford picked up this week's high game (182) and series (517) for the women. As for the men, Kendall Kukowski snagged this week's high game with a 236, and high series was earned by John Boren with a 588. Read on for all the rest of the details!

First up, on lanes 15 & 16: Doll's Balls kept grabbing the balls of Unstoppabowl. While headlined by #1 Head-to-Head John Richardson and his above-average 526 series, Doll's Balls accomplished only 1 win against Unstoppabowl. In the meantime, Kendall Kukowski ruled Unstoppabowl with his outstanding 528 as his team took the series with 3 wins. Doll's Balls plummet 2 spots in the standings to 9th place, while Unstoppabowl remains in 4th.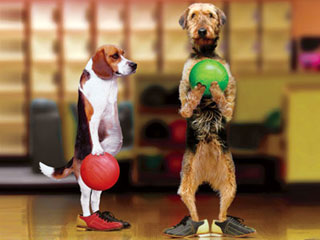 On lanes 17 & 18: T.B.D. alternated between bowling and dry humping Frickin' Ten Pin. In spite of top-billing by Steve Kiernan with his 534 series, T.B.D. accomplished only 1 win against Ten Pin. On the other half of the score sheet, Carl Goetz oversaw Ten Pin with his 574 as his team took the series with 3 wins. T.B.D. remains in 10th place, while Ten Pin jumps 2 spots to 7th.

On lanes 19 & 20: Oily Balls had a rendezvous with King Pins. Blessed by Ken M. Wilson with his 541 series, with a nod to #1 Power-Ranked Deena Slinkard, Oily Balls collected 3 wins against King Pins. As for the opposition, Duncan Ferber laid down the law in King Pins with his 545 despite his team notching only a single win. Oily Balls remains in 2nd place, while King Pins remain in 6th.

On lanes 21 & 22: Guttersluts shared a platter of cheese sticks with Those 4 Bowlers. Led by John Boren with his above-average 588 series, Guttersluts collected 3 wins against 4 Bowlers. On the flipside, Seth Gunderson reigned supreme in 4 Bowlers with his below-average 494 despite his team notching only a single win. Guttersluts remains in 1st place, while 4 Bowlers remain in 5th.

Finally, down on lanes 23 & 24: X9XX tussled with Churn and Burn. Highlighting the skills of Stefan Miller with his 524 series, X9XX split the series with Churn and Burn. Simultaneously, James Cholke called the shots for Churn and Burn with his above-average 510 (with kudos to Most Valuable Bowler Jamie Gibson) as they matched their opponent in wins. X9XX remains in 3rd place, while Churn and Burn remains in 8th.

Bowlers entering The 200 Club include: Carl Goetz (221), Duncan Ferber (212), John Boren (220,200), Ken M. Wilson (203), Kendall Kukowski (236), Phil Schroeder (207), and Steve Kiernan (201)

In this week's Tournament of Champions brackets: John Boren vanquished Division 1, while nobody claimed victory in Division 2 (though James Cholke came closest). John Richardson trounced Division 3, and Shaun Crockett cleaned up Division 4. And, finally, nobody claimed victory in the Interdivisional bracket (though Ken M. Wilson (Division ) came closest). In terms of overall points: John Boren governs Division 1; Seth Gunderson is in the driver's seat in Division 2; John Richardson leads Division 3; and Kendall Kukowski dominates Division 4.

NEXT WEEK:
*(Remember, the predicted results above are based on mathematical extrapolations and can be changed by all sorts of factors. If you don't like how your team's results are predicted, you and your teammates have the power to prove the math wrong!)
FROM THE GUTTER (GUTTER QUOTE)

"I love David's leathery ball bag."

Shaun Crockett, on the rugged texture a well-worn bag.


EXPANDED STANDINGS
| | | | | | |
| --- | --- | --- | --- | --- | --- |
| Pos. | Team name | Record | Percent | Total Pins | Change |
| 1 | Guttersluts | 39.5-16.5 | .705 | 25,622 | n/a |
| 2 | Oily Balls | 34.5-21.5 | .616 | 28,033 | n/a |
| 3 | X9XX | 33-23 | .589 | 27,584 | n/a |
| 4 | Unstoppabowl | 32.5-23.5 | .580 | 25,663 | n/a |
| 5 | Those 4 Bowlers | 26-30 | .464 | 24,163 | n/a |
| 6 | King Pins | 23.5-32.5 | .420 | 23,278 | n/a |
| 7 | Frickin' Ten Pin | 23-33 | .411 | 26,036 | +2 |
| 8 | Churn and Burn | 23-33 | .411 | 23,661 | n/a |
| 9 | Doll's Balls | 22.5-33.5 | .402 | 23,670 | -2 |
| 10 | T.B.D. | 20.5-35.5 | .366 | 20,346 | n/a |
Top Individual Achievements for Week 14