The third week of Spring 2007 saw three teams climb in the standings, while three teams slipped. Three bowlers set a new personal best series, and one rolled new personal high game. Freda Schroeder picked up this week's high game (206) and series (560) for the women, while Ken M. Wilson earned this week's high game (268) and series (662) for the men. And the Tournament of Champions divisions are now set, ready for one-on-one action to begin next week! Read on for all the rest of the details!

First up, on lanes 15 & 16: Those 4 Bowlers alternated splits with Unstoppabowl. Even though highlighted by the skills of Scott Murdock with his below-average 403 series, 4 Bowlers accomplished only 1 win against Unstoppabowl. While that was going down, Cory Chorpenning ruled Unstoppabowl with his 550 as his team took the series with 3 wins. Those 4 Bowlers remains in 5th place, while Unstoppabowl moves 1 spot to 3rd.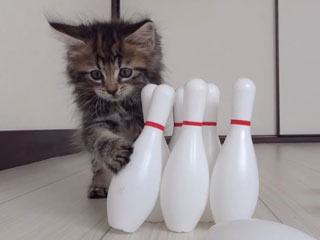 On lanes 17 & 18: King Pins shared a platter of cheese sticks with Churn and Burn. Although blessed by Duncan Ferber with his above-average 584 series, King Pins accomplished only 1 win against Churn and Burn. Meanwhile, Jason Carpio showed off in Churn and Burn with his 485 (with kudos to Most Valuable Bowler Emily Austin) as his team took the series with 3 wins. King Pins remains in 10th place, while Churn and Burn jumps 3 spots to 6th.

On lanes 19 & 20: Frickin' Ten Pin matched wits with Oily Balls. In spite of the prowess of Freda Schroeder with her awe-inspiring 560 series, Ten Pin got swept by Oily Balls. On the other side, Ken M. Wilson guided Oily Balls with his miraculous 662 as they swept the competition. Frickin' Ten Pin plummets 2 spots in the standings to 8th place, while Oily Balls remain in 2nd.

On lanes 21 & 22: Doll's Balls alternated between bowling and dry humping T.B.D.. Showcasing #1 Power Ranked and #1 Head-to-Head Ryan Doll and his dazzling 647 series, Doll's Balls collected 3 wins against T.B.D.. Conversely, Steve Kiernan shined in T.B.D. with his 563 despite his team notching only a single win. Doll's Balls leap 4 spots in the standings to 4th place, while T.B.D. plunges 2 spots to 9th.

Finally, down on lanes 23 & 24: X9XX spent a romantic evening with Guttersluts. Regardless of the star power of Thomas Lin with his above-average 585 series, X9XX got swept by Guttersluts. On the flipside, John Boren laid down the law in Guttersluts with his above-average 609 as they swept the competition. X9XX plummets 4 spots in the standings to 7th place, while Guttersluts remain in 1st.

Bowlers enjoying a guest admission to The 200 Club include: Carl Goetz (205), Cory Chorpenning (210), Duncan Ferber (209), Freda Schroeder (206), John Boren (231,216), Ken M. Wilson (268,213), Ryan Doll (226,237), Steve Kiernan (236), and Thomas Lin (201,202)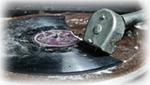 A new
personal high game
was set tonight by Ryan Doll (237, previous best 234). In addition, new
personal best series
were rolled by
Kris Hiestand
(471, previous best 450), Ryan Doll (647, previous best 591), and
Ariel Waldman
(389, previous best 369).
Freda Schroeder earned both this season's women's high game and series with her 206 and 560, respectively. In addition, Ken M. Wilson nabbed both high game and series for the men this season with his 268 and 662, respectively.
The 268 rolled by Ken M. Wilson is tied for the 5th-best game in league history!
The 560 rolled by Freda Schroeder is tied for the 9th-best women's series in league history!

The
Tournament of Champions
begins next week. Here are the final division assignments for this season:
DIVISION 1
1. Ken Wilson
2. John Boren
3. Steve Kiernan
4. Cory Chorpenning
5. Pat Searcy
6. Carl Goetz
7. Duncan Ferber
8. Ryan Doll
9. Seth Gunderson
10. Jason Carpio
DIVISION 2
1. Stefan Miller
2. Bill Krejci
3. Dennis Laube
4. Freda Schroeder
5. James Cholke
6. Phil Schroeder
7. David Parre
8. Angela Bradford
9. Scott Murdock
10. John Richardson
DIVISION 3
1. Chris Lewis
2. Dave Hickerson
3. Deena Slinkard
4. Kris Hiestand
5. Kendall Kukowski
6. Andee Weinfurt
7. Sara Bryant
8. Shaun Crockett
9. Emily Austin
10. Daniel Bolton
DIVISION 4
1. Greg Middleton
2. Justin Comfort
3. Ariel Waldman
4. Ginger O'Reilly
5. Ben Lee
6. Jonathan Jacobson
7. Sarah Buchanan
NEXT WEEK:
*(Remember, the predicted results above are based on mathematical extrapolations and can be changed by all sorts of factors. If you don't like how your team's results are predicted, you and your teammates have the power to prove the math wrong!)
FROM THE GUTTER (GUTTER QUOTE)

"Lin, Tracy, and I had a three way that last frame. Err, I mean, we were all three in the gutter. Dammit, you know what I mean!"

Shaun Crockett, with whom the seed for the idea has now been planted.


EXPANDED STANDINGS
| | | | | | |
| --- | --- | --- | --- | --- | --- |
| Pos. | Team name | Record | Percent | Total Pins | Change |
| 1 | Guttersluts | 9.5-2.5 | .792 | 5,367 | n/a |
| 2 | Oily Balls | 9-3 | .750 | 6,045 | n/a |
| 3 | Unstoppabowl | 8-4 | .667 | 5,251 | +1 |
| 4 | Doll's Balls | 6-6 | .500 | 5,056 | +4 |
| 5 | Those 4 Bowlers | 6-6 | .500 | 5,050 | n/a |
| 6 | Churn and Burn | 5.5-6.5 | .458 | 5,109 | +3 |
| 7 | X9XX | 5-7 | .417 | 5,511 | -4 |
| 8 | Frickin' Ten Pin | 4-8 | .333 | 5,429 | -2 |
| 9 | T.B.D. | 4-8 | .333 | 4,785 | -2 |
| 10 | King Pins | 3-9 | .250 | 4,462 | n/a |
Top Individual Achievements for Week 3