The second week of Spring 2007 saw four teams climb in the standings, while five teams slipped. One bowler set a new personal best series, and one rolled new personal high game. Freda Schroeder picked up this week's high game (183) and series (481) for the women, while Steve Kiernan earned this week's high game (236) and series (623) for the men. Read on for all the rest of the details!

First up, on lanes 15 & 16: Guttersluts traded lane malfunctions with Doll's Balls. Demonstrating the prowess of John Boren with his amazing 601 series, Guttersluts collected 3 wins against Doll's Balls. Across the ball return, John Richardson ruled Doll's Balls with his above-average 447 despite his team notching only a single win. Guttersluts leap 2 spots in the standings to 1st place, while Doll's Balls plunge 3 spots to 8th.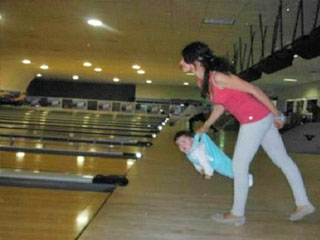 On lanes 17 & 18: Oily Balls sparred with X9XX. Though featuring Ken M. Wilson with his 542 series, Oily Balls accomplished only 1 win against X9XX. As for the opposition, trifecta-winner (#1 Head-to-Head, #1 Power-Ranked, and Most Valuable Bowler) Dennis Laube called the shots for X9XX with his outstanding 552 as his team took the series with 3 wins. Oily Balls drop 1 spot in the standings to 2nd place, while X9XX jumps 4 spots to 3rd.

On lanes 19 & 20: T.B.D. couldn't stop undressing with their eyes the members of King Pins. Reinforced by Steve Kiernan with his stunning 623 series, T.B.D. collected 3 wins against King Pins. In the midst of this, Duncan Ferber drew the spotlight in King Pins with his 513 despite his team notching only a single win. T.B.D. leaps 3 spots in the standings to 7th place, while King Pins sink 1 spot to 10th.

On lanes 21 & 22: Unstoppabowl shared a platter of cheese sticks with Frickin' Ten Pin. Blessed by Cory Chorpenning with his 559 series, Unstoppabowl collected 3 wins against Ten Pin. In the meantime, Carl Goetz took the lead in Ten Pin with his below-average 508 despite his team notching only a single win. Unstoppabowl remains in 4th place, while Ten Pin plunges 4 spots to 6th.

Finally, down on lanes 23 & 24: Churn and Burn shared a few beers with Those 4 Bowlers. Notwithstanding the leadership of James Cholke with his above-average 533 series, Churn and Burn accomplished only 1 win against 4 Bowlers. Countering this, Seth Gunderson mastered 4 Bowlers with his above-average 519 as his team took the series with 3 wins. Churn and Burn drops 1 spot in the standings to 9th place, while 4 Bowlers move 1 spot to 5th.

Bowlers who lied to their significant other claiming bowling was running long then went out for after-bowling drinks at The 200 Club include: Duncan Ferber (211), James Cholke (211), John Boren (218,203), Pat Searcy (209), Seth Gunderson (203), Stefan Miller (222), and Steve Kiernan (203,236)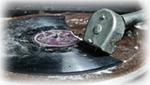 A new
personal high game
was set tonight by Steve Kiernan (236, previous best 224). In addition, a new
personal best series
was rolled by Steve Kiernan (623, previous best 610).
Freda Schroeder earned both this season's women's high game and series with her 183 and 481, respectively. In addition, Steve Kiernan nabbed both high game and series for the men this season with his 236 and 623, respectively.

The
Tournament of Champions
begins in 2 weeks. Here are how the divisions are shaping up so far:
DIVISION 1
1. Steve Kiernan
2. Cory Chorpenning
3. Pat Searcy
4. John Boren
5. Carl Goetz
6. Stefan Miller
7. Ken Wilson
8. Duncan Ferber
9. James Cholke
10. Seth Gunderson
DIVISION 2
1. Jason Carpio
2. Bill Krejci
3. Phil Schroeder
4. Ryan Doll
5. Dennis Laube
6. Scott Murdock
7. Freda Schroeder
8. Angela Bradford
9. David Parre
10. Dave Hickerson
DIVISION 3
1. John Richardson
2. Chris Lewis
3. Deena Slinkard
4. Kendall Kukowski
5. Shaun Crockett
6. Andee Weinfurt
7. Kris Hiestand
8. Ginger O'Reilly
9. Sara Bryant
10. Daniel Bolton
DIVISION 4
1. Sarah Buchanan
2. Justin Comfort
3. Emily Austin
4. Jonathan Jacobson
5. Ben Lee
6. Ariel Waldman
NEXT WEEK:
*(Remember, the predicted results above are based on mathematical extrapolations and can be changed by all sorts of factors. If you don't like how your team's results are predicted, you and your teammates have the power to prove the math wrong!)
FROM THE GUTTER (GUTTER QUOTE)

"Three thousand years of beautiful tradition, from Moses to Sandy Koufax..."

John Boren, on his recent conversion.


EXPANDED STANDINGS
| | | | | | |
| --- | --- | --- | --- | --- | --- |
| Pos. | Team name | Record | Percent | Total Pins | Change |
| 1 | Guttersluts | 5.5-2.5 | .688 | 3,412 | +2 |
| 2 | Oily Balls | 5-3 | .625 | 3,887 | -1 |
| 3 | X9XX | 5-3 | .625 | 3,592 | +4 |
| 4 | Unstoppabowl | 5-3 | .625 | 3,527 | n/a |
| 5 | Those 4 Bowlers | 5-3 | .625 | 3,448 | +1 |
| 6 | Frickin' Ten Pin | 4-4 | .500 | 3,559 | -4 |
| 7 | T.B.D. | 3-5 | .375 | 3,226 | +3 |
| 8 | Doll's Balls | 3-5 | .375 | 3,217 | -3 |
| 9 | Churn and Burn | 2.5-5.5 | .313 | 3,365 | -1 |
| 10 | King Pins | 2-6 | .250 | 2,940 | -1 |
Top Individual Achievements for Week 2