By now every team has bowled each other once, so next week is the mid-season position round. But enough about next week, you came here to read about this week. The third week saw one team climb in the standings, while one team slipped. JoAnne Barber picked up this week's high game (150) and series (402) for the women. As for the men, Matthew Taylor snagged this week's high game with a 223, and high series was earned by Michael Gordon with a 576. Read on for all the rest of the details!
After bowling ended, a question came up in conversation as to how much averages have dropped as we adjust to a new environment. So I did some investigating, and what did I found out? For most of us who bowled at both AMF and Gladstone, averages are down. A lot. In fact there's a good chance your average is down by around 20 pins. UNLESS, you are a male jay. Meaning, if you are a male bowler and what you go by as your first name contains the letter 'J', you are currently enjoying the highest average of your career. And if your name happens to be James, that average is 20 pins higher than your previous best. Weird, eh?
Now to get on with the recaps...
First up, on lanes 11 & 12: Team 2 had been preparing for this moment, at least one deliberately keeping his averages low in order to bring on the full force of his fury for tonight's matchup against AJ's Fault 2: Rise of the Tott. However, despite Aaron Barber's above-average 538 series, they forgot that James is a supercharged TurboTott and Team 2 got swept by AJ's Fault. James Tott with his 567 series ruled Team 3 as they swept the competition. Team 2 drops 1 spot in the standings to 3rd place, while Team 3 remains in 1st. At least, according to AJ, all of his holes remained warm.
On lanes 13 & 14: Team 1 had a romantic candlelight dinner with Team 4. Strengthened by #1 Power Ranked and #1 Head-to-Head and wannabe OnlyFans star in an alternate timeline Michael Gordon and his above-average 576 series, Team 1 felt the glory of a clean sweep over Team 4. Dustin Schmeltz stumbled a bit with his slightly-off 428 series as Team 4 got swept. Team 1 climbs 1 spot in the standings to 2nd place, while Team 4 remains in 4th.
I (Scoot) will not be here for the position round next week. You can still Venmo payments to me, but AJ will take care of everything else and Aaron will continue networking trying to get us a fall league.
Bowlers sneaking past the bouncer at The 200 Club include: Aaron Barber (203), James Tott (202), Matthew Taylor (223), and Michael Gordon (210)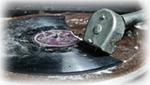 JoAnne Barber earned both this season's women's high game and series with her 150 and 402, respectively.


In this week's Tournament of Champions brackets: Michael Gordon spanked Division 1, while Dennis Walling conquered Division 2. In terms of overall points: James Tott is in the driver's seat in Division 1; and Dennis Walling runs the show in Division 2.
NEXT WEEK:
First, on lanes 11&12, 1st-place Team 3 (hcp 3) will compete against 2nd-place Team 1. Team 3 is expected to maintain their current strength as they lose the series but avoid getting swept; while Team 1 is forecast to raise their average while they enjoy their victories.
*(Remember, the predicted results above are based on mathematical extrapolations and can be changed by all sorts of factors. If you don't like how your team's results are predicted, you and your teammates have the power to prove the math wrong!)
FROM THE GUTTER (GUTTER QUOTE)

"Do you need help with your balls? I'm pretty good at handling them."

New bowler Lindsey Campbell, to Dennis Walling, after Dennis's ball dropped.


EXPANDED STANDINGS
Top Individual Achievements for Week 3