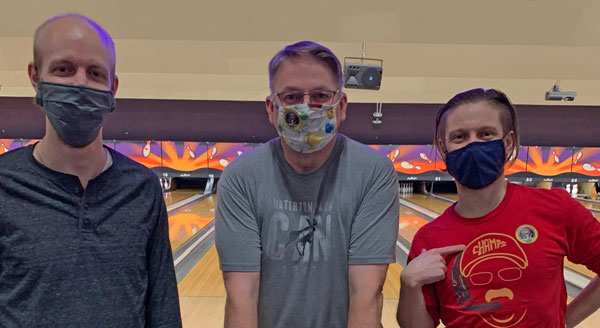 The Fall 2020 season came to a close today, with absolutely no movement in the standings as LETITSNOW held on to their season-long first place lead to clinch the championship. But elsewhere in the league James Tott snagged this week's high game with a 234, and high series was earned by Dennis Walling with a 612. Read on for all the rest of the details!
On lanes 17 & 18: After a bad start (thanks to Scoot),
LETITSNOW
came back to fend of an attempted fondling by
Six Games Apart
. Topped by
#1 Head-to-Head
Ben Spencer
and his above-average 607 series, Le Tits, Now split the series with 6 Games. Countering this, Dennis Walling with his better-than-normal 612 series called the shots for 6 Games as they matched their opponent in wins. LETITSNOW clinched the championship, while 6 Games held on to in 2nd. This makes a foirst championship for
AJ Hofmann
and Ben Spencer, and a 7th for
Scott Murdock
. It should be noted that Le Tits Now went 16-4 on nights that Scoot and AJ got beer at Cinder Block before bowling.
On lanes 19 & 20: With only one bowler, Six Games Apart, But Better faced quite the challenge from Three Blind Strikes. Most Valuable Bowler James Tott and his splendid 555 series allowed But Better to split the series with Blind Strikes. Over on the other side, Curtis Whiles with his better-than-normal 559 series showed off for Blind Strikes (with a YUGE nod to #1 Power-Ranked Michael Whiles) as they matched their opponent in wins. Six Games Apart, But Better remains in 3rd place, while Blind Strikes remain in 4th.

After a hard fought season, the Tournament of Champions was won tonight by Ben Spencer (Division 1), with Dennis Walling (Division 1) landing in second place. Ben will pocket the nice first-place pot, while Dennis will take away the second-place pot. Congratulations!
* And by the pots mentioned above, we of course mean "absolutely nothing".

Bowlers attending election watch parties The 200 Club include: Ben Spencer (224,204), Curtis Whiles (221), Dennis Walling (231), James Tott (234), and Matthew Taylor (232)
Though no money was involved this time, the Tournament of Champions was won by Ben Spencer, with AJ Hofmann taking second place. Congrats, guys!
Though we did not vote for End of Season favorites this time, watch for another post in the days ahead with all of the mathematically-calculated individual award winners.
Bowling will resume on January 19th, 2021. Though COVID will still be raging, we are hoping to attract enough bowlers to hold at least a 13-week season. In the meantime, Wabash League (the other Tuesday night league) has graciously extended an invitation for any of our bowlers who don't want to wait that long. They are currently running back-to-back 10-week sessions to keep their league alive during the pandemic. If you're interested, contact Scoot and he will get you in touch with their league president.
FROM THE GUTTER (GUTTER QUOTE)

"Scott just ejaculated all over the floor again."

"Ugh and I got it all over my shorts too."

Ben Spencer, then Scoot, after Scoot experienced a hand sanitizer malfunction,


EXPANDED STANDINGS
Top Individual Achievements for Week 8