We are now halfway through the Spring 2007 season, so time is running out for those teams who want a shot at the championship to position themselves. The eighth week saw two teams climb in the standings, while two teams slipped. One bowler set a new personal best series. Angela Bradford picked up this week's high game (191) and series (503) for the women, while Carl Goetz earned this week's high game (242) and series (660) for the men. Read on for all the rest of the details!

First up, on lanes 15 & 16: Doll's Balls matched wits with King Pins. Though reinforced by John Richardson with his remarkable 499 series, Doll's Balls accomplished only 1 win against King Pins. In the meantime, John Coleman dominated King Pins with his 570 (along with kudos to #1 Power-Ranked and Most Valuable Bowler Daniel Bolton, as well as #1 Head-to-Head ) as his team took the series with 3 wins. Doll's Balls remains in 8th place, while King Pins remain in 10th.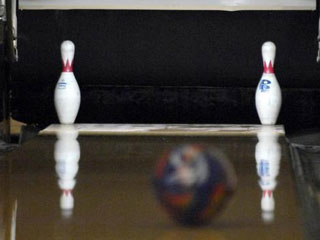 On lanes 17 & 18: Churn and Burn took turns kicking the ball return with Oily Balls. Notwithstanding the leadership of James Cholke with his 489 series, Churn and Burn missed getting swept by Oily Balls by just one pin. Across the ball return, Pat Searcy took the lead in Oily Balls with his 590 as his team took the series with 3.5 wins. Churn and Burn drops 1 spot in the standings to 7th place, while Oily Balls remain in 1st.

On lanes 19 & 20: X9XX chucked gutter balls with Frickin' Ten Pin. Headlined by Stefan Miller with his 523 series, X9XX collected 3 wins against Ten Pin. Countering this, #1 Head-to-Head Carl Goetz showed off in Ten Pin with his fantastic 660 despite his team notching only a single win. X9XX remains in 4th place, while Ten Pin moves 1 spot to 6th.

On lanes 21 & 22: T.B.D. kept stealing sips of beer from Those 4 Bowlers. In spite of top-billing by Steve Kiernan with his 555 series, T.B.D. accomplished only 1 win against 4 Bowlers. Meanwhile, Seth Gunderson drew the spotlight in 4 Bowlers with his above-average 566 as his team took the series with 3 wins. T.B.D. remains in 9th place, while 4 Bowlers remain in 5th.

Finally, down on lanes 23 & 24: Guttersluts waged a heated competition against Unstoppabowl. Starring Bill Krejci with his splendid 594 series, Guttersluts celebrated a clean sweep over Unstoppabowl. Simultaneously, Cory Chorpenning commanded Unstoppabowl with his below-average 500 despite his team getting swept. Guttersluts leap 1 spot in the standings to 2nd place, while Unstoppabowl sinks 1 spot to 3rd.

Bowlers slipping into The 200 Club include: Bill Krejci (221,204), Carl Goetz (200,218,242), John Boren (213), John Coleman (213), and Pat Searcy (216,212)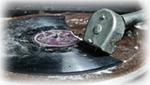 A new
personal best series
was rolled tonight by
Dave Hickerson
(514, previous best 499).

In this week's Tournament of Champions brackets:
Carl Goetz clobbered Division 1, while Seth Gunderson walloped Division 2. Dave Hickerson staked a claim for the Iron Throne in Division 3, and Daniel Bolton won Division 4. And, finally, nobody claimed victory in the Interdivisional bracket, and in fact we aren't even going to talk about this bracket as it was a complete embarassment.
In terms of overall points:
Pat Searcy calls the shots Division 1; Seth Gunderson holds the reins in Division 2; Deena Slinkard leads Division 3; and Kendall Kukowski runs the show in Division 4.
NEXT WEEK:
*(Remember, the predicted results above are based on mathematical extrapolations and can be changed by all sorts of factors. If you don't like how your team's results are predicted, you and your teammates have the power to prove the math wrong!)
FROM THE GUTTER (GUTTER QUOTE)

"Does the snack counter take plastic? I need to use my customized Anna Nicole Smith gift card before it expires."

Ryan Hance, possibly too late.


EXPANDED STANDINGS
| | | | | | |
| --- | --- | --- | --- | --- | --- |
| Pos. | Team name | Record | Percent | Total Pins | Change |
| 1 | Oily Balls | 23.5-8.5 | .734 | 16,150 | n/a |
| 2 | Guttersluts | 22.5-9.5 | .703 | 14,369 | +1 |
| 3 | Unstoppabowl | 19.5-12.5 | .609 | 14,494 | -1 |
| 4 | X9XX | 19-13 | .594 | 15,270 | n/a |
| 5 | Those 4 Bowlers | 16-16 | .500 | 13,760 | n/a |
| 6 | Frickin' Ten Pin | 13-19 | .406 | 14,985 | +1 |
| 7 | Churn and Burn | 13-19 | .406 | 13,651 | -1 |
| 8 | Doll's Balls | 12.5-19.5 | .391 | 13,433 | n/a |
| 9 | T.B.D. | 11-21 | .344 | 13,013 | n/a |
| 10 | King Pins | 10-22 | .313 | 12,921 | n/a |
Top Individual Achievements for Week 8