The fifth week of Spring 2007 saw three teams climb in the standings, while three teams slipped. Freda Schroeder picked up this week's high game (188) and series (541) for the women, while Cory Chorpenning earned this week's high game (247) and series (648) for the men. Read on for all the rest of the details!

First up, on lanes 15 & 16: Frickin' Ten Pin accepted a challenge by Guttersluts. Headlined by Carl Goetz with his above-average 584 series, Ten Pin celebrated a clean sweep over Guttersluts. Conversely, Bill Krejci shined in Guttersluts with his above-average 581 despite his team getting swept. Frickin' Ten Pin leaps 4 spots in the standings to 5th place, while Guttersluts plunge 2 spots to 3rd.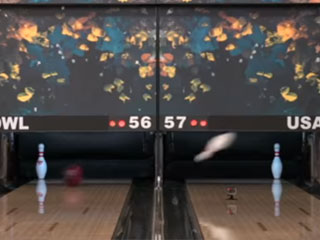 On lanes 17 & 18: X9XX had some one-on-one time with T.B.D.. With top billing by Dennis Laube with his 519 series, X9XX split the series with T.B.D.. As for the opposition, Steve Kiernan dominated T.B.D. with his below-average 541 as they matched their opponent in wins. X9XX remains in 4th place, while T.B.D. remains in 6th.

On lanes 19 & 20: Churn and Burn did battle with Doll's Balls. Featuring Jason Carpio with his above-average 524 series, Churn and Burn collected 3 wins against Doll's Balls. In the meantime, Ryan Doll guided Doll's Balls with his below-average 462 despite his team notching only a single win. Churn and Burn leaps 1 spot in the standings to 7th place, while Doll's Balls plunge 2 spots to 9th.

On lanes 21 & 22: Those 4 Bowlers faced off against Oily Balls. Regardless of the star power of Seth Gunderson with his above-average 530 series, 4 Bowlers accomplished only 1 win against Oily Balls. Meanwhile, Pat Searcy ruled Oily Balls with his above-average 603 as his team took the series with 3 wins. Those 4 Bowlers plummet 3 spots in the standings to 8th place, while Oily Balls remain in 2nd.

Finally, down on lanes 23 & 24: Unstoppabowl shared a platter of cheese sticks with King Pins. With the strength of Most Valuable Bowler Cory Chorpenning and his above-average 648 series, assisted by #1 Power-Ranked and Most Valuable Bowler Cory Chorpenning, Unstoppabowl celebrated a clean sweep over King Pins. Across the ball return, John Coleman laid down the law in King Pins with his exceptional 606 despite his team getting swept. Unstoppabowl leaps 2 spots in the standings to 1st place, while King Pins remain in 10th.

Bowlers who stripped naked and shared a cozy hottub together in a back room at The 200 Club include: Bill Krejci (223), Carl Goetz (223,200), Cory Chorpenning (247,201,200), Dennis Laube (215), Duncan Ferber (216), Jason Carpio (211), John Coleman (233), Ken M. Wilson (209), Kendall Kukowski (201), Pat Searcy (221,204), and Seth Gunderson (208)

In this week's Tournament of Champions brackets: Pat Searcy decimated Division 1, while nobody claimed victory in Division 2 (though Freda Schroeder came closest). Deena Slinkard trounced Division 3, and Kendall Kukowski creamed Division 4. Finally, Bill Krejci (Division 2) creamed this week's Interdivisional bracket. In terms of overall points: Cory Chorpenning tops Division 1; Bill Krejci runs the show in Division 2; Deena Slinkard holds the reins in Division 3; and Kendall Kukowski governs Division 4.

NEXT WEEK:
*(Remember, the predicted results above are based on mathematical extrapolations and can be changed by all sorts of factors. If you don't like how your team's results are predicted, you and your teammates have the power to prove the math wrong!)
FROM THE GUTTER (GUTTER QUOTE)

"Now that is just ridiculous, Dude. Nobody is going to cut your dick off. Not if I have anything to say about it."

Jonathan Jacobson, reassuring Cory Chorpenning, who was heading to the men's room.


EXPANDED STANDINGS
| | | | | | |
| --- | --- | --- | --- | --- | --- |
| Pos. | Team name | Record | Percent | Total Pins | Change |
| 1 | Unstoppabowl | 15.5-4.5 | .775 | 9,047 | +2 |
| 2 | Oily Balls | 15-5 | .750 | 10,062 | n/a |
| 3 | Guttersluts | 12.5-7.5 | .625 | 8,929 | -2 |
| 4 | X9XX | 11-9 | .550 | 9,623 | n/a |
| 5 | Frickin' Ten Pin | 9-11 | .450 | 9,159 | +4 |
| 6 | T.B.D. | 9-11 | .450 | 8,085 | n/a |
| 7 | Churn and Burn | 8.5-11.5 | .425 | 8,545 | +1 |
| 8 | Those 4 Bowlers | 8-12 | .400 | 8,501 | -3 |
| 9 | Doll's Balls | 7.5-12.5 | .375 | 8,192 | -2 |
| 10 | King Pins | 4-16 | .200 | 7,895 | n/a |
Top Individual Achievements for Week 5