The third week of Fall 2002 saw one team climb in the standings, while two teams slipped. One bowler set a new personal best series, and one rolled new personal high game. Janelle (Laube) Lamar landed this week's high game for the women with a 144, and women's high series was bagged by Freda Schroeder with a 409. As for the men, Bob Brunker earned this week's high game (204) and series (522). Read on for all the rest of the details!

First up, on lanes 17 & 18: Pop Gunns did battle with Top Guns. Despite the strength of Ken M. Wilson with his 502 series, Pop Gunns accomplished only 1 win against Top Guns. Meanwhile, Bob Brunker showed off in Top Guns with his 522 as his team took the series with 3 wins. Pop Gunns drop 1 spot in the standings to 2nd place, while Top Guns jump 2 spots to 1st.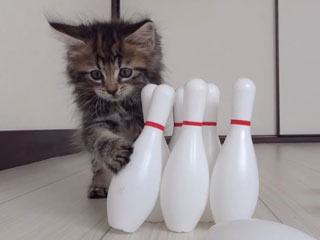 On lanes 19 & 20: UnaBowlers had a rendezvous with Team 5. Headlined by Corey Weinfurt with his 453 series, and supported tremendously by real star — trifecta-winner #1 Power-Ranked, #1 Head-to-Head, and Most Valuable Bowler John McComb, the UnaBowlers collected 3 wins against Team 5. On the other side, David Codding laid down the law in Team 5 with his 425 despite his team notching only a single win. UnaBowlers remains in 4th place, while Team 5 sinks 1 spot to 3rd.

Finally, down on lanes 21 & 22: Team 6 kept stealing sips of beer from GRRR. Topped by Janelle (Laube) Lamar with her 373 series, Team 6 split the series with GRRR. Countering this, Pat O'Reily dominated GRRR with his 485 as they matched their opponent in wins. Team 6 remains in 6th place, while GRRR remains in 5th.

Bowlers getting the VIP treatment in The 200 Club include: Bob Brunker (204)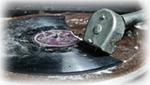 A new
personal high game
was set tonight by John McComb (167, previous best 135). In addition, a new
personal best series
was rolled by John McComb (413, previous best 335).

NEXT WEEK:
First, on lanes 17&18, 4th-place UnaBowlers will test their mettle against 6th-place Team 6. The UnaBowlers are expected to have their averages plummet, but split the series with Team 6; while Team 6 is forecast to see their team average take a dive while they keep the series tied.
Moving to lanes 19&20, 5th-place GRRR will hang out with 1st-place Top Guns. GRRR might tank their averages considerably, but split the series with Top Guns; while Top Guns ought to see their team average take a dive while they keep the series tied.
*(Remember, the predicted results above are based on mathematical extrapolations and can be changed by all sorts of factors. If you don't like how your team's results are predicted, you and your teammates have the power to prove the math wrong!)
FROM THE GUTTER (GUTTER QUOTE)

"While my left hand was holding the phone, my right hand was hard at work!"

Keith Blay, justifying talking on the phone while bowling.


Top Individual Achievements for Week 3
EXPANDED STANDINGS
| | | | | | |
| --- | --- | --- | --- | --- | --- |
| Pos. | Team name | Record | Percent | Total Pins | Change |
| 1 | Top Guns | 9-3 | .750 | 5,448 | +2 |
| 2 | Pop Gunns | 8-4 | .667 | 5,793 | -1 |
| 3 | Team 5 | 7.5-4.5 | .625 | 4,818 | -1 |
| 4 | UnaBowlers | 5-7 | .417 | 4,699 | n/a |
| 5 | GRRR | 3.5-8.5 | .292 | 4,584 | n/a |
| 6 | Team 6 | 3-9 | .250 | 4,257 | n/a |