The Fall 2020 position round is now history, and and the championship will be on us before we know it! A stagnated fourth week resulted in absolutely no movement in the standings. JoAnne Barber picked up this week's high game (161) and series (406) for the woman. As for the men, Aaron Barber snagged this week's high game with a 246, and high series was earned by Matthew Taylor with a 617. Read on for all the rest of the details!
First up, on lanes 17 & 18: LETITSNOW matched wits with Six Games Apart. Charging into the fray behind Most Valuable Bowler AJ Hofmann and his above-average 524 series, Le Tits, Now collected 3 wins against 6 Games. As for the opposition, Matthew Taylor with his 617 series oversaw 6 Games (with props to #1 Head-to-Head bowler ) despite his team notching only a single win. LETITSNOW remains in 1st place, while 6 Games remain in 2nd.
Finally, down on lanes 19 & 20: Six Games Apart, But Better celebrated their love of large, heavy balls with Three Blind Strikes. Uniting behind the leadership of #1 Power-Ranked Aaron Barber and his above-average 590 series, But Better collected 3 wins against Blind Strikes. Concurrently, Curtis Whiles with his 443 series laid down the law for Blind Strikes despite his team notching only a single win. Six Games Apart, But Better remains in 3rd place, while Blind Strikes remain in 4th.
Bowlers lounging at The 200 Club include: Aaron Barber (246), Curtis Whiles (206), Matthew Taylor (202,225), and Michael Gordon (222)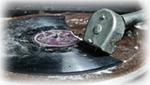 JoAnne Barber earned both this season's women's high game and series with her 161 and 406, respectively.


In this week's Tournament of Champions brackets: AJ Hofmann won Division 1, while Luke Melton routed Division 2. In terms of overall points: AJ Hofmann holds the reins in Division 1; and JoAnne Barber is in the driver's seat in Division 2.
NEXT WEEK:
First, on lanes 17&18, 2nd-place Six Games Apart will tussle with 3rd-place Six Games Apart, But Better (hcp 99). 6 Games are expected to roll a little low, yet still manage to win the series; while But Better is forecast to hold steady as they avoid getting swept.

Finally, on lanes 19&20, 4th-place Three Blind Strikes (hcp 87) will face 1st-place LETITSNOW. Blind Strikes are predicted to roll a little low and get swept; while Le Tits, Now is anticipated to raise their average while they rack up a sweep.
*(Remember, the predicted results above are based on mathematical extrapolations and can be changed by all sorts of factors. If you don't like how your team's results are predicted, you and your teammates have the power to prove the math wrong!)
FROM THE GUTTER (GUTTER QUOTE)

"One thing I do not miss from the pre-covid days of the league is you heckling Carl and me worrying each time if this would be the time he'd finally snap and kill you."

Scott Murdock, to AJ, after AJ heckled Dennis Walling for about the 4th or 5th time.


EXPANDED STANDINGS
Top Individual Achievements for Week 4