Our record-breaking perfect attendance streak has ended, thanks to everyone in the league whose name hapend to be Michael. But another perfect streak remains unbroken, more on that in a moment. Meanwhile, by now every team has bowled each other once, so next week is the Fall 2020 position round. But enough about next week, you came here to read about this week. As usual JoAnne Barber picked up this week's high game (125) and series (350) for the woman, while Matthew Taylor earned this week's high game (243) and series (663) for the men.
First up, on lanes 17 & 18: With their Michael recruited to purchase $70,000 worth of hair gel for one candidate in tonight's debate, the rest of dark horse Three Blind Strikes shared a platter of cheese sticks with the intimidating Six Games Apart. Although receiving some motivation from Curtis Whiles with his below-average 425 series, Blind Strikes got swept by 6 Games. Meanwhile, with their Michael busy conducting Joe Biden's drug test after losing a bet with JoAnne over last week's first game (have you ever watched a 77-year-old man pee? It takes quite a while), it was up to Matthew Taylor with his better-than-normal 663 series to carry 6 Games as they swept the competition. Three Blind Strikes remains in 4th place, while 6 Games move up 1 spot to 2nd.
Over on lanes 19 & 20: The predictions proved entirely faulty as LETITSNOW managed to more than outperform Six Games Apart, But Better. Blessed for the second week in a row by trifecta-winner (#1 Head-to-Head, #1 Power-Ranked, and Most Valuable Bowler) AJ Hofmann and his death-defying 558 series, Le Tits, Now jiggled their way to a clean sweep over But Better. In the midst of this, Aaron Barber with his shocking 613 series dominated But Better despite his team getting swept. LETITSNOW remains undefeated in 1st place, while But Better sinks 1 spot to 3rd.
Bowlers watching the debates from a VIP booth in The 200 Club include: Aaron Barber (214,204), AJ Hofmann (201), Dennis Walling (205), Matthew Taylor (243,234), and Scott Murdock (213)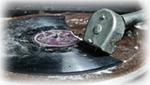 The 663 rolled by Matthew Taylor is this season's new high series for men.


In this week's Tournament of Champions brackets: AJ Hofmann swept Division 1, while JoAnne Barber trounced Division 2. In terms of overall points: AJ Hofmann reigns over Division 1; and JoAnne Barber dominates Division 2.
NEXT WEEK:
First, on lanes 17&18, 1st-place LETITSNOW (hcp 71) will tussle with 2nd-place Six Games Apart. Le Tits, Now is expected to maintain their current strength as they lose the series but avoid getting swept; while 6 Games are forecast to drop their average a bit even as they enjoy their victories.

Finally, on lanes 19&20, 3rd-place Six Games Apart, But Better will socialize with 4th-place Three Blind Strikes (hcp 51). But Better is predicted to maintain their current strength as they sweep the series; while Blind Strikes are anticipated to drop their average a bit while they endure a rough night.
*(Remember, the predicted results above are based on mathematical extrapolations and can be changed by all sorts of factors. If you don't like how your team's results are predicted, you and your teammates have the power to prove the math wrong!)
FROM THE GUTTER (GUTTER QUOTE)

"Has everyone forgotten yet that my sister beat me scratch last week?"

Michael Gordon, in hiding, wondering if it's safe to come back to KC.


EXPANDED STANDINGS
Top Individual Achievements for Week 3