The sixth week of Spring 2020 saw quite a bit of activity in the standings, as 7 of the 8 teams ended the night in a new position. And after a few weeks of Scootylicious domination, the two most likely contenders for the championship have finally floated to the top. One bowler rolled a new personal best game. Angela Bradford picked up this week's high game (190) and series (512) for the women, while Carl Goetz earned this week's high game (257) and series (677) for the men. Read on for all the rest of the details!
First up, on lanes 1 & 2: In a rather lopsided matchup, the cruel Pin Is King 3 became mathematically confused rolling against two new subs on Low Expectations. Strengthened by Matthew Taylor with his above-average 629 series, Kings collected 3 (after the mathematical dust settled) wins against Expectations. Garrett Von Derluft with his 419 series motivated Expectations despite his team notching only a single win. Pin Is King 3 climbs 1 spot in the standings to 1st place, while Expectations remain in 8th.
On lanes 3 & 4: For the first time this season, the full cast of Whiles We Were Bowling... were all here on a Tuesday. And they decided they were done sandbagging and that Scootylicious would bear the brunt of their sudden surge. Bob Brunker led the team with his above-average 570 series, with kudos to Most Valuable Bowler Angela Bradford, Whiles Bowling collected 3 wins against 'Licious. On the flipside, Scott Murdock with his better-than-normal 502 series oversaw the present half of 'Licious despite his team notching only a single win. Whiles We Were Bowling... climbs 1 spot in the standings to 4th place, while 'Licious plunge 2 spots to 3rd.
On lanes 5 & 6: AJ's Fault took turns trying to trick members of KLEAN BAWLZ!!1 into pulling Jeremy Varnell's finger. Although topped by James Tott with his above-average 479 series, AJ's Fault accomplished only 1 win against BAWLZ. On the adjacent lane, Aaron Barber with his slightly-off 510 series took charge of BAWLZ as his team took the match with 3 wins. AJ's Fault drops 1 spot in the standings to 7th place, while BAWLZ moves up 1 spot to 2nd.
Finally, down on lanes 7 & 8: In a truly mismatched pairing, the dark horse Big Bowl Movements couldn't help inappropriately groping the big bullies of F. C. K. D.. Although charging into the fray behind #1 Power-Ranked Conor Clarke and his above-average 582 series (which included a new persona-best 245), Movements accomplished only 1 win against The FCKD. Countering this, #1 Head-to-Head Carl Goetz and his better-than-normal 677 series emboldened The FCKD as his team took the match with 3 wins. Big Bowl Movements drop 1 spot in the standings to 5th place, while The FCKD moves up 1 spot to 6th.
Bowlers who all ended up roofying each other like idiots at The 200 Club include: Ben Spencer (203,209), Bob Brunker (201), Carl Goetz (201,219,257), Conor Clarke (245,215), Duncan Ferber (223,201), Ken M. Wilson (205), and Matthew Taylor (237,222)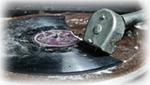 A new personal high game was set tonight by Conor Clarke (245, previous best 227).
Angela Bradford claimed the season's women's high series with her 512. In addition, Carl Goetz bagged the season's men's high series with his 677.


In this week's Tournament of Champions brackets: Carl Goetz won Division 1, while Ken M. Wilson cleaned up Division 2. Angela Bradford whipped Division 3, and nobody claimed victory in Division 4 (though Carolina Mach came closest). In terms of overall points: Carl Goetz holds the reins in Division 1; Ken M. Wilson calls the shots Division 2; Scott Murdock reigns over Division 3; and Jake Holterman runs the show in Division 4.
NEXT WEEK:
*(Remember, the predicted results above are based on mathematical extrapolations and can be changed by all sorts of factors. If you don't like how your team's results are predicted, you and your teammates have the power to prove the math wrong!)
FROM THE GUTTER (GUTTER QUOTE)

"You brought the fuckin' Pomeranian bowling?"

Curtis Whiles, to Aaron Barber, upon failing to recognize Jonathan Vigliaturo.


EXPANDED STANDINGS
Top Individual Achievements for Week 6